Without a doubt, one of the most annoying fees that credit cardholders have to pay is the annual credit card fee. This fee is something charged to us year after year after year.
In the case of my BPI (Bank of the Philippine Islands) credit card, I'm charged P2,050.00 per year. For my Citibank credit card, it's P2,500.00 per year. That's a lot of cash I could have spent on other things!
Why are we charged an annual fee in the first place? Simply put, it is billed to us just because "we're using the credit card". It's sort of a "membership fee" that we have to pay to be able to use the card and to continue enjoying the perks and benefits associated with it.
Indeed, paying the annual fee sucks, but fortunately there are ways to end this annual burden. I identify below three (3) valid ways to waive or totally eliminate the annual membership fee that you have to pay to the credit card company.
I can guarantee that I've tried the following methods below and, using these methods, I never got to pay any annual fee with my BPI credit card since I first got it back a long time ago, in 2007! That's more than P20,000 worth of annual fees that I never had to pay.
It's a hit-and-miss, though, for Citibank and BDO, because sometimes they waive my annual fees but other times, they don't. Last year 2020, Citibank told me that they cannot waive the annual fee but, interestingly, gave me a guarantee that my Shell Citi card annual fee this year 2021 will be automatically waived. We'll see if they'll keep this promise this year.
So how to convince credit card companies to waive the annual fee?
Try any one of these three (3) tried-and-tested ways. It may not work for you every time but if it worked, then congratulations and welcome to the "My credit card's annual fee got waived" club!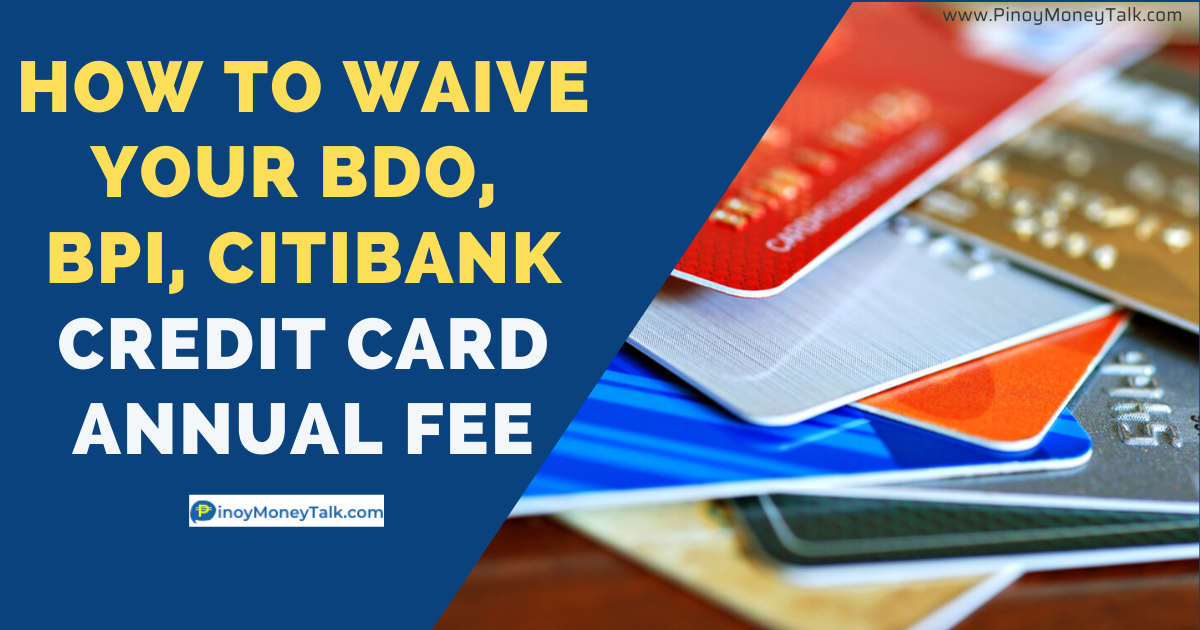 1. Just call the bank and ask to have the annual fee waived.
Not a lot of credit cardholders know this, but you can simply call the bank or credit card company and request to have the card's annual membership fee waived.
In fact, this is the method I've used every single year since I got my first BPI credit card back in 2007, and it has worked for me every year without fail — saving me more than P20,000 worth of annual fees through the years!
How to ask BPI to waive your credit card fee?
The fee actually still appears in my monthly statement, but what I do the moment I see it in my billing is to call BPI's hotline to request for it to be waived.
In recent years, though, instead of calling the BPI customer service telephone number (because sometimes it takes them a long time to answer), I just approach the branch manager or relationship manager of my branch of account. I request the manager to ask, on my behalf, BPI's credit cards division to have the fee waived. They're usually OK with this especially if you've been a long-time client of the bank.
This system has not failed me every single year which is why I've been a BPI credit cardholder since 2007.
I still pay the annual fee but what happens is that the annual fee I paid is reimbursed in the next billing cycle and shown as a "Reversal" or "Advance Payment" that is credited to my account. (Alternatively, you can choose to just not pay the fee and wait for it to be reversed next month, assuming you got an official confirmation from BPI that they will indeed waive the fee.)
The photo below is an example of my BPI credit card statement showing the annual fee of P2,050 that was charged in July 16 which was waived and credited back to my account in August 6.
Last year 2020, BPI surprised me by instantly waiving my credit card annual fee without me having to file a request. Due to the COVID-19 pandemic, I was not able to visit my branch of account, but I was delightfully surprised that I also need not have to call BPI just to have the fee waived.
Here's the text message I got from BPI informing me that my BPI credit card's annual fee has been automatically waived in 2020. Thank you, BPI!
It helps to be polite and courteous when negotiating, of course, so don't get hot-tempered and never curse the CS representative on the other end of the line!
Actually, the decision whether your waiver request will be granted depends on your credit history and usage of the card. If you're a cardholder in good standing, BPI typically grants this request. They usually check your monthly credit card usage and payments history first, and if you have been assessed as a customer in good standing, they usually decide to waive the fee.
Last time, when I called the BPI hotline to request to have my credit card fee waived, the CS representative I talked to checked how much my credit card spending was in the previous three months. I assume if I wasn't actively using the card then I won't be given the waiver request.
After checking my spending, the CS representative told me that I'm qualified to have the fee waived, but on the condition that I use my card in the next three months with minimum spending of P20,000.
I asked if that amount was the required spending every month for 3 months, but I was told it's just cumulative amount for 3 months total. Since I've been spending more than that anyway, I agreed and the CS representative told me to check the next billing statement and I should see a refund of the annual fee that I paid.
Annual credit card fee waived! Success!
Not everyone, though, is qualified to receive the annual fee waiver. I've heard that banks typically assess the cardholder's spending or credit rating or even payment defaults history. If you've been remiss several times in your monthly payments or have cumulative finance charges that remain unpaid over the years, there might be a big chance that your request to waive the fee will be declined.
How to request to have the Citibank credit card fee waived?
I called Citibank's hotline last year to request to have the annual fee waived. The customer support representative told me that unfortunately, in 2020, Citibank is not waiving the fee. This supposedly applies to all Shell Citi credit cardholders, according to the customer service representative. Well, that sucks.
The silver lining is that the CS representative told me that I'm automatically eligible to receive the annual fee waiver, though, in 2021. He even gave me a reference number supposedly as proof that this transaction is a go for next year. We'll see if indeed my Citibank annual fee will be waived next year!
(For now if you want a credit card that doesn't charge any annual fee, apply for a Citi Rewards credit card below.)
2. Tell the bank you're planning to cancel your card.
If method number 1 didn't work, sometimes threatening the bank that you're canceling the card and switching to a competitor could lead them to giving in and to grant the annual fee waiver.
They want to make money from you, of course, and sometimes they yield in an attempt to keep you as customer.
It thus helps to explain that the annual fee is a big reason why you're thinking of making the switch. You can say that you're contemplating on using another credit card because they're offering to waive the annual fee.
Try telling them:
"I'd like to keep using this credit card, but the annual fee is one reason why I'm no longer inclined on using it. It has benefits and rewards similar to credit card XXX but they're offering to waive the first year's annual fee, so I'm thinking of canceling this card in order to avail of that card.
Do you currently have retention offers that I can consider before I go about canceling this card?"
Research shows that it costs businesses more money to acquire a new customer than to retain current ones, so they'd likely not let you go that easily, especially if they see that it's profitable to keep you as customer.
Sometimes, they will volunteer to waive the card's fee to incentivize you to remain with them. Sometimes it works, sometimes it doesn't because like in option #1 above, they'd usually check if you have good credit standing with them and if they can indeed make money from you.
Again, good negotiation skill is key. If there's a sizable credit card purchase you're planning in the next few months, you can also use that as leverage. You could say:
"I will be booking flight tickets to Japan for my family next month and I'm planning to use this credit card to pay for this purchase. If I spend P50,000 using this card in the next 3 months, is it possible for you to waive the annual fee?"
Of course, don't lie about possible purchases that won't happen and don't set conditions that you won't be able to meet! It's important to communicate clearly that you're indeed planning on canceling the card and not just bluffing.
Be clear about the reasons why you're no longer interested on using the card. Don't just cite the annual fee.
You could say some terms and conditions changed (like the conversion rate for points or rewards became higher) or you're not satisfied with customer service because it took you several minutes to contact Customer Support when you discovered a fraudulent transaction on your card.
Provide useful, solid feedback so that they'll know that they're actually losing a customer. At times, they will respond with retention offers, including waiving the annual fee, to convince you to reconsider your decision.
Again, use this method only if you're ready to actually go through the cancellation. Otherwise, the credit card company could call your bluff and they might ask you to pay and settle all unpaid balance to close your account!
3. Choose a credit card that offers "No Annual Fee" or "Forever Waived Annual Fees."
These days, several credit card issuers offer cards with the benefit of waived annual fee, especially during the first year. Take advantage of these offers.
Of course, we know that this is simply a bait that companies use because even if they will forgo the annual fee, they still can make lots of money (through credit card finance charges, annual percentage rates or APR, and penalty fees, etc.). But if you do want to have a credit card, opting for one with waived fee on the first year could certainly save you some cash.
Better yet, choose cards that offer no lifetime annual fees. Yup, no annual fees forever!
These extraordinary cards are typically used by banks to lure you to switch to them with the hopes of locking you in for life. Of course, there are the same interest and penalty fees that will be charged to you to help the credit card company make money, but at least with a waived lifetime fee, you're not required anymore to pay annual fees forever.
Credit Cards with No Annual Fee or Waived Annual Fees for Life
In the Philippines, here are some of the credit cards that offer "waived lifetime annual fees" or "no annual fees forever".
Citi Simplicity Credit Card
BPI e-Credit card
Metrobank's M card
HSBC Gold Visa Cash Back Credit Card
HSBC Premier Mastercard
Allied Bank's Travel Club
AUB Easy Mastercard
RCBC Bankard AirAsia Credit Card
Robinsons Bank Platinum DOS Mastercard
Security Bank's e-Secure card
(Promo: Citibank's Rewards credit card does not charge any annual fee forever. Click here to apply for a Citi Rewards credit card.)
We have a more detailed article talking about credit cards in the Philippines with waived or no annual fee. See here which credit cards offer this benefit.
Stories of Pinoys Asking to Waive Credit Card Annual Fee
After we've written this article, we received a lot of comments from PinoyMoneyTalk readers who shared their stories on how they also got to have their credit card annual fees waived. We're reproducing them below so you can learn from their experience!
"I always pay the total balance on time so I never have finance charges and late fees; I have a good credit standing. I usually just tell the agent to cancel my card if they won't waive the annual fee and they gladly waive them with no conditions."

– Joanne M.
I have a BDO Credit Card and every time I request for waiving [the annual fee], it was always granted. Of course, need a good history of payments. But in Metrobank, they always have requirements to purchase or a condition to waive your annual fee.

– Ian
Citibank does not waive any annual fees anymore. I've tried. They don't do it. I spent a whole 30 minutes to 1 hour on the phone trying to convince them. You have to have 20,000 points. Php 30 for 1 point. For annual fee to be waived, you need to have Php 600,000 spent.

– RC_KUNOICHI
Seems like Citibank does not waive annual fees this year. Called them up, failed to have mine waived.

– Vito A.
I just had requested to waive my annual fee sa Metrobank and they gave me 3 options: 1. Spend a particular amount; 2. Go paperless; or 3. Enroll a utility bill. I chose option 2.

-BJC
I have a good credit standing with Metrobank for 5 years. I pay my bills on time and always in full. But Metrobank never waived my annual fee.

– Alex
I work in BPO for credit cards and if you always pay your bill in full, you won't get good credit standing because they don't get to milk you through interest charges. Remember, that's how bank earns from credit cards. They don't get to earn from you, instead your account becomes a liability because they also spend something for their services to you. To get a good credit standing, always use your card but do not pay it in full always and make sure to keep your account current. (They also get money from you through late fees, so getting late 1x in every 8 bills perhaps will not hurt your credit.)

– Mari Ela
I tried calling BPI before and the BPI agent said that I need to spend Php 9,000 in a month for them to waive the annual fee, else I'll be charged. So I let my co-workers use and swipe my card. My 1st year's annual fee was waived. Will do this again on my second year.

– John David G.
Now you know some ways to eliminate your annual credit card fee burden. Try the steps above because if they work, you'll surely be able to save thousands of pesos every year!