When father and son duos come to Shark Tank, it's usually the father who does all the pitching. But for Carson Grill and his dad, Jason Grill, it was surprisingly the opposite.
Extraordinary teen Carson Grill stunned the Sharks with his eloquent pitch and expertise in running the Touch Up Cup business that he co-owns with his father.
Read on to find out how Carson got a Shark to invest in Touch Up Cup and how the business is on track to generate $2 million in sales, complemented by a private label partnership with a painter's masking tape brand in the U.S.
Touch Up Cup (Shark Tank Highlights)
| | |
| --- | --- |
| What is Touch Up Cup? | An airtight container cup to keep paint fresh for future touch-ups |
| Proposed Deal by Owners | $150,000 for 10% equity |
| Owners' Valuation | $1.5 Million |
| Shark who Secured Deal | Blake Mycoskie |
| Shark's Offer | $200,000 for 25% |
| Touch up Cup Net Worth | $800,000 |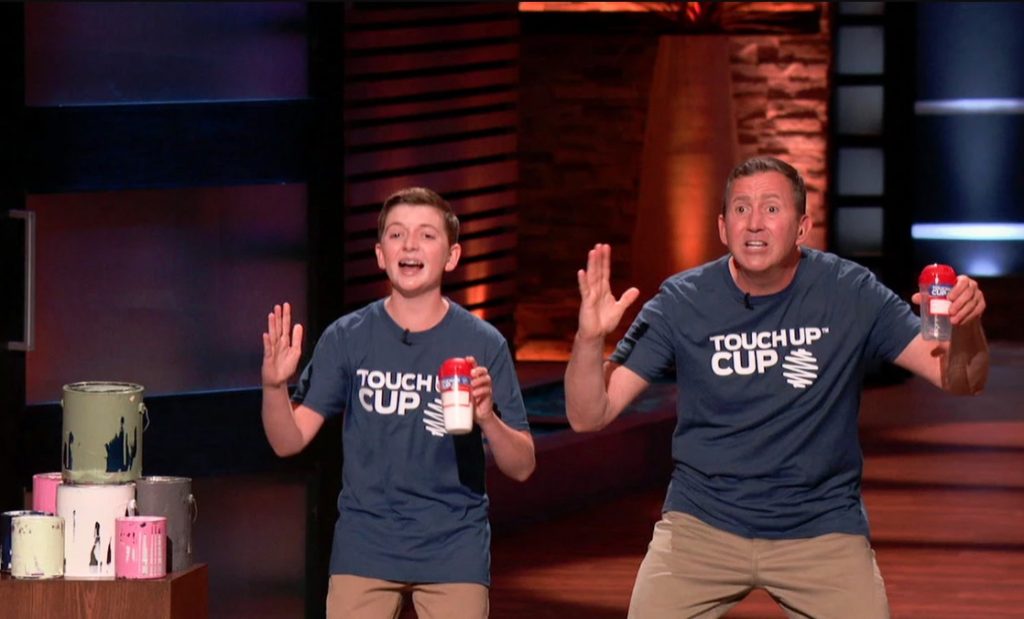 What is the Touch Up Cup?
The Touch Up Cup is a container that can keep 13 oz of paint for touch-ups around the house. It has an airtight silicone seal that helps keep the paint fresh for over 10 years. The cup comes with a stainless steel spring to mix the paint and remove clumps.
So when it's time to touch up, according to the company, all you have to do is shake and paint!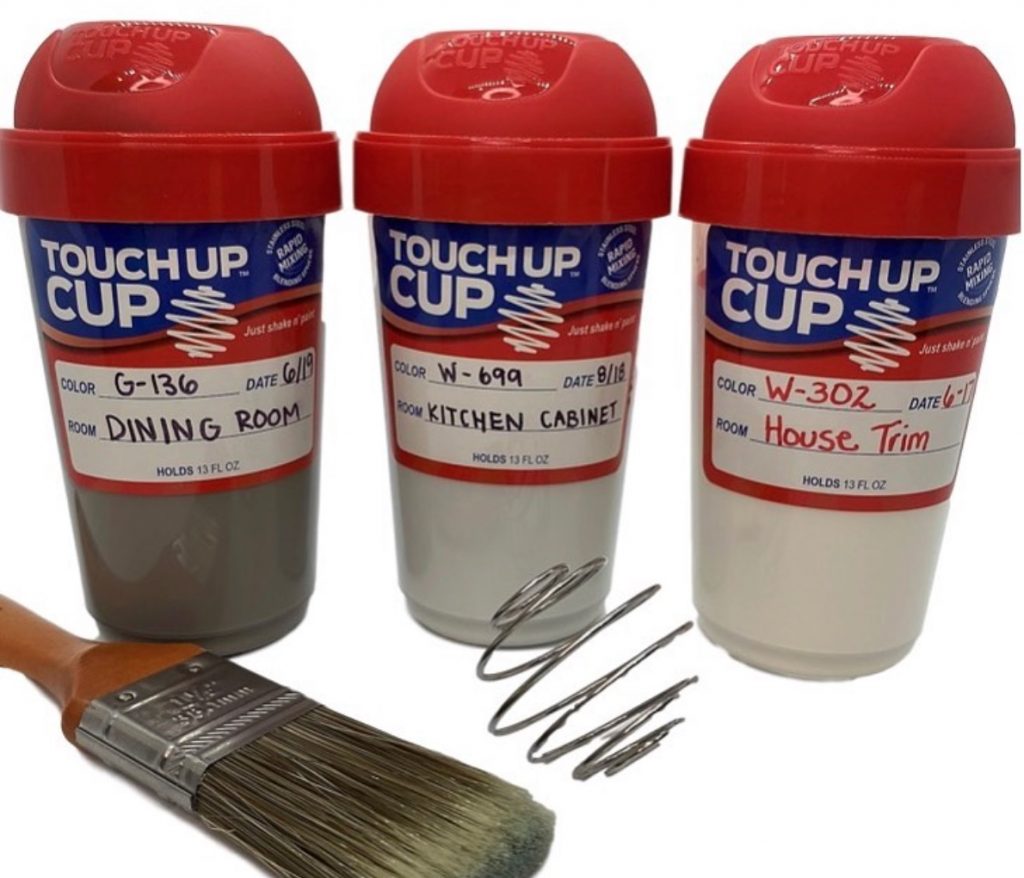 How did Touch Up Cup start?
The idea for the Touch Up Cup came to then 13-year old Carson, and his dad when they were planning to do some touch up painting around their home. They found that their old paint cans had rusted, the expensive paint clumped and unusable.
Carson decided to design an airtight container that will keep the paint fresh for years. He wanted a better, more efficient way to keep leftover paint. The silicon gasket on the Touch Up Cup makes it air-tight, allowing the paint to last longer.
Touch Up Cup on Shark Tank
Father and son entrepreneurs Jason and Carson Grill came to Shark Tank looking for a partner Shark who will help them in growing their business. Jason Grill works full-time in medical sales, while Carson is still a full-time highschool freshman.
The father-and-son founders of DZ Innovations, the company behind Touch Up Cup, pitched for a $150,000 investment in exchange for 10% equity in their company.
This deal also includes Carson's three other patented inventions – storage containers to keep muffins, bagels, and donuts fresh. 
Despite his young age, Carson surprised the Sharks by leading the pitch while his dad played the supporting role. Together, they started their company DZ Innovations with Carson's first invention, the Touch Up Cup.
The Sharks couldn't hide their impressed smiles when the business-savvy teenager started talking business.
"We have a [manufacturing] strategic partnership in Nashville, Tennessee that does all of our picking and packing, [and] our EDI [Electronic Data Interchange] order entry," Carson told the Sharks.
"His vocabulary is insane! EDI? I didn't learn that until my fifth year at Toms," exclaimed guest Shark and Toms founder, Blake Mycoskie.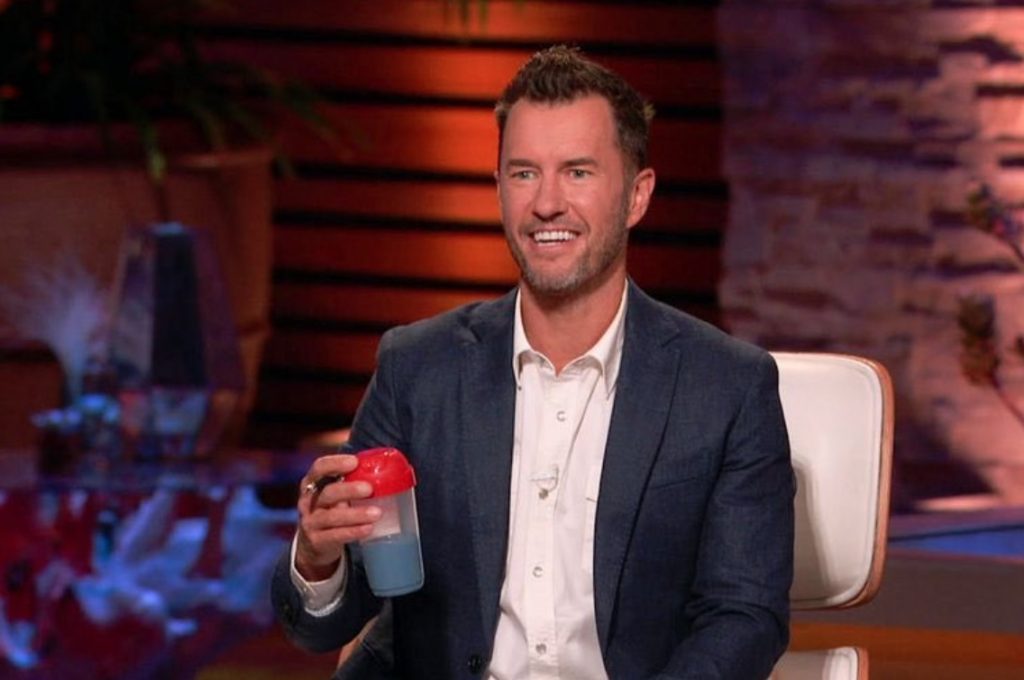 The Touch Up Cup is already available in 4,000 retail locations across the United States, stated Carson. They've had $220,000 in total sales in the last two years.
For 2020, they were on track to earn $400,000 in sales, according to the father and son duo.
How much does Touch Up Cup cost to product? Around $0.90 each landed, shared Carson.
Each Touch Up Cup then retails for $3.99 to $4.99. Carson also mentioned that he has secured a utility patent for the Touch Up Cup.
What were the Sharks' offers for the Touch Up Cup?
Guest Shark Blake Mycoskie made the first offer with $200,000 for 25% equity in the company.
Not to be outdone, Shark Daymond John offered $200,000 but asked for only 17.5% equity "to cut his legs out from underneath him" the FUBU founder joked, referring to Mycoskie.
Shark Mark Cuban told Carson and Jason Grill that he thinks they're amazing, but he's not making an offer because two great offers have already been made. The other Sharks, Lori Greiner and Kevin O'Leary also opted out. 
O'Leary wanted Carson to quit school to become CEO. Carson replied that it's not an option because he only just finished eighth grade at the time of shooting the episode.
John decided to change his offer after realizing that both entrepreneurs were not working on the business full-time. He changed his offer to $150,000 for 20%, lowering the valuation.
Mycoskie remained firm and said that his offer remains the same.
Here's a YouTube video of the Touch Up Cup pitch on Shark Tank, courtesy of ABC.
Did Touch Up Cup get a deal on Shark Tank?
Yes, the Touch Up Cup founders decided to go with Blake Mycoskie and accepted his offer of $200,000 for 25% stake.
Receiving two good offers from Mycoskie and John is a good problem to have. They tried to negotiate for lower equity but were unsuccessful and eventually chose Mycoskie to be their partner Shark.
What happened to Touch Up Cup after Shark Tank?
As expected, The Touch Up Cup experienced a "Shark Tank effect" wherein the product was sold out on both the company website and on Amazon after the episode aired. 
The Touch Up Cup is selling briskly available on Amazon with majority of the reviews being positive.
In an interview with the Cincinnati Business Courier newspaper, Jason Grill mentioned that they expect sales of Touch Up Cup to reach $2 million in 2021.
The company also entered into a private label partnership with Frog Tape. Under the private label agreement, Touch Up Cup will manufacture the product but it will be sold by Frog Tape under their own brand.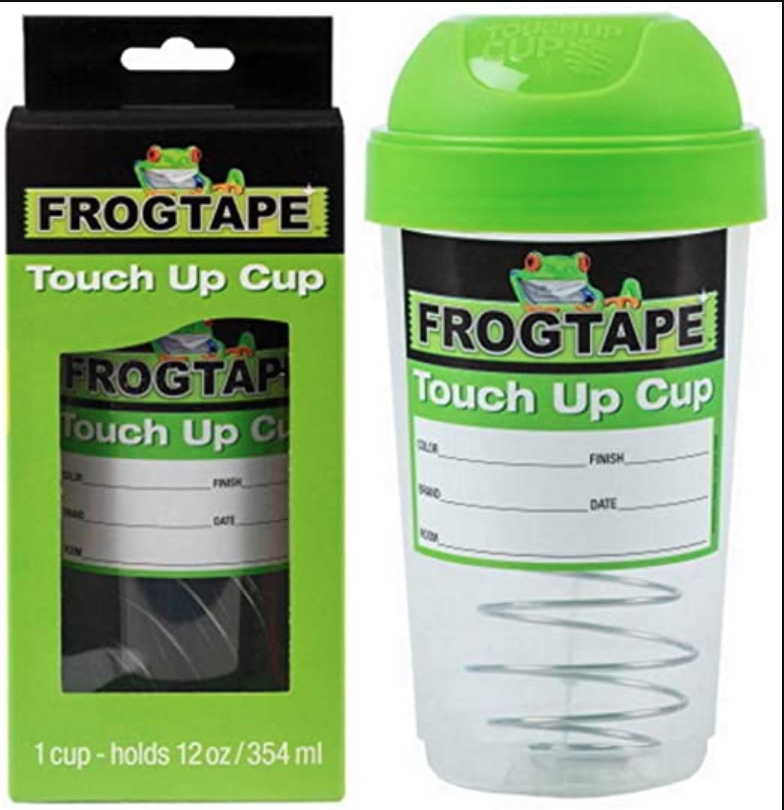 The father and son duo also appeared on various local TV shows to talk about their experience appearing on Shark Tank. They shared that were lucky to be part of the Top 100 auditionees from more than 40,000 applicants who wanted to pitch their product on Shark Tank.
They also talked about having to quarantine for 11 days before they were allowed to set foot on the Shark Tank stage as part of safety precautions due to COVID-19.
Is Touch Up Cup still in business today?
Yes, the Touch Up Cup which is under the Gill's company, DZ Innovations Inc., is very much in business. The Touch Up Cup is available on Amazon with a 62% 5-star rating from satisfied customers.
The Touch Up Cup, the muffin, bagel and donut storage containers are currently sold online. For brick and mortar locations, the Touch Up Cup is also available in Walmart and Home Depot.
How much is Touch Up Cup worth now?
After accepting the offer from Mycoskie, the net worth of Touch Up Cup was cut down to almost half, from $1.5 million to $800,000.
The father-and-son duo originally valued their business at $1.5 million when they pitched Touch Up Cup on Shark Tank. But given the $2 million sales forecast in 2021, the company's worth is likely to have grown way past Mycoskie's $800,000 valuation.
Lessons from Touch Up Cup on Shark Tank
The Touch Up Cup is another example of necessity being the mother of invention. It's not unusual that entrepreneurs find their champion product or innovative business idea from solving their own problems.
Carson Grill showed the viewer of Shark Tank that being an entrepreneur at such a young age is indeed possible. Young entrepreneurs, with the right guidance and access to information, are capable of successfully running their own businesses and even filing for a patent.
The father and son duo knew that having a Shark partner will help grow their business even more. Taking on an investor and partner in the company will not only mean gaining more cashflow but also utilizing their expertise and connection. With a partner like Blake Mycoskie who also started his company, the Touch Up Cup is only the beginning for Carson, Jason Grill and DZ Innovations Inc.