Entrepreneur and conservationist Ayele Solomon was inspired by his passion to save the bees and by Ethiopian honey wine called t'ej.
In a rare Shark Tank event, Bee D'Vine reeled in not one, not two, but four sharks. Continue reading to know more about the Shark Tank offer and the latest updates on the wine company.
Bee D'Vine (Shark Tank Highlights)
| | |
| --- | --- |
| What is Bee D'Vine? | A barrel-aged, Ethiopian-inspired honey wine that is produced sustainably from Sonoma Valley, California |
| Proposed Deal by Owner | $750,000 in exchange for 20% equity |
| Owners' Valuation | $3.75 Million |
| Shark who Secured Deal | Lori Greiner, Robert Herjavec, Daniel Lubetzky, and Mark Cuban |
| Shark's Offer | $750,000 for 40% equity |
| Bee D'Vine Net Worth | $1.88 Million |
What is Bee D'Vine?
Bee D'Vine is a brand of sustainably-produced honey wine produced and barrel-aged in Sonoma Valley, California. It only has two main ingredients: honey and spring water, all locally sourced in California.
The Honey Wine Company is the maker of Bee D'Vine and offers honey wine in two varieties: Brut (dry) or Demi Sec (semi-sweet). Bee D'Vine also has sparkling honey wine and grape wine.
What makes Bee D'Vine honey wine different from others is that the wine is aged for at least 15 months before being released to be sold. Honey wine is made with only two ingredients – local honey from Sonoma, and sparkling water. It is tannin-free and gives a cleaner finish than grape wine.
A portion of Bee D'Vine sales goes to the Kafa community in Ethiopia to help the people transition to modern beehives, which would allow them to produce more honey. More honey for the Kafa community means more income to survive and to help conserve Kafa forests.
How did Bee D'Vine start?
Conservationist Ayele Solomon, originally from Ethiopia, marveled at the remaining Kafa rainforests of his homeland and was saddened by the intense threat of its deforestation. It was also during one of his visits where he first encountered honey wine where it is regionally known as t'ej.
Solomon had an idea to help curb the deforestation rate of the Kafa rainforest by making the trees more valuable to the community. He found that the locals were making honey wine by sourcing honey from the traditional hollow beehives on the trees. The local wild honey bees used the nectar from the flowers of the surrounding trees in the rainforest.
Introducing modern beekeeping methods to the Kafa community would result in increased honey production and increased income for the community. This, in turn, would make the trees more valuable for honey production and less likely to be cut down for lumber.
Solomon studied the traditional method of producing honey wine and combined it with the production of white wine back home in Sonoma Valley. Sourcing honey locally helps support local beekeepers in California.
Solomon launched Bee D'Vine in 2014 and opened The Honey Wine bar in December 2019 in San Francisco.
Bee D'Vine featured on Shark Tank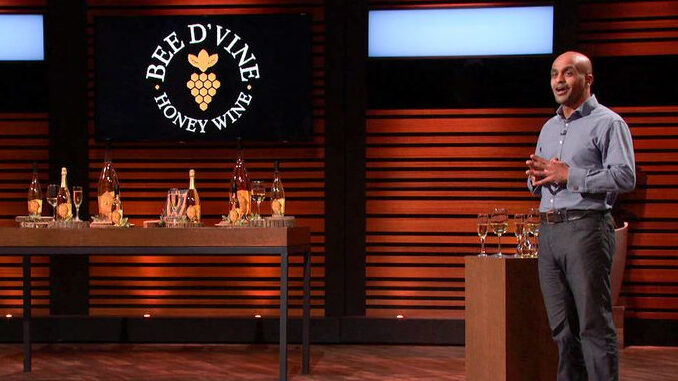 Bee D'Vine founder Ayele Solomon came to Shark Tank seeking a $750,000 investment in exchange for 20% stake in Bee D'Vine.
Solomon brought four varieties of his honey wine to the wine-loving Sharks, Mark Cuban, Lori Greiner, Kevin O'Leary, Robert Herjavec, and guest Shark Daniel Lubetzky.
After sampling all four, all the Sharks loved the Bee D'Vine wines. They also commended Solomon on his advocacy to save the bees by using locally-sourced honey and for donating to the Kafa community in Ethiopia to help them convert to modern beekeeping methods.
However, the buzz died a little bit for the Sharks when they heard the numbers from Solomon. He shared that in the past six years since its launch, they have only had $400,000 in sales. On the bright side, $115,000 of sales came from the past 12 months, which means that the company may be on the right track.
Solomon shared that each bottle costs $5.93 to make and retails for $39.95, which is the main problem, said the Sharks.
Shark Kevin O'Leary cited that 97% of wine purchased in the United States is under $14 per bottle. He continued to say that Solomon has two major problems: getting consumers to try the product and breaching the $14 mark.
What were the Sharks' offers for Bee D'Vine?
Bee D'Vine founder Ayele Solomon received one amazing combined offer from four Sharks.
"This is the first white wine I've liked," began Shark Lori Greiner. "It's kind of like a dream come true. And you're saving the bees."
"You're going to get four Sharks – Mark, Daniel, myself and Robert, " said Greiner. "We're going to make you an offer: $750,000 but we want 40%, 10% for each Shark. 
"Look, there's two things. One, this is non-negotiable, this is the only way we're going to have four in," Shark Mark Cuban told Solomon.
"Ant two, the second goal, other than the environmental issues–we're going to destroy O'Leary wines!" declared Cuban, which had the rest of the Sharks laughing.
Here's a YouTube video of the Bee D'Vine Honey pitch, courtesy of ABC.
Did Bee D'Vine get a deal on Shark Tank?
Ayele Solomon of Bee D'Vine got an amazing deal from four Sharks when he appeared on the 12th season of Shark Tank.
After a moment's hesitation, Solomon accepted the offer of $750,000 for 40% equity from the four Sharks.
"Let's do this!" said Solomon, and all the Sharks stood up for a toast to Bee D'Vine.
What happened to Bee D'Vine after Shark Tank?
After appearing on Shark Tank, the episode brought a significant influx of publicity to Bee D'Vine. Five out of ten wine offerings on the website are currently sold out.
Bee D'Vine now also offers a $29 wine, following the suggestion of the Sharks to offer something at a less intimidating price that will encourage new customers to try honey wine.
Is Bee D'Vine still in business today?
Bee D'Vine is still in business and is buzzing with orders. According to their social media channels on Facebook and Instagram, the Bee D'Vine team is tirelessly working on fulfilling Shark Tank, holiday and Valentine orders.
Despite having most of their wine offerings currently sold out, thirsty customers can still order available wines on Bee D'Vine's official website.
How much is Bee D'Vine worth now?
With the Shark Tank deal that was secured, Bee D'Vine has a valuation of $1.88 million. This is after the four Sharks decided to partner together by investing $750,000 for 40% equity of Bee D'Vine.
Lessons from Bee D'Vine on Shark Tank
Ayele Solomon showed that being an entrepreneur gives you the opportunity not only to earn well for yourself but also to help others and address environmental issues.
The environmental initiative, combined with Bee D'Vine's products that look good and taste amazing, helped reel in four Sharks despite the company's low sales. The Sharks saw the long-term potential of the business. It won't come as a surprise when wine lovers around the world will be abuzz about Bee D'Vine's honey wine in the future.