Every parent knows that kids stuck in a long car ride is not the most peaceful ride — with a lot of bickering, horsing around, and eventually, tears during the ride. Wouldn't it be great to finally have a drama-free and incident-free road trip with your kids?
Two moms from Texas created their own solution called "Space Traveler" to end this struggle.
What is the Space Traveler?
Space Traveler is a car seat divider for kids with a that helps avoid backseat bickering on long roadtrips.
This nifty tent-like product invented by two moms physically separates kids in the car with a barrier and allows them to have their own space. It is light-weight, collapsible, for easy stowing and opening for peaceful car trips.
The Space Traveler comes with privacy panels on both sides, and has pockets for snacks, toys and craft supplies. The car seat separator can be easily installed over baby seats and safety seats, and allows the car seatbelt to go through it.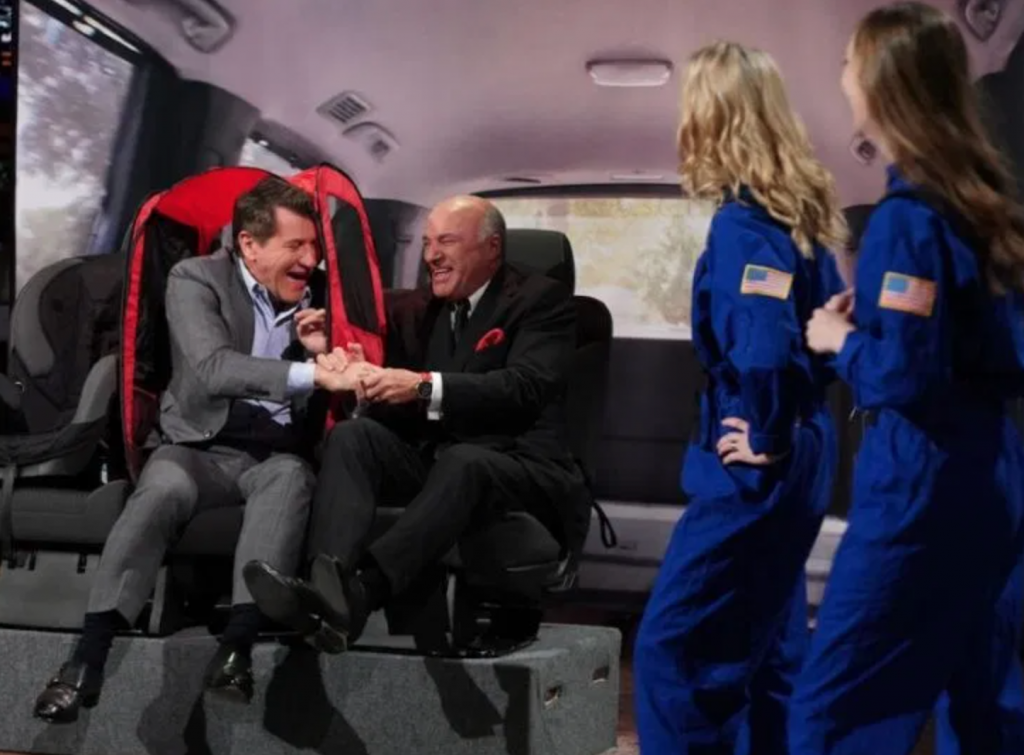 How did Space Traveler start?
Childhood friends Krissy Pruske and Rachel Lincoln grew up crafting together. They started creating products for children when they moved to San Antonio, Texas and had kids of their own.
They realized that there was a gap in the market for the children's products that cater to the needs of fellow parents and caregivers. The mompreneurs/inventors decided to make and innovate solutions themselves.
Together, Pruske and Lincoln started Bright Idea Designs. Their first product was the Sleepyheadz nap mat and pillow in 2013. Unfortunately, their design was ripped off after showing their designs to prospective manufacturing companies.
The idea for the Space Traveler came when Pruske went on a cross country trip with her kids. She found that the only way to keep her kids from fighting in the car during the trip was to put dividers between them.
She decided to fashion collapsible laundry hampers to fit in the car seats and it worked. They had a peaceful drive from Texas to Montana. On their next trip, she used collapsible dog kennels.
The two moms knew there was a market of tired parents out there who also wanted quiet, distraction-free car trips. Pruske and Lincoln got to work with their design. This time around, they're looking or a savvy and knowledgeable Shark to help them get their business off the ground.
Space Traveler featured on Shark Tank
The mompreneur duo, Krissy Pruske and Rachel Lincoln, confidently walked into the Shark Tank all smiles, wearing astronaut jumpers complete with head gear. They asked for $100,000 investment in exchange for 33% stake in their company.
True to their description as a startup, Pruske and Lincoln only had their vision, passion and the prototype for Space Traveler at the time of filming the Shark Tank episode. They explained to the Sharks that their intended retail price for Space Traveler is $39.95.
Unsusprisingly, the Sharks were not too keen to invest in a company with no current sales to show for. Sharks Kevin O'Leary, Lori Greiner, Robert Herjavec and Mark Cuban all opted out, except for Barbara Corcoran.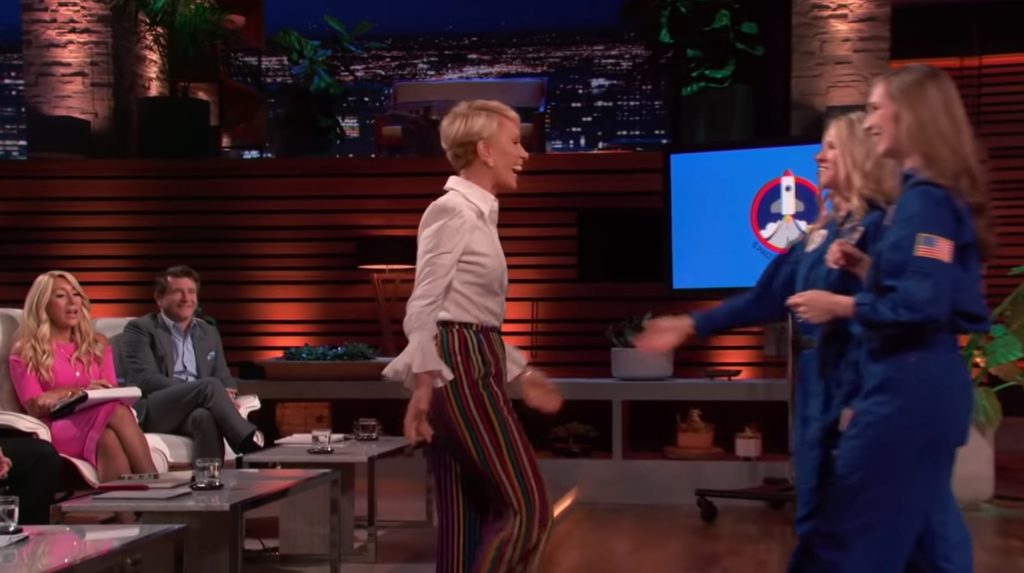 What were the Sharks' offers for Space Traveler?
Corcoran told the startup founders that they reminded her of the Speciale brothers and The Original Comfy.
She continued to say that she did not understand the brothers' product but she still invested because she liked the brothers. She then shared that with her help, The Original Comfy has now reached $150 million in sales!
"I happen to think you're going to sell a ton of these," Corcoran told Pruske and Lincoln.
Here's a YouTube video showing Barbara Corcoran's quick negotiation with the founders of Space Traveler for kids.
Did Space Traveler get a deal on Shark Tank? 
Yes, Shark Barbara Corcoran agreed to give the Space Traveler creators the $100,000 investment that they were asking for.
In exchange, Corcoran gets 33.3% of the company and a $2 royalty for every sale of the product until she recoups her investment.
She continued to say that as a partner, she will take the company from where they currently were, to production.
"You'll have the right website, the right name and you'll have a non-naive partner, which you just really need. Because I've been used, abused and I got over it by the time I was 30 [years old], so no one will use or abuse you anymore."
"You should say yes right now," Cuban prodded the Space Traveler creators.
"Yes!" Pruske and Lincoln exclaimed, and Barbara stood up to congratulate them.
What happened to Space Traveler after Shark Tank? 
Unfortunately, the Space Traveler is not in Barbara Corocoan's list of Shark Tank entrepreneurs on her website. It is likely that the deal for Space Traveler did not close.
The Space Traveler is now also being modified and recommended for children with sensory processing disorder (SPD). 
Adjustments are also being done to be FAA compliant to make the Space Traveler usable on planes as well. Krissy Pruske and Rachel Lincoln are also brainstorming on the design for portable privacy cells for adults. 
Is Space Traveler still in business today? 
The creators announced on an Instagram post in June this year that production has officially began for the Space Traveler. They are currently still taking orders for the Space Traveler through their website.
The first batch of orders for the Space Traveler were shipped in August of this year despite the global pandemic. The brand has very little activity on their Instagram and Facebook. Their social media accounts are used mainly for production and shipping updates.
How much is Space Traveler worth now? 
Production for the Space Traveler only started in the middle of this year. The sales revenues of Bright Idea Designs LLC have not been publicly declared.
When Shark Barbara Corcoran invested in the company, she placed a valuation of $333,000 on the company. In the absence of publicly disclosed revenue data, it is difficult to assess if Space Traveler is close to this amount of net worth. We hope they're on track!
Lessons from Space Traveler on Shark Tank
Entrepreneurs Pruske and Lincoln showed that you can build a business from solving a problem that you have. True enough, necessity is the mother of invention. They knew that their product can help a huge market of parents with young children.
Pruske and Lincoln made sure that their design set them apart from other products in the market that aim to bring the peace in the car on roadtrips.
The Space Traveler creators had been burned in the past by having their own product idea stolen and sold by a bigger brand. However, they did not let that bad experience deter them from their dream of creating children's products. Instead, they used it as a learning experience.
When the producers of Shark Tank contacted them, they knew it was the opportunity of a lifetime. There was a risk that their idea might be copied again when they show their prototype on the popular show. However, they decided that the opportunity and advantages of closing a business partnership with a Shark outweighed the risks.
Although it seems that the deal did not push through, the creators of the Space Traveler were able to get their product off the ground and up into full production mode.
Their space race has begun. With the innovative minds of Pruske and Lincoln, the sky's the limit for the Space Traveler.