It's so common for adults to have problems in the bedroom — but one truly affecting millions of people around the world is having a good night's sleep.
A restful sleep is undeniably important for one's mental health and overall well-being. If babies love being swaddled to sleep, it makes sense that it would work for adults too, right? So when a product promises to help you sleep like a baby, who wouldn't want to jump in and get cozy?
All five Sharks went into a rare Shark Tank bidding war over closing a deal with Hug Sleep, a product that promises a good night's sleep.
Read on to find out how the Shark Tank negotiations went down and what happened to Hug Sleep after securing an investment with Sharks Mark Cuban and Lori Greiner who partnered to seize the deal.
What is Hug Sleep?
The Hug Sleep Pod is an adult swaddle that is meant to help consumers sleep better using a proprietary technology called Deep Touch Pressure (DTP).
With its cocoon shape, the Hug Sleep Pod envelopes you with gentle, calming pressure that helps slow heart rate and relaxes muscles.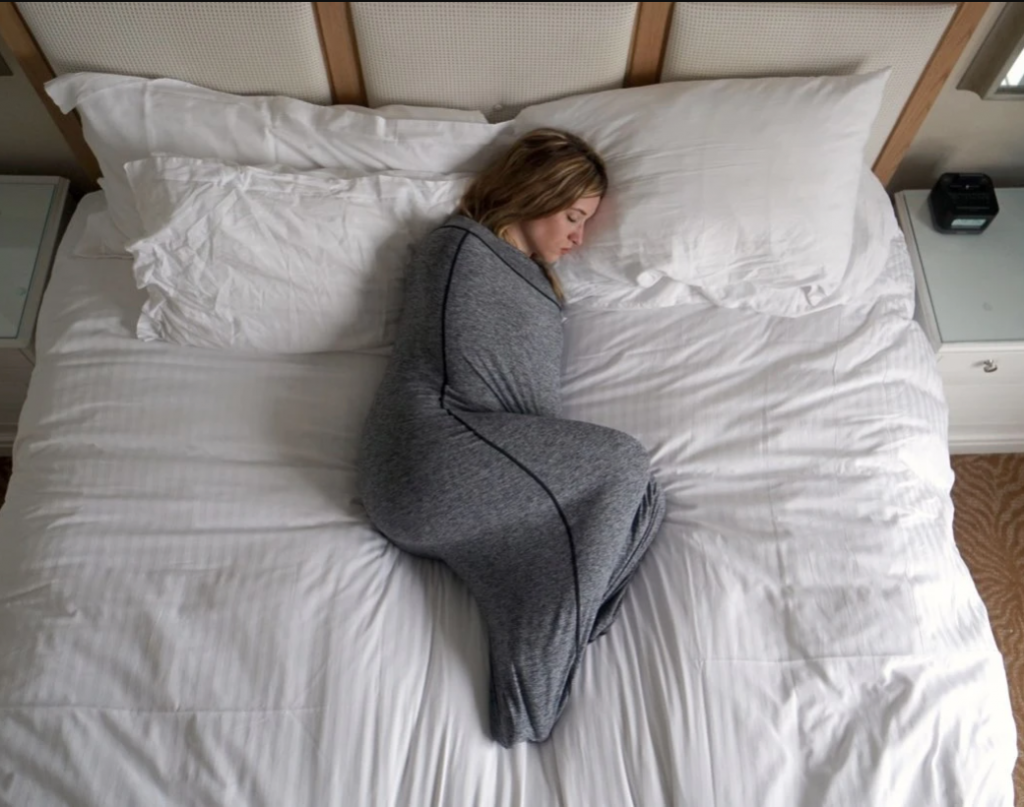 The Sleep Pod is made of 89% polyester and 11% Lycra, making it soft and cool without making you wake up in a pool of sweat. It is lightweight, easily rolled or folded for travel, and is machine washable.
Unlike a weighted blanket, the Sleep Pod is compact, great for travel, and comes in three sizes. 
The Sleep Pod is stretchable and allows flexibility while being encased inside. You can even bring your pillow in with you. It is said to be great for people with anxiety, sleep apnea, and sleeping problems.
It even has a hole for people who like sleeping with one foot out of the blanket for temperature regulation.
How did Hug Sleep start?
Mechanical engineer Matt Mundt has always had trouble sleeping. He has numerous weighted blankets in the market but none worked for him, so he decided to find the solution to his problem.
Mundt and his wife Angie Kupper started Hug Sleep with their savings of $2,500 to sell the adult swaddle they called the Sleep Pod.
The Sleep Pod simulates the feeling of being enclosed in a hug when the fabric stretches and compresses. This hug simulation creates a calming pressure that helps the sleeping person relax.
Selling out of their website and through Amazon, the Sleep Pod raked in sales of $490,000 in just 16 months.
Here's a video of the Hug Sleep Pod in use at night.
Hug Sleep featured on Shark Tank
The husband and wife team from Milwaukee, Wisconsin walked into the Shark Tank wearing matching red and black plaid pajama bottoms and their Hug Sleep shirts to pitch their business Hug Sleep. They were seeking $150,000 investment in exchange for 10% stake in their company.
After the pitch, Shark Robert Herjavec decided to try on the Sleep Pod.
"It's actually very soothing," he exclaimed as he lay in the bed, completely swaddled.
He then promptly rolled and fell over the bed, and cut his nose, which got the Sharks laughing.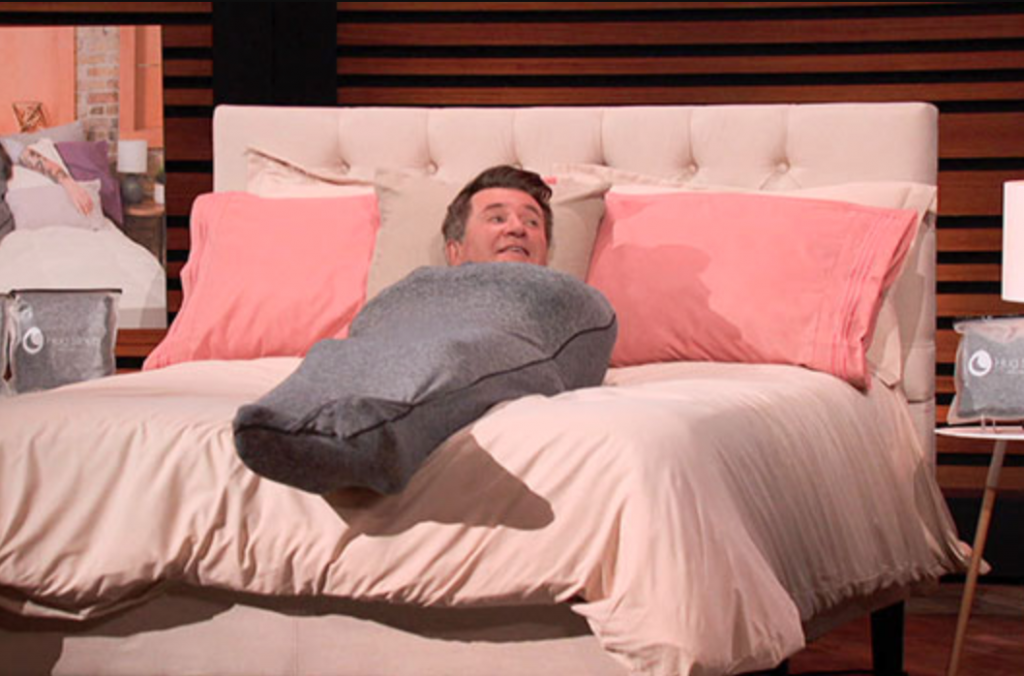 Shark Kevin O'Leary wanted to get into the nitty-gritty numbers right away. Founder Mundt shared that their lifetime sales were $490,000, selling out of their website direct-to-consumers and on Amazon.
The Sleep Pod sells for $99.99 and costs 22.50 to make "but we can lower that," Mundt explained.
To get a better understanding of them as entrepreneurs, Mundt talked about their backgrounds and explained how his idea for the Sleep Pod came about. He said he was using weighted blankets before but found the same problems that other users like himself encountered.
The typical weighted blanket traps heat, tends to slide off, not machine wash friendly, and not travel-friendly, too. As a mechanical engineer, he shared, he decided to solve the problem by using compression to provide pressure instead of weight.
Kupper, who is a therapist who specializes in the treatment of kids and adults who suffer from anxiety disorder. She knew the importance of sleep to one's mental health. She also said that she was already aware of the positive effects of Deep Touch Pressure Therapy for people with autism, anxiety, and post-traumatic stress disorder.
Going back to business, O'Leary asked the co-founders about the cost of customer acquisition.
Mundt replied that their blended cost for customer acquisition is only $11.50 through campaigns on Facebook and Instagram. Their net profit is 41% of their topline sales.
This number got a "Good for you! That's awesome!" from Cuban. 
"You're killing it!" added Herjavec.
Kupper revealed that they only put in $2,500 as capital to start. "We were profitable within the first week or two of selling," she said.
Mundt explained that demand has been high and they were planning to use the $150,000 from the Shark Tank deal for inventory.  
What were the Sharks' offers for Hug Sleep?
Shark Daymond John was first to lay down an offer of $150,000 in exchange for a 20% stake in Hug Sleep.
Shark Kevin O'Leary made an offer for the same amount but only a 15% stake.
"Are you going to accept it?" he asked.
At this point, Lori interjected saying "Wait a minute, I'm going to give you an offer." She then proceeded to match O'Leary's offer of $150,000 for a 15% stake.
Overwhelmed with three offers so far, Kupper took the time to share how she benefits from the Sleep Pod. Fighting back tears, she shared that her passion for helping people comes from losing her mom to suicide when she was a teenager.
Shark Mark Cuban told the co-founders that he could relate to Kupper's story, saying he has members in his family with sensory issues.
Mark Cuban's offer to Hug Sleep
Cuban then gave them two offers. One option he offered to give Hug Sleep what they were asking for, which was $150,000 for 10% equity. The second offer, which he prefers, is to invest $300,000 in exchange for a 20% stake in Hug Sleep.
Greiner stepped in and said that she was willing to match Cuban's offer.
This then prompted John to say that he was going to match their offers too. Mundt and Kupper appeared shocked that all the Sharks were trying to outbid each other. 
Mundt then asked the Sharks if any of them would be willing to team up together to make a deal with Hug Sleep. Cuban immediately asked Greiner, while John, O'Leary, and Herjavec teamed up to make the same offer.
Did Hug Sleep get a deal on Shark Tank? 
After a rare bidding war among the Sharks in the Tank, Hug Sleep decided to accept the offer from the tandem of Cuban and Greiner.
Hug Sleep accepted Cuban and Greiner's deal of $300,000 for a 20% stake in the company Hug Sleep. 
According to the co-founders, they were planning to use the investment for inventory and to lower the landed costs of the Sleep Pods. Now with two Sharks and double the investment that they work asking for, they can grow their business even more.
What happened to Hug Sleep after Shark Tank?
After appearing on the season 12 episode of Shark Tank, Hug Sleep just like any other product featured on the show, experience a "Shark Tank effect" and immediately sold out all of their inventory.
The demand was so high because of their Shark Tank appearance that they had to start a waitlist for customers to order the Sleep Pod.
As of this writing, the Sleep Pod is still out of stock on the Hug Sleep website and Amazon.
Is Hug Sleep still in business today? 
Yes, they definitely are still in business. Although the company is still working out to fulfill orders from customers, the Hug Sleep Pod is available on their website.
It is also sold on Amazon where it has mostly raving reviews from people who have been enjoying better, uninterrupted sleep thanks to the Hug Sleep Pod.
How much is Hug Sleep worth now?
Co-founders Mundt and Kupper gave the valuation of Hug Sleep to be $1.5 million at the time of filming the Shark Tank episode.
On the show, the co-founders of Hug Sleep stated that the company has a lifetime sales of $490,000. 
With Greiner and Cuban's investment of $300,000 for a 20%, Hug Sleep's worth has been valued at $1.5 million.
Here's a thank-you video from the founders posted on YouTube after the massive publicity from the Shark Tank episode.
Lessons from Hug Sleep on Shark Tank
The founders of Hug Sleep used their experiences–better sleep, problem-solving, and helping others–to fuel their passion for their business. Like many entrepreneurs, they wanted to solve their problems and wanted to share their solutions with others with similar needs.
Mundt and Kupper only had $2,500 in savings and they used it to start their business. As a husband and wife team, they supported each other to get their business going. They utilized and encouraged each other's strength–Mundt in design, and Kupper in her knowledge in Deep Touch Pressure Therapy.
It's overwhelming to have all the Sharks trying to outbid each other for their business but the Hug Sleep founders kept a level head and had a counter-offer ready. They had the rare chance of having their pick of the Shark to partner with. They had prepared for this situation and knew which Sharks would be best for their partnership.
With investors like Cuban and Greiner, the co-founders of Hug Sleep can definitely sleep soundly at night.