Because of the COVID-19 pandemic, it's been increasingly important and normal to take off your shoes when going into your home. Don't you just hate it when you have to take off your shoes only to go through the hassle of putting them on again when you forget something outside?

Regular slippers are good, but you eventually end up with a messy pile of slippers and shoes at the door. Enter Muvez footwear, the innovative shoe brand that lets you slip out of your athletic shoes and into your clean indoor slippers in just one step.
What is Muvez?
Muvez is a shoe company with a revolutionary shoe design of convertible slippers/athletic shoes. Muvez footwear has dual sole technology–shoes with fully removable and re-attachable lightweight rubber soles that allow easy slip on and off.

The 2-in-1 shoes are supposedly comfortable for use in athletic outdoor activities such as running, walking, and jumping while also being cozy and comfortable as slippers indoors.
The best part is you can easily slip the soles off when you have to go indoors without having to take off your shoes. Then, you can slip the soles back on with ease when you have to do a quick run outside for errands.
Here's a YouTube video showing how Muvez footwear is used.
How did Muvez start?
Brothers Eric and Ryan Cruz, with their childhood bestfriend Kevin Zamora wanted to find the solution to the hassle of the common household 'no shoes inside' rule to avoid tracking dirt into the house.
They knew how annoying it was to have to untie your shoes to take it off and go indoors, then have to lace up your shoes back on every time you have a quick trip outside.

They had the idea of comfortable "athleisure" slippers that looked good enough to be worn outside, with removable and re-attachable soles. Their initial idea from 2013 was put on hold due to setbacks.
Finally, in 2019, the trio was able to finalize their footwear design.
They went on Kickstarter for funding, with a target of $15,000. They ended their campaign in mid-2019 exceeding their target, with $33,873 from 292 backers. Their backers received the first shipments by the end of 2019.
Muvez shoes featured on Shark Tank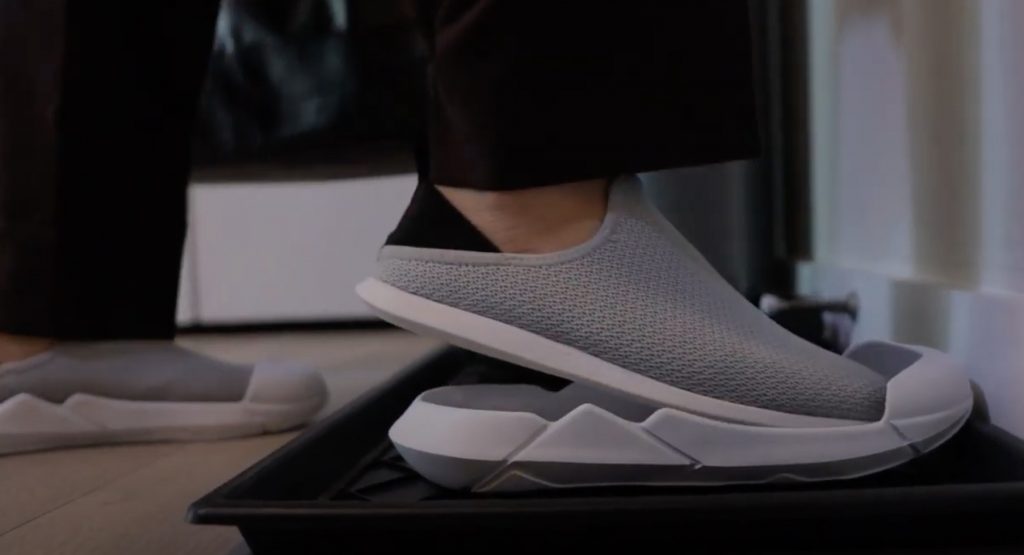 Eric and Ryan Cruz with their best friend Kevin walked into the tank with confidence, wearing their Muvez shoes, seeking a $200,000 investment in exchange for 15% equity in their footwear company.
The trio handed out samples to the panel of Sharks that included Kevin O'Leary, Robert Herjavec, Mark Cuban, Lori Greiner, and Daymond John. The founders also shared their numbers with the Sharks.
The landed cost of each pair of Muvez shoes is $26. The retail price, however, is $110 giving the company huge profit margins. Muvez sells directly to customers through their website and e-commerce channels.
At the time of filming the episode, the company's total sales was $73,000 without having spent on marketing.
What were the Sharks' offers for Muvez?
Fubu Founder Daymond John thought the dual-sole footwear was cool.
Shark Kevin O'Leary, however, thought that the risk of investing in a company in a tough market was too high and therefore decided to bow out.
Shark Robert Herjavec opted out, too. He said the branding and marketing of the athleisure slippers/shoes would be difficult.
Shark Mark Cuban agreed, saying he also loved the product and liked its originality but he also knew that marketing the product would cost a lot of money. He wished the three entrepreneurs the best and bowed out of the bidding.

With three Sharks out, the only ones left are Lori Greiner and Daymond John.
Greiner told the Muvez founders that she thought the product was brilliant. However, she was a little afraid of the risk and would only go on a deal if another Shark did it with her.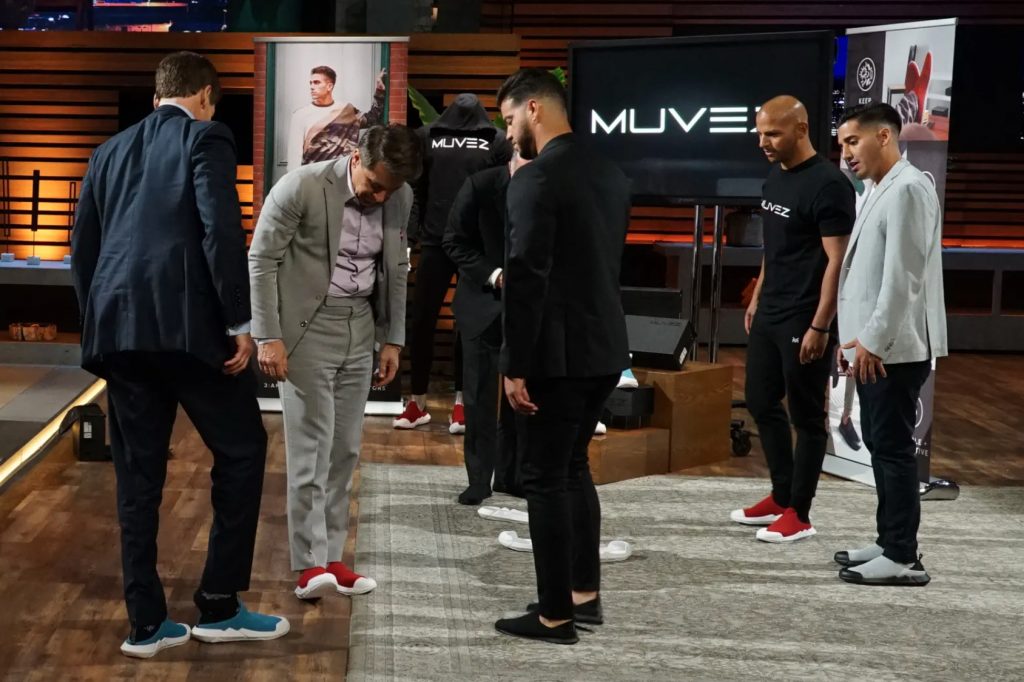 Did Muvez get a deal on Shark Tank?
Shark John told the trio that they would need help with licensing, basing it on his experience in his own brand, Fubu.
He declined Greiner's offer to pair up in a deal and offered to give the Muvez founders the full $200,000 in exchange for a 33.3% of the company.

"Daymond would have been a great partner, but he threw me under the bus," Greiner said, and bowed out of the bidding.

Entrepreneur Kevin Zamora gave a counter offer of $200,000 for 25% equity instead.
John agreed and accepted the 25% equity offer. He then stood up to shake and hug the trio to close the deal.
Here's a YouTube clip of the Muvez negotiations on Shark Tank, courtesy of ABC.
What happened to Muvez after Shark Tank?
After the April 2020 airing of the Shark Tank season 11 finale episode that showed Muvez, the company experienced boost in sales as expected.

Within just three months from the airing the episode, the innovative slipper shoe company Muvez was able to quadruple their 2019 revenue of $100,000!
The Shark Tank sales boost happened in the middle of the coronavirus pandemic when a lot of non-essential businesses were closed in the United States and American were into online shopping. The founders of Muvez had to pack the orders themselves in order to be able to deliver.

With the increase in sales, Muvez was able to donate to the World Health Organization (WHO). The company also donated 500 of the First Responder shoes to the Hackensack University Medical Center in New Jersey.
More consumers have also been looking to the brand because of concerns about transmitting the COVID-19 virus through their footwear.

As of August 2020, Muvez has expanded its product line to now include the Women's Muvez line in addition to two more colorways in the Men's Original Muvez Slipper. Muvez slippers are still available on the company website.
True to their vision, the brand also broke into the athleisure scene, by partnering with athletes including Detroit Piston and Langston Galloway.
Positive reviews from shoe designer Salvador Amezcua a.k.a. Kickstradomis, shoe reviewer Tom Finds and influencer Jesse 'Filayyyy' Jones also helped boost popularity and brand awareness. Muvez footwear also became part of the New York Fashion Week through designer Chris Lavish.
How much is Muvez worth now?
As a result of the boost in sales following the airing of the Shark Tank episode, the company was able to quadruple their entire 2019 revenue of $100,000 in just the first half of 2020!
With growing brand awareness and COVID precautions that the brand is able to address, sales are definitely going up for the indoor/outdoor slipper shoes company.

When they appeared on Shark Tank, the founders pitched Muvez with a valuation of $1.3 million. Daymond John's investment of $200,000 for a 25% equity stake in the company lowered and pegged Muvez's valuation to $800,000.
Although the company has not officially released its 2020 net worth, it looks like Muvez is on track to reach this valuation given the continuous rise in sales.
Lessons from Muvez on Shark Tank
The founders of Muvez almost gave up on their unique product idea. Despite being discouraged in the beginning, pursuing other careers, and experiencing production setbacks, they still went back and pursued their dream footwear company.
They are a great example of what hard work, tenacity, and resourcefulness can achieve.

During their pitch, Eric, Ryan, and Kevin were able to show a unique product and demonstrate the value of using it. Although they failed to lure in three big Sharks, they succeeded in closing with Daymond John who has had experience in the clothing and footwear industry.

Muvez also grabbed the opportunity to market their product that suited the needs of the consumers during the pandemic. The team showed that their indoor/outdoor slipper shoes prioritized safety without sacrificing comfort and style.
Now, the future looks bright for Muvez as the childhood friends turned business partners are busy fulfilling the flood of orders, donating to charity, and planning their next innovative move.