Have you ever wanted to eat some leftover chili from last night but it's frozen in a huge container so you end up reheating the whole thing just to satisfy your small craving? The founders of Souper Cubes know the struggles of people wishing to defrost just a small portion of soup and have made a Shark Tank-worthy solution for it.
Continue reading to find out why Lori Greiner gave her sole golden ticket to Souper Cubes and learn how the company is doing now after the Shark Tank episode.
Souper Cubes (Shark Tank Highlights)
| | |
| --- | --- |
| What is Souper Cubes? | A food storage solution for storing leftovers in measured portions. The tray is made with food-grade, BPA-free silicone that is freezer-safe and oven-safe. |
| Proposed Deal by Owners | $400,000 for 5% equity |
| Owners' Valuation | $8 Million |
| Shark who Secured Deal | Lori Greiner |
| Shark's Offer | $400,000 for 5% equity |
| Souper Cubes Net Worth | $8 Million |
What is Souper Cubes?
Souper Cubes is a food storage solution that makes it easy to portion and store soups, broths, leftovers and so much more. It resembles a large ice tray but because it is made with food-grade silicone, it is easier to pop out frozen portions that can be reheated.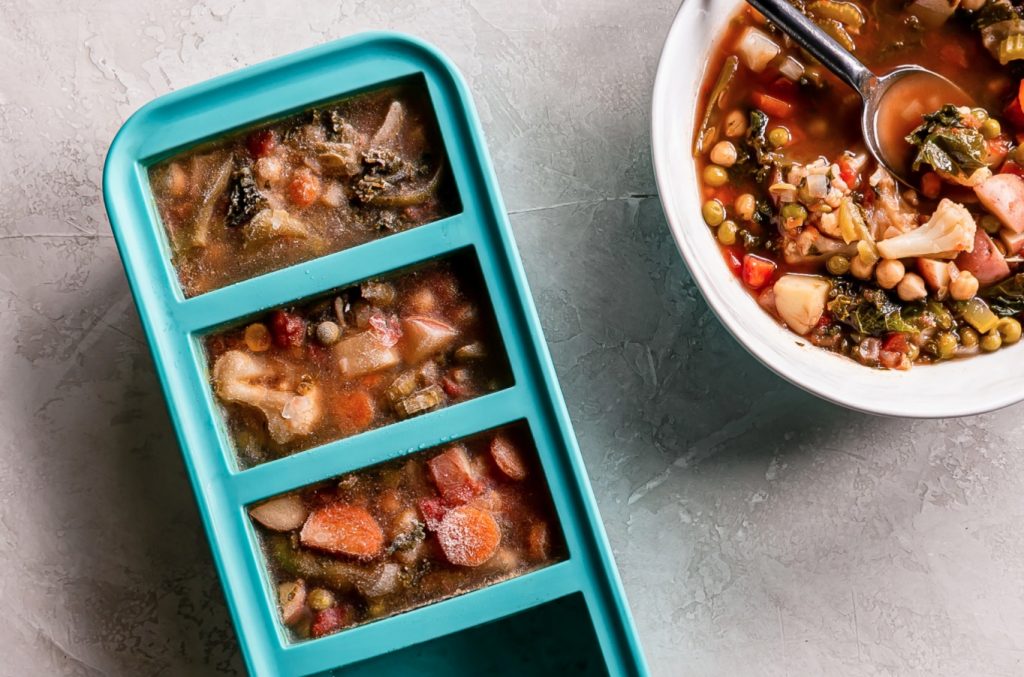 Made with BPA-free, food-grade silicone, the Souper Cubes tray is said to be both freezer-safe and oven-safe. The cover is made of food-grade polypropylene plastic which is also freezer-safe and BPA-free.
How did Souper Cubes start?
California-based couple Jake Sendowski and Michelle Strausman love to cook. Michelle had the idea for Souper Cubes when they made a big batch of their family's chicken stock and looked for a more efficient way to store the extra chicken stock.
Souper Cubes come in different portion sizes, from 2 tablespoon portions to two cups. The original design was for one cup portions, in their signature aqua color, which retails for $19.95 for a pack.
The 2-tablespoon freezing tray with lid costs $31.99 for a two-pack. The Ultimate Gift Set, which includes all the freezing tray sizes including lids, are sold for $69.99.
Souper Cubes also came out with "The Cookie Tray" for storing cookie dough. It comes with a lid for $29.95 per set.
Souper Cubes featured on Shark Tank
Husband and wife duo Jake and Michelle Sendowski came to the Shark Tank seeking $400,000 in exchange for a 5% stake in their company, Souper Cubes.
Sharks Mark Cuban, Lori Greiner, Barbara Corcoran, Kevin O'Leary, and guest Shark Kendra Scott were entertained by the product demo prepared by the Sendowskis and their friend.
"Souper Cubes!" exclaimed Shark Mark Cuban. "I love the name!"
Jake and Michelle shared the design features of the patented Souper Cubes as the Sharks inspected the samples. Satisfied with the sample, Shark Lori Greiner asked about the company's sales.
Michelle replied that only a year since they launched in 2019, their sales were at $940,000.
In 2020, in the middle of the pandemic, company revenues reached $1.6 million. In the first month of 2021 alone, they've made $330,000 and are on track to end the year with $3.3 million.
Cuban let out an exhilarated and approving whoop in response to their impressive numbers. Their sales have been largely due to word-of-mouth marketing from their customers, shared Michelle. Their customers love giving feedback and sharing about their products on social media. 
The husband and wife duo shared with the Sharks that 78% of their sales come from Amazon, 8% from their website, and 14% from retail partners such as Willamson Sonoma and Sur La Table.
The Sharks were equally impressed with the margins at which the Souper Cubes are being sold. Each freezer tray costs $3.80 landed and retails for $19.95 according to Jake.
"Why do you even need a Shark? You seem to be merrily strolling along," asked Barbara Corcoran.
Michelle replied that they felt that they needed mentorship from an experienced Shark to help them in making big business decisions.
What were the Sharks' offers for Souper Cubes?
The founders of Souper Cubes got three offers from three Sharks.
Shark Kevin O'Leary was the first one to make an offer.
"I'm going to make an offer in two directions," began O'Leary. "Structure one is, I get a $0.40 royalty on every unit, but I only take 3% equity."
"The second offer, I'll do the $400,000 for 15%, no royalty and I'll get behind it," continued O'Leary.
Shark Barbara Corcoran quickly came next, also with two offers: $400,000 for 10% equity, or $800,000 for 20% equity.
Michelle admitted to Corcoran that 20% is more equity than they were prepared to give, and that they were also hesitant about O'Leary's offers.
O'Leary told them he would be willing to cap the royalty until he recoups $1 million.
Mark Cuban told the couple that he loved the name "Souper Cubes" but opted out, saying it's not the right fit for him.
Greiner then tells the Souper Cubes owners that she could not any fault to the product.
"I'm going to offer you my golden ticket," declared Greiner. "You are the hero product I have seen this season thus far, and I will give you the $400,000 for 5%."
"I can't beat that offer. I'm out," said guest Shark Kendra Scott. Corcoran shook her head as if to say the same.
Did Souper Cubes get a deal on Shark Tank?
After receiving offers from three Sharks, the founders of Souper Cubes decided to accept the "Golden Ticket" offer of Lori Greiner.
Here's a video, courtesy of ABC, of Greiner's pitch to offer the "golden ticket" to the Souper Cubes founders.
What happened to Souper Cubes after Shark Tank?
Souper Cubes received overwhelming feedback from customers after appearing on the 12th season of the show, again proving the enormous "Shark Tank" effect of the TV show.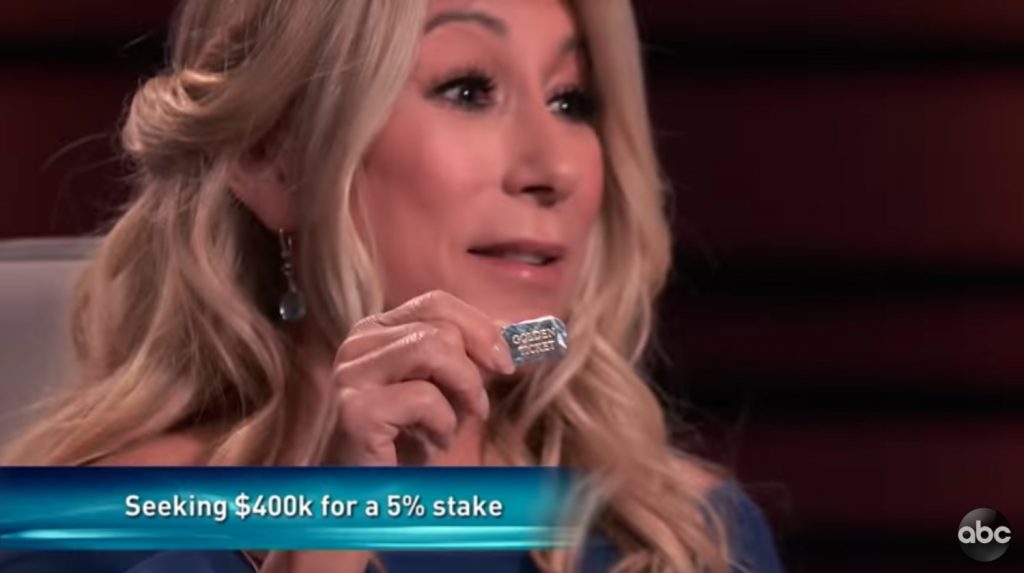 On the company website, 11 out of 12 product offerings are currently out of stock. Souper Cubes assures customers that they will be restocking soon.
Souper Cubes products are also now available on Amazon, Sur La Table, Food52, and Williams Sonoma.
Is Souper Cubes still in business today?
Yes, despite being almost completely out of stock on all of the items, Souper Cube is definitely still in business today.
The brand is very active on Instagram where they have over 16,000 followers. There, the brand shares recipes, tips, food hacks and more. Souper Cubes also works with affiliates who shares the joys of using Souper Cubes to their respective communities.
How much is Souper Cubes worth now?
Thanks to Lori Greiner's deal which matched the founders' original valuation, Souper Cubes is now worth $8 million.
This valuation is worth almost three times the company's expected revenues of $3.3 million in 2021.
Lessons from Souper Cubes on Shark Tank
An important lesson that can be learned from Souper Cubes is the value of acknowledging your strengths and weaknesses.
Jake and Michelle Sendowski used their individual strengths in designing the Souper Cubes. They knew that neither of them had any knowledge in manufacturing. By partnering with their friend Sasan Salekwen, they got a partner who had knowledge and contacts in manufacturing and import and export in China.
The Souper Cubes founders came to Shark Tank looking for a partner and mentor for their fast-growing business. With the guidance of the Queen of QVC, Lori Greiner, Souper Cubes can definitely freeze out the competition.