Teenager Shirah Benarde came up with a handy solution to help protect fellow women from becoming a victim to drink spiking.
Who knew that the simple scrunchie could be a defensive safety device? Read about why Shark Lori Greiner invested in Night Cap and find out what the company is up to after the airing of the episode.
Night Cap (Shark Tank Highlights)
| | |
| --- | --- |
| What is Night Cap? | Night cap is a drink-spiking defense device that is conveniently stored in a simple hair tie. |
| Proposed Deal by Owners | $60,000 in exchange for 20% equity |
| Owners' Valuation | $300,000 |
| Shark who Secured Deal | Lori Greiner |
| Shark's Offer | $60,000 for 25% |
| Night Cap Net Worth | $240,000 |
What is the Night Cap?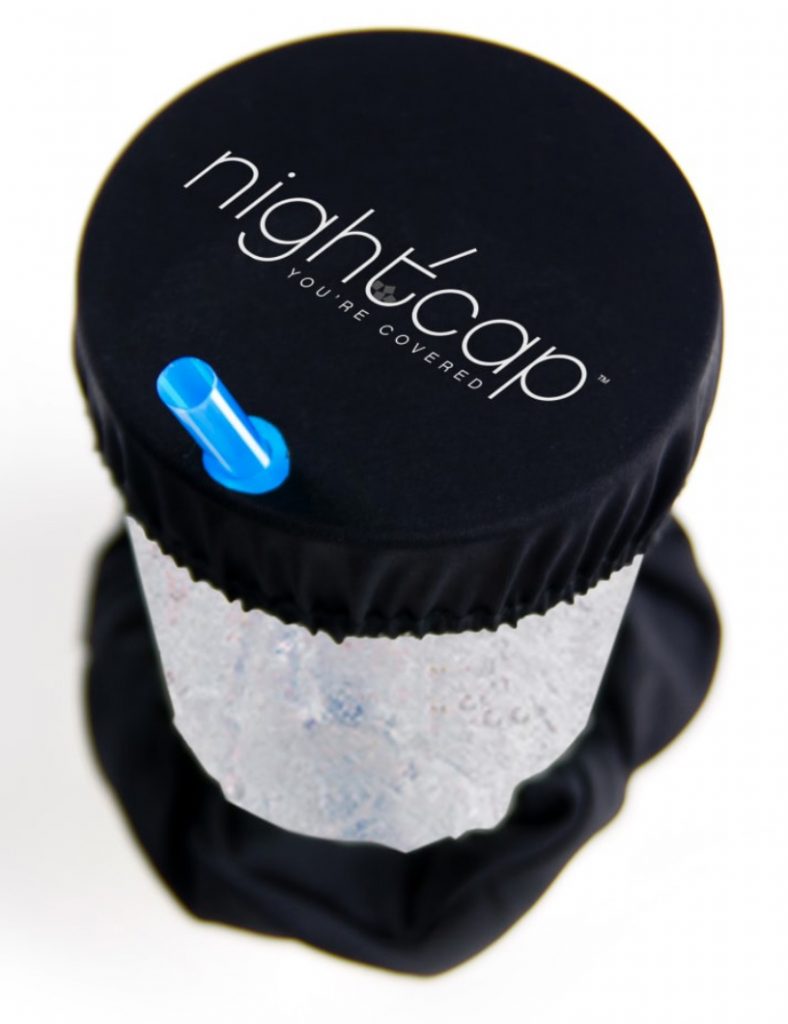 Night Cap is a drink-spiking defense device that is creatively hidden in a scrunchie. It is meant to cover drinks to help prevent anyone from putting drugs or anything harmful into your drink. Because it's in a scrunchie, it's convenient to bring anywhere and has dual purpose as a regular hair tie.
It comes in either black or purple, making it easy to match any outfit. It can also be bought as a set with a reusable metal straw so you can drink safely without worrying about your drink getting drugged or ruffied.
How did Night Cap start?
Siblings Shirah Benarde and Michael Benarde are the founders of Night Cap. Shirah dreamed of the idea for Night Cap after she learned about her friend who became a victim of drink spiking when she went to college.
Shirah went straight to making her first prototype for the drink cover using her mom's stockings. Her brother Michael, who was graduating form college at the time, saw Shirah's prototype. He knew from his college days that drink spiking was one of the most common dangers that women in college have to deal with whenever they go drinking. 
Michael saw the potential in Night Cap and decided to forego law school to help Shirah make her dream business a reality. Together, they launched Night Cap in September 2019.
Night Cap featured on Shark Tank
Siblings Shira and Michael Benarde came to Shark Tank in the hopes of reeling in a Shark to partner with in their drink cover business, Night Cap. They were asking for an investment of $60,000 in exchange for 20% equity in their company with a $300,000 valuation.
The Bernade siblings talked about the dangers of drink spiking, which is a widespread danger for women. Shira wanted to make a solution that could help prevent drink spiking in women who go out to have drinks.
Shira and Michael shared to the Sharks that they were able to launch Night Cap through three ways of gathering funds. First was a loan from their parents. Second, they raised funds on Indiegogo, where they successfully raised $12,000. The rest of the funds came from Michael joining pitching competitions and winning all four to take home $15,000.
The drink cap in hair tie product retails for $11.99 each and costs only $2.82 to make. Shirah told the Sharks that when they scale up and move production overseas, they could lower cost to $1.60 each.
Mr. Wonderful asked about the crucial numbers for Night Cap. Shira shared that in their 11 months of business, they have earned $68,000 in sales. What's interesting about it is that $40,000 of it came from sales in the past six weeks.
What triggered the spike in sales was when they learned how to optimize their website and social media marketing from March to April, said Michael. Sales for Night Cap went from $4,500 in May to 20,000 in July.
Sales climbed from 4,500 in May, 17,000 in June and $20,000 in July. The Sharks commended their effective effort that paid off and gave positive results in such a short time.
Concerned about the simplicity of the product, Shark Kevin O'Leary asked, "Have you been knocked off yet? Because this isn't patentable."
Michael addressed Mr. Wonderful's concern, saying they have a utility patent pending for a "drink-spiking prevention device coming out of a wearable" which impressed the Sharks more.
What were the Sharks' offers for Night Cap?
Entrepreneur and inventor Lori Greiner made the first and only offer to the Benardes. She offered to invest $60,000 for a 25% stake in Night Cap.
"I love this. I don't think that I have ever seen a product come into the Shark Tank that resonated to me more deeply in a social mission way as this," said Greiner.
She continued to express her contant concern for young women being victims to drink spiking and assault. She thought it was horrible how such acts were so common, which was why she thought every woman should have a Night Cap.
The other Sharks encouraged the Benardes to take Greiner's offer. Shark Barbara Corcoran even said "I have never heard Lori that passionate. Grab that offer and run."
Did Night Cap get a deal on Shark Tank?
Yes, Night Cap's Shirah and Michael Benarde were able to close a deal with Shark Lori Greiner on Shark Tank.
After a short but sweet pitch and some encouragement from the Sharks, the entrepreneur siblings happily accepted Greiner's offer.
"We're going to spread this around the world. We're going to save so many lives," ended Michael.
What happened to Night Cap after Shark Tank?
After appearing on Shark Tank, Night Cap received so much attention, Michael thought his phone would literally blow up from the flood of notifications, he said in an interview.
Is Night Cap still in business today?
Yes, Night Cap is still in business today and business is booming. It's now also available on Amazon, but the product is currently sold out due to the high demand thanks to their Shark Tank appearance. The good news is that customers can still order the Night Cap on the official website. 
Single Night Cap scrunchies retail for $11.99 while a family pack with four scunchies is available for $39.99. A straw kit can be purchased with the Night Cap starting from $15.99 up top $51.99 for a four pack.
Interested buyers can also order and receive brand updates through Night Cap's Facebook page, which has over ten thousand followers. Night Cap now ships to 46 countries around the world, according to their update on Instagram.
How much is Night Cap worth now?
With the recent Shark Tank deal with Lori Greiner, Night Cap now has a valuation of $240,000.
This value is slightly lower than the owner's valuation when they pitched on Shark Tank.
Lessons from Night Cap on Shark Tank
Shirah Benarde took her dream to reality, knowing it would help so many women in the real world. She didn't let her idea stay in dream world. It's a simple solution to a horrible problem, but before she made Night Cap, nobody has done it yet.
When nobody has made a similar product before, it's important to protect your idea. Shirah and her brother Michael made the smart decision to apply for a utility patent on their product. This protects their product from copycats and would allow them to still earn through the product utility patent in the future.