Just when you thought pizza couldn't get any better, Pizza Cupcake comes along! It's pizza the size of a cupcake that packs a whole lot of marinara and cheesy goodness.
Read on how Pizza Cupcake is doing after securing a deal with Lori Greiner on the Shark Tank TV show.
Pizza Cupcake (Shark Tank Highlights)
| | |
| --- | --- |
| What is Pizza Cupcake? | A gourmet pizza in cupcake size and shape that can be eaten as a snack or a meal. |
| Proposed Deal by Owners | $125,000 for 5% equity |
| Owners' Valuation | $2.5 Million |
| Shark who Secured Deal | Lori Greiner |
| Shark's Offer | $125,000 for 12.5% equity plus 2.5% advisory shares |
| Pizza Cupcake Net Worth | $833,000 |
What is Pizza Cupcake?
Pizza Cupcake is the gourmet mini version of the classic pizza. It is shaped and sized like a cupcake, but packed with the classic pizza flavors: Margherita and Pepperoni.
Great as a snack or appetizer, each Pizza Cupcake is handmade and has only 160 calories. The crust is made with a recipe combining sourdough and brioche. The Pizza Cupcake is filled with marinara sauce made from fresh tomatoes and topped with mozzarella cheese, basil, or pepperoni.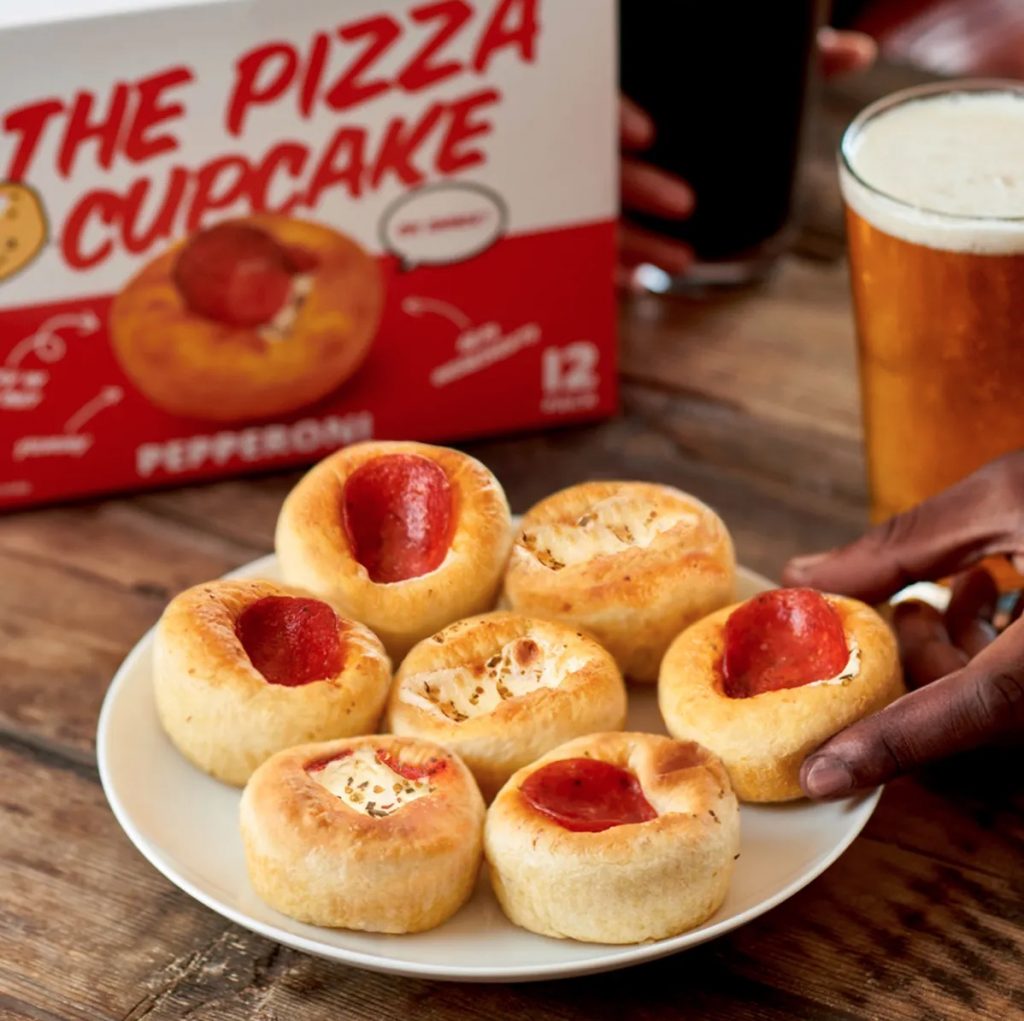 How did Pizza Cupcake start?
Chef Andrea Meggiato met events producer Michelle Jimenez in New York in 2015. On their first date, Andrea wanted to impress Michelle and taught her how to make pizza.
Fast forward to three years later, Andrea, who's been a working chef since he was 16, had perfected the brioche and sourdough combination base for the pizza cupcakes. He first made pizza cupcakes for his Italian friends, who were known to be picky.
Andrea was relieved that his Italian friends and family gave positive feedback. Michelle encouraged him to continue making the delectable pizza snacks. She told him that she wanted to bring them to her events.
The year 2018 was a year of milestones for Andrea and Michelle. Apart from getting married that year, they also launched Pizza Cupcakes and landed their first big catering client, Instagram. They also became part of New York's most popular market, the Smorgasburg, in Brooklyn., New York.
Pizza Cupcake featured on Shark Tank
Andrea Meggiato and his wife Michelle Jimenez-Meggiato came to Shark Tank looking for a Shark to invest $125,000 in exchange for 5% equity in their company, Pizza Cupcake.
Sharks Robert Herjavec, Kevin O'Leary, Mark Cuban, Lori Greiner and Daymond John all loved the Pizza Cupcake samples that the couple brought for them to try.
Chef Andrea Meggiato explained that the crust does not have butter and is made with their hybrid dough, which gives the crust a great texture even though it is a frozen product.
Customers, like the Sharks, are loving the Pizza Cupcake.
Each Pizza Cupcake, the owners explain, costs $0.95 to make because everything is made by hand in their commercial kitchen, according to Andrea. Pizza Cupcake retails for $24.99 for a box with 12 pieces. 
What were the Sharks' offers for Pizza Cupcake?
Andrea and Michelle Meggiato of Pizza Cupcake received only one offer in the Shark Tank, from Lori Greiner.
"I'm going to make you an offer because I think there's really great synergy with my Bantam Bagels company," began Lori Greiner. "I'm going to offer you $125,000 but for 20%."
She cited the success of Bantam Bagels as an example of what she can bring to the table.
Michelle replied that Greiner's 20% requested equity was too high and asked if Greiner would agree to lower it to 10%. She reasons that they are hard workers, Lori would not have to do any heavy lifting and that they have other strategic investors.
Michelle also added that they have a potential distributor who will let them be part of their incubator program.
Lori acknowledged all of Michelle's points but reminded her that having her as a partner would open the doors to 9,000 Starbucks locations in the United States, plus Krogers and Albertsons.
Kevin O'Leary opted out because he was concerned with the big challenges that they would face in shipping the frozen product. Mark Cuban agreed that the frozen food business was difficult and was also out. 
Daymond John also bowed out because he felt that he was not the suitable Shark for them and so did Robert Herjavec.
Going back to Greiner, the latter told the Meggiatos that the lowest she would agree to is 15% equity.
Michelle made a counter offer of $150,000 for 15%, to which Greiner replied by firmly reiterating her offer of $125,000 for 15% equity.
Here's a YouTube video of Greiner's negotiation with the Pizza Cupcakes owners, courtesy of ABC.
Did Pizza Cupcake get a deal on Shark Tank?
Yes, Pizza Cupcake was able to secure a Shark Tank deal with Lori Greiner for a $125,000 investment in exchange for 12.5% equity plus 2.5% advisory shares.
Michelle Meggiato did her research prior and pointed out that when Greiner invested in Bantam Bagels, another company that Greiner invested in the Shark Tank, she gave them $1.1 million valuation despite having lower revenues than that of Pizza Cupcakes. 
She also added that unlike Bantam Bagels, they had already figured out the co-packer situation and direct-to-consumer shipping.
"Boom! You go, Michelle!" cheered Herjavec, impressed and amused that the Pizza Cupcakes founder came prepared with research on Greiner's past deals.
"Our marketing is much stronger," added Andrea.
Michelle tried another counteroffer, this time for $125,000 in exchange for 12.5% equity plus 2.5% advisory shares. Greiner eventually agreed and accepted the offer.
What happened to Pizza Cupcake after Shark Tank?
In 2020, the savory Pizza Cupcake made revenues of $344,000. For 2021, the projected sales of the company is $800,000. 
After appearing on Shark Tank, Pizza Cupcake has been receiving an overwhelming amount of orders. According to their website, Pizza Cupcakes are currently on a pre-order basis. In addition to the high demand, COVID logistic restrictions are another reason why orders will be shipped later than scheduled.
At the height of the pandemic, Pizza Cupcake donated over 500 Pizza Cupcakes to healthcare frontliners in New York City. The company also donates to non-profits such as the Lower Eastside Girls Club for every 24-pack sold.
Pizza Cupcake continues to sell frozen pizza cupcakes that are ready-to-cook at home. Since its launch, Pizza Cupcake has expanded and now delivers to 25 states. The company is also currently working on vegan and gluten-free options.
At the time of shooting the Shark Tank episode, Pizza Cupcake sells direct to consumer. The couple explained that they had to pivot their product distribution due to the pandemic. Michelle shared that prior to the pandemic, they had three distribution channels: catering, Smorgasburg market, and stadiums.
Since the pandemic, Pizza Cupcake has shifted from restaurant to direct to consumer frozen product through e-commerce. It is manufactured and shipped from New York to 25 U.S. states.
Pizza Cupcake is very active on their social media accounts on Facebook and Instagram where they keep their nearly 12,000 Pizza Cupcake lovers updated with the latest promos and the adventures of their mascot, PC.
How much is Pizza Cupcake worth now?
Pizza Cupcake currently has a valuation of $833,000 after securing the investment from Lori Greiner in Shark Tank.
Lessons from Pizza Cupcake on Shark Tank
Pizza Cupcake founders Andrea Meggiato and Michelle Jimenez-Meggiato showed the Sharks that they came prepared. They did their research on the Sharks and this was shown when they were closing the deal with Shark Lori Greiner.
When Greiner would not agree to a higher valuation, Michelle pointed out that Greiner had given a higher valuation to a similar company, Bantam Bagels, despite having lower revenues compared to Pizza Cupcakes.
The Pizza Cupcake founders stuck to their guns and haggled for a higher valuation for their company. In the end, Greiner agreed to a compromise offered by Michelle.
With Lori Greiner as a partner, it's only a matter of time before Pizza Cupcakes becomes a household name.