The quest for healthy, guilt-free snacks seems to be a never-ending hunt. But it looks like the search is over. Snackers, rejoice! Quevos is here.
Read on about how two young childhood friends wowed the Sharks and locked in nearly half a million dollars in a deal with KIND Snacks founder Daniel Lubetzky for their Keto, Paleo, gluten-free and diabetic-friendly chips.
Quevos (Shark Tank Highlights)
| | |
| --- | --- |
| What is Quevos? | A high protein, low carb, healthy snack made from egg whites. |
| Proposed Deal by Owners | $200,000 for 5% equity |
| Owners' Valuation | $4 Million |
| Shark who Secured Deal | Daniel Lubetzky |
| Shark's Offer | $200,000 investment on top of $200,000 line of credit for 10% equity |
| Quevos Net Worth | $4 Million |
What is Quevos?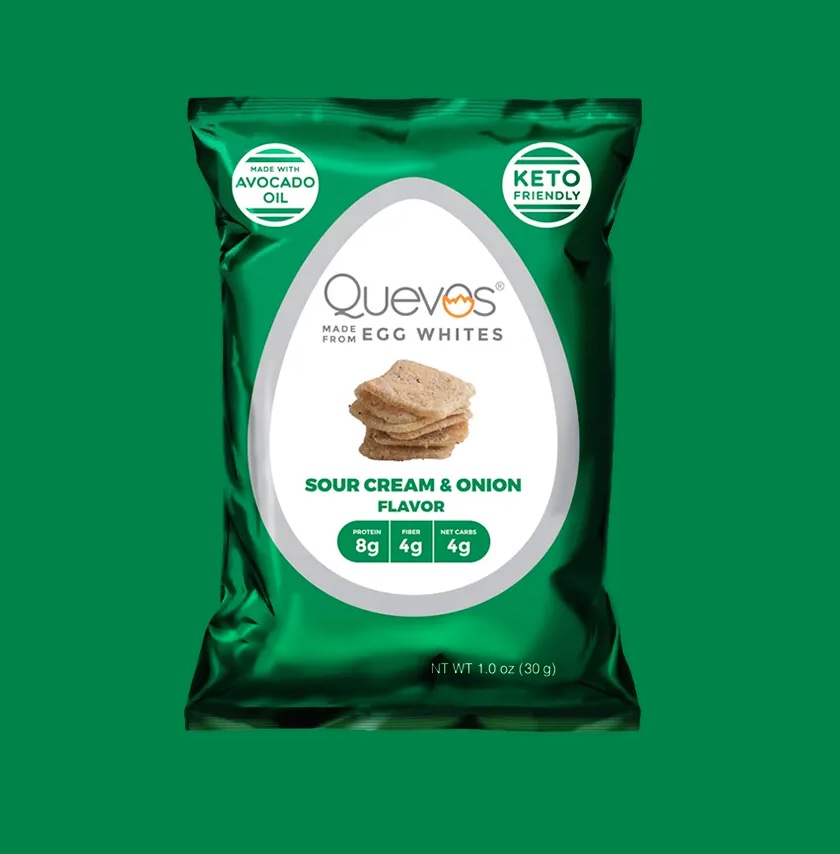 Quevos are low-carb, high-protein chips made from egg whites that packs a lot of flavor and satisfying crunch in every bite.
"Quevos" was coined by combining the words "quick" and "huevos" or "eggs" in Spanish, or basically quick eggs. It is very apt, since the egg white chips are great for a quick snack.
It comes in four flavors: Quevos Rancheros, Sour Cream & Onion, Dill Pickle, and Honey Mustard.
With only 4 grams net carbohydrates per bag for the keto flavors, Quevos are keto-friendly and also great for people with diabetes. The egg white chips are also gluten-free and grain free (except the Honey Mustard flavor).
Here's a video of the Quevos owners explaining their product in a local TV show.
How did Quevos start?
The story of Quevos all began when Zach Schreier, who has Type 1 diabetes, was searching for chips that will not cause his blood sugar to spike and require him to take insulin shots upon consumption.
He was inspired by the crispy leftovers of an egg-white omelette on the pan. Zach started developing the recipe and the process for making the egg white chips with his sister, Carly and his childhood friend, Nick Hamburger. 
Two years later, Zach Scrier and Nick Hamburger both quit college to launch their company, Quevos. They were able to raise $72,000 on Kickstarter and hit their target amount of $10,000 within the first two hours.
Quevos featured on Shark Tank
Wearing matching chicken costumes, Quevos co-founders Zach Schreier and Nick Hamburger confidently walked on the Shark Tank stage to ask the Sharks for a $200,000 investment in exchange for 5% "egg-cuity."
The duo introduced their company, Quevos, as "the world's first-ever chips made from egg whites."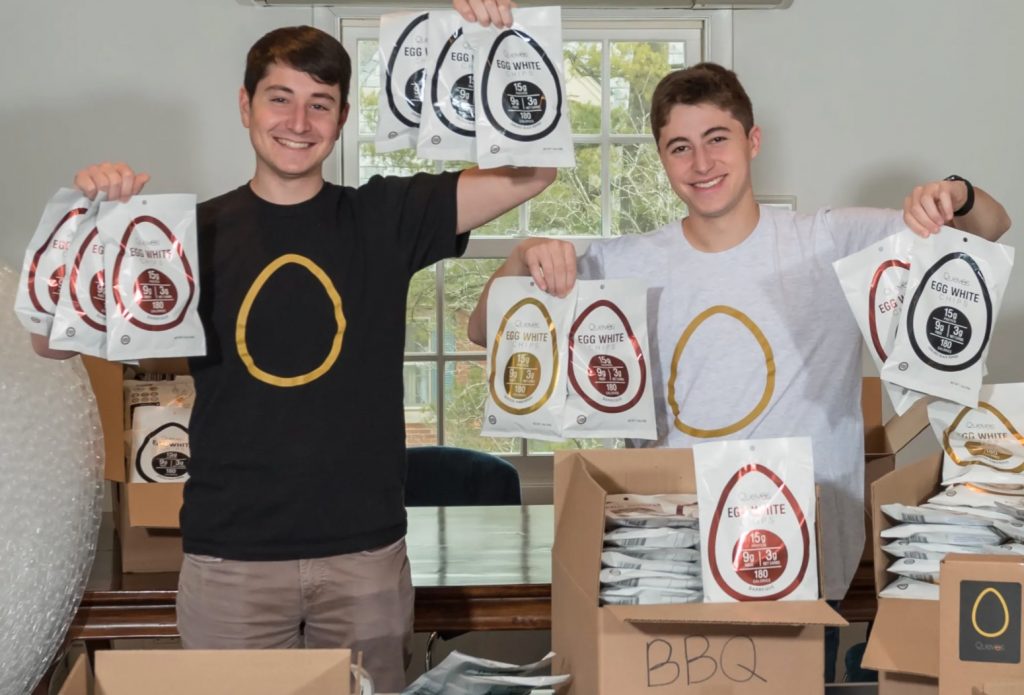 Their amusing entrance brought smiles to the Shark Tank panel that consisted of Mark Cuban, Robert Herjavec, Kevin O'Leary, Lori Greiner, and guest Shark, KIND Snacks founder Daniel Lubetzky. 
The 22-year old entrepreneurs told the Sharks about how they launched Quevos in 2018 and raised $72,000 on Kickstarter.
Schreier went on to discuss that 80% of sales was from online sales and 20% was from retail, which was from 400 stores.
Hamburger stated that each bag costs $0.88 to make, which they sell to distributors at $1.50, online for $2.50 to $3.00, and retails for $2.49.
The Sharks were curious about their production scale and how they make the innovative snack. Schreier explained that since they have a proprietary process of making the chips, they manufacture it all themselves. They are in talks with co-packers but are still looking into lowering the cost of production as they scale.
Schreier shared that the idea for Quevos began with his search for a healthy snack after he was diagnosed with Type 1 diabetes. He took a year off from Williams College and Nick Hamburger dropped out of University of Chicago to focus on the company.
Schreier has since returned to Williams College to finish his degree but is still part of the company's board. Hamburger is currently the CEO and has been working on the business full-time for two years.
Shark Mark Cuban asked how much they have spent on marketing and through which channels. Hamburger responded that their monthly marketing expenditure is at $20,000 per month online, which has produced good returns with online sales of $90,000 for the previous month.
Hamburger revealed that they hope to sell the company five years down the road. Their reason for this was the trend that they've seen in the food industry where bigger brands either want to buy or knock off the growing competitors.
What were the Sharks' offers for Quevos?
The Quevos founders received two significant offers from two Sharks Kevin O'Leary and Daniel Lubetzky.
Kevin O'Leary made his offer of $200,000 for 2.5% plus 10 cents royalty per bag until he makes $400,000.
He explained his plan for when Quevos becomes part of his "Shark Tank Dome of Desire" where he would help them "on digital like crazy." O'Leary told the duo that they could work with his companies to sell direct to consumer than through Amazon.
Guest Shark Daniel Lubetzky, who initially said that the founders' valuation of their company was too high, made his first offer of $200,000 for 10% equity.
Lori Greiner took this opportunity to tell the Quevos founders "I think Daniel is a perfect partner for you, so for those reasons I'm out."
Robert Herjavec also opted out, saying "You're probably the two youngest most impressive people out here, but I don't like the taste."
Mark Cuban also decided not to invest, saying "I think you don't have that one slam-dunk thing."
With two great offers on the table, Hamburger made a counter offer to Lubetzky for $300,000 plus a $200,000 line of credit for 10% changed. Schreier then reduced their counter to $250,000 when Lubetzky asked if they were willing to increase the equity in the deal.
The KIND Snacks founder then revised his offer to $200,000 investment plus $200,000 line of credit for 10%.
"I've doubled the amount of cash you're getting. If you're not sufficiently excited, I think I'm going to opt out," pressed Lubetzky.
Did Quevos get a deal on Shark Tank?
Yes, Quevos founders successfully grabbed a deal with KIND snacks founder Daniel Lubetzky after an intense exchange of counter offers. 
The Quevos owners accepted Lubetzky's offer of $200,000 investment plus $200,000 line of credit in exchange for 10% stake in their company.
What happened to Quevos after Shark Tank?
After appearing on the show, Quevos is now offering a Shark Tank intro pack on their website. This includes one pack each of Honey Mustard, Dill Pickle, and Quevos Rancheros, and two packs of Sour Cream & Onion.
Their website has a reminder that orders could be delayed due to the high demand from the "Shark Tank effect" publicity boost.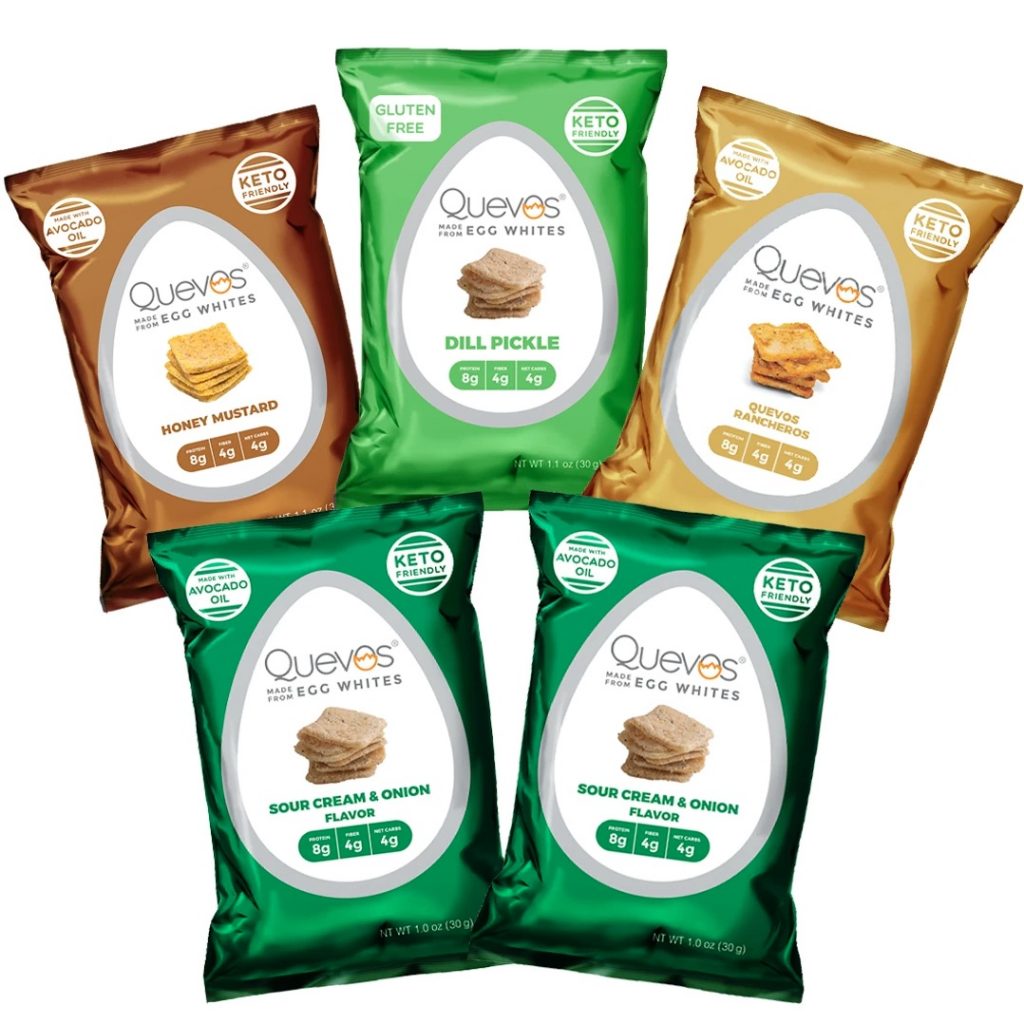 Is Quevos still in business today?
Yes, Quevos is very much still in business today. Quevos egg white chips can be purchased on their website and through Amazon. For retail, the brand is now also in Whole Foods Markets, Wegmans, Vitamin Shoppes, among other retailers.
Investor Daniel Lubetzky said in an interview that his investment firm can help startup companies like Quevos. He had also advised the young Quevos founders to focus developing the cornerstone of their brand, which is egg whites. He also advised them to be cautious of banking too much on trends, such as the keto diet.
How much is Quevos worth now?
After closing the deal with investor Daniel Lubetzky, Quevos currently has a valuation of $4 million.
This is a good net worth since prior to appearing on the show, Quevos merely earned $260,000 in 2019. In 2020, despite the pandemic, the Quevos owners shared that they had $660,000 total sales in the first eleven months.
At the time of filming the Shark Tank episode, they were on track to earn $1.3 million.
The Quevos owners also said they have already raised $1.6 million to date. Part of which was from Kraft Heinz. Quevos became part of their incubator program, making them the only pre-revenue brand to have ever been accepted to the program.
Lessons from Quevos on Shark Tank
As shown by the founders of Quevos, it pays to know your business top to bottom. They impressed the Sharks with their entertaining pitch and eloquent delivery.
The fact that they've been able to raise money themselves before Shark Tank through Kickstarter and even got accepted into a reputable incubator program added to their credibility as entrepreneurs.