The beverage industry has a notoriously high mortality rate for brands, which is why the Sharks of Shark Tank usually don't get excited by beverage brands. This, however, didn't discourage the founders of Aura Bora from pitching their business on the show.
Kevin O'Leary, who is known for his royalty deals, made an offer that had the rest of the Sharks calling him miserable. Read on how the entrepreneurs dodged going home miserable and how they were saved by Robert Herjavec.
Aura Bora (Shark Tank Highlights)
| | |
| --- | --- |
| What is Aura Bora? | A beverage company with a line of flavored sparkling water infused with natural flavors from herbal extracts, fruits, and flowers. |
| Proposed Deal by Owners | $150,000 in exchange for 5% equity |
| Owners' Valuation | $3 Million |
| Shark who Secured Deal | Robert Herjavec |
| Shark's Offer | $200,000 for 15% equity |
| Aura Bora Net Worth | $1.33 Million |
What is Aura Bora?
Aura Bora is a beverage company based in San Francisco, California offering herbal, zero-calorie, sugar-free, and plant-based sparkling water.
Aura Bora drinks are made with real herbal extracts, fruits, and flowers. Currently, they in five flavors: Cactus Rose, Lemon Grass Coconut, Peppermint Watermelon, Lavender Cucumber, and Basil Berry.
On Amazon, Aura Bora sparkling water is sold at $30 for a 12-pack.
Each can costs $0.57 to make, which they sell to distributors at $1.15 with a 50% margin.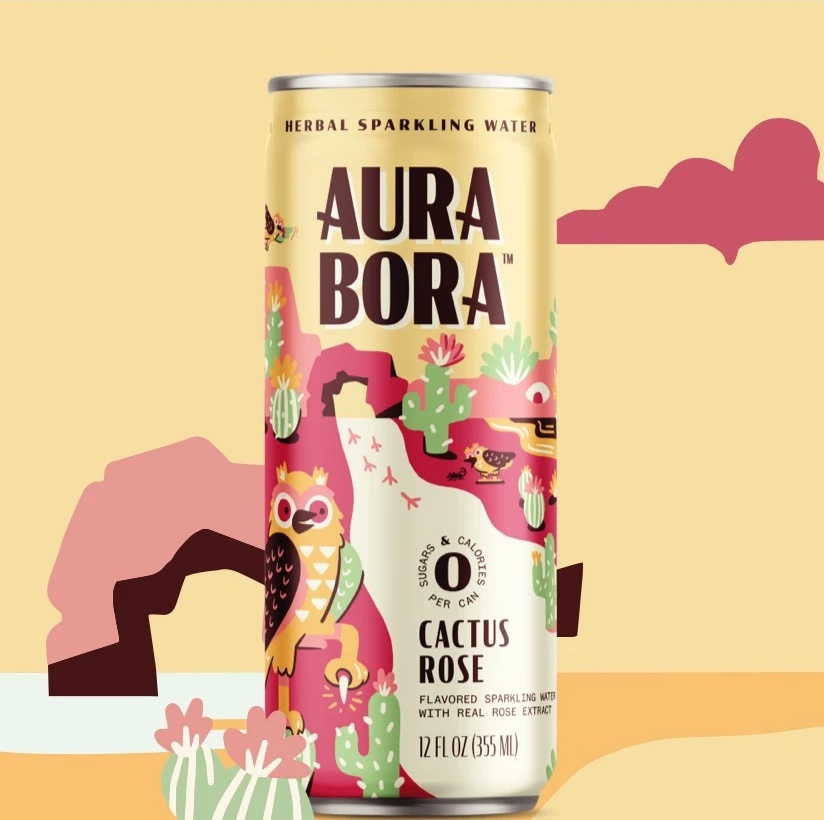 How did Aura Bora start?
Aura Bora was inspired by founder Paul Voge's habit of drinking sparkling water. As a child, Paul and his family were not fans of soda. But Paul loved the fizz that livened up boring old water.
As an adult working in finance, Paul was downing at least eight cans of sparkling water at work. He then bought a SodaStream machine at home where he and his wife experimented with different flavors using fresh herbs and fruits.
From their flavor experiments at home, Paul and Maddie Voge launched Aura Bora in January 2020. They canned the first 1,000 bottles themselves and built their customer base through marketing on Instagram.
Aura Bora featured on Shark Tank
Husband and wife Paul and Maddie Voge appeared on Shark Tank where they pitched their beverage company. The couple came asking for $150,000 in exchange for a 5% stake in their company, Aura Bora.
The couple told the Sharks that they knew how the sparkling water industry is "bubbling over." What sets their brand apart from the rest is the one-of-a-kind flavors from all-natural ingredients.
Shark Kevin O'Leary could not help but voice out his opinion on having another beverage company on Shark Tank saying "We get so many beverage deals on Shark Tank. I always admire the sheer guts to come in here with another beverage."
"Give me an aura of hope, even the slightest sliver of a chance that you can somehow get distribution," O'Leary challenged the Voges.
Paul Voge took it all in stride and replied that they are already in talks with the two biggest natural food distribution companies in the United States.
The Voges also shared that they have raised $700,000 to date for their beverage company. Together, the co-founders own 74% of the company, which is why they are not too keen on letting go of a lot of equity for a deal.
At the time of filming the episode, Aura Bora was in 488 stores and is also sold on Amazon.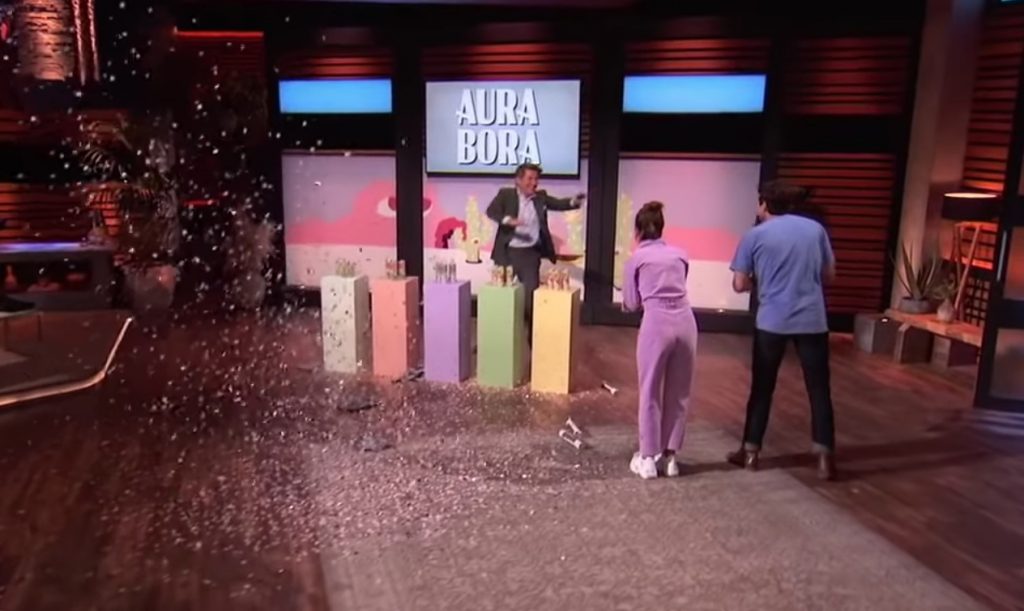 What were the Sharks' offers for Aura Bora?
Despite impressing the Sharks with their unique flavors, attractive packaging, and great evidence of sell-through, only two Sharks made offers for a partnership with Aura Bora.
Sharks Lori Greiner, Mark Cuban, and guest Shark Daniel Lubetzky all opted out for various reasons. From not being passionate about the product and the niche market, to the big hurdles that the brand would have to overcome to compete with other brands to expand, the three Sharks were not enticed to take a bite.
Kevin O'Leary, who initially said that chances of success for startup beverage companies are "abysmally low," changed his mind.
"I've always wanted to add a beverage to my portfolio just because I want to be miserable," O'Leary admitted. He went on to make an offer of $150,000 plus a 5-cent royalty per can until he doubles his investment, in exchange for 5% equity.
The Sharks all chuckled at O'Leary's watered-down offer and prompted Robert Herjavec to say that it is possibly the worst offer in 12 years from O'Leary.
Herjavec told the co-founders that he thinks it would be better for the brand to go national much later instead of sooner.
"I think you have such a unique product, you can create the pull-through," Herjavec said. He proceeded to offer $150,000 in exchange for 12% stake in Aura Bora.
Paul Voge responded with a counter-offer of $200,000 for 10%, which Herjavec quickly replied to increase equity to 15%.
Here's a YouTube video of the Shark Tank negotiations, courtesy of ABC.
Did Aura Bora get a deal on Shark Tank?
The founders of Aura Bora were able to close a deal with investor Robert Herjavec for $200,000 in exchange for 15% equity.
The owners first turned down O'Leary's offer.
"The royalty is an interesting deal. Kevin, we thought you might say that," Paul Voge said to Mr. Wonderful. "However, it is not the most efficient way to use our margin."
The Aura Bora CEO then went back to Robert Herjavec, who reiterated his offer of $200,000 for 15%. Paul initially thought Herjavec agreed to 12% equity for $200,000 but then happily accepted Herjavec's 15% equity offer.
What happened to Aura Bora after Shark Tank?
Thanks to the great publicity coming from appearing on the Shark Tank TV show, Aura Bora has received an influx of online orders.
Stocks are currently running low on Amazon. The good news is that the company is able to keep up with the increased demand through their website. 
Is Aura Bora still in business today?
Aura Bora continues to sparkle and shine in 2021. Customers can get a 20% Shark Tank discount on their first order through the website when they subscribe to Aura Bora's mailing list.
The brand is active on its Facebook page but has more engagement on its Instagram page. Paul Voge recently shared on an Instagram post how far the brand has come in only a year since its launch.
As of January 2021, Aura Bora is in over 700 stores in the United States, including Whole Foods Pacific Northwest, United Natural Foods, Inc., and KeHe.
How much is Aura Bora worth now?
After securing a deal with Shark Robert Herjavec, Aura Bora is currently worth $1.33 million. This is significantly lower than the initial $3 million valuation stated by the company founders in their pitch.
In their pitch, the Aura Bora owners proudly told the Sharks that since their launch in January 2020, they have earned $200,000 in sales despite the COVID-19 pandemic.
They are anticipating sales of $3.5 million for 2021, once their talks with big-box retailers are finalized. If this pushes through, it could easily dwarf the net worth valuation of $1.3 million made by Herjavec.
Lessons from Aura Bora on Shark Tank
Aura Bora is proof that it pays to stand out in a crowded industry, especially as a startup. The beverage company also showed the importance of identifying your niche market and the great potential of tapping into that niche.
Maddie Voge as Creative Director of Aura Bora capitalized on her knowledge in marketing. She partnered with creative agency Moxie Sozo for their eye-catching packaging, knowing that great packaging is one of the best ways for a new brand to get noticed by customers.
With their effective marketing, attractive packaging, and unique flavors on top of having an experienced partner in Shark Robert Herjavec, Aura Bora is a "fiz-ness" that won't just fizzle out.