Did the Philippine Amusement and Gaming Corporation (PAGCOR) simply decide to award the P3-million logo procurement contract to a chosen supplier, without undergoing public or competitive bidding?
Public documents sourced from PAGCOR's official website seem to confirm this as its "Procurement Monitoring Report for the First (1st) Semester of 2023" shows that the approved mode of procurement for the P3-million logo design project was "Scientific, Scholarly or Artistic Work, Exclusive Technology and Media Services" or SSAEM — not competitive bidding as required in most government procurements.
Why SSAEM mode of procurement?
As seen on page 13 of PAGCOR's 15-pager monitoring report (see screenshot below), the project "Procurement of Requirements for PAGCOR's 40th Anniversary — Procurement of the New Logo Design of PAGCOR" used SSAEM, not competitive bidding, as mode of procurement.
SSAEM is a mode of procurement outlined in Sec. 53.6 of the Implementing Rules and Regulations (IRR) of the Government Procurement Policy Board (GPPB), where a government agency does not anymore conduct public bidding but merely "contracts with a chosen supplier or contractor for scientific, academic, artistic, highly specialized, or media services work, among others."
---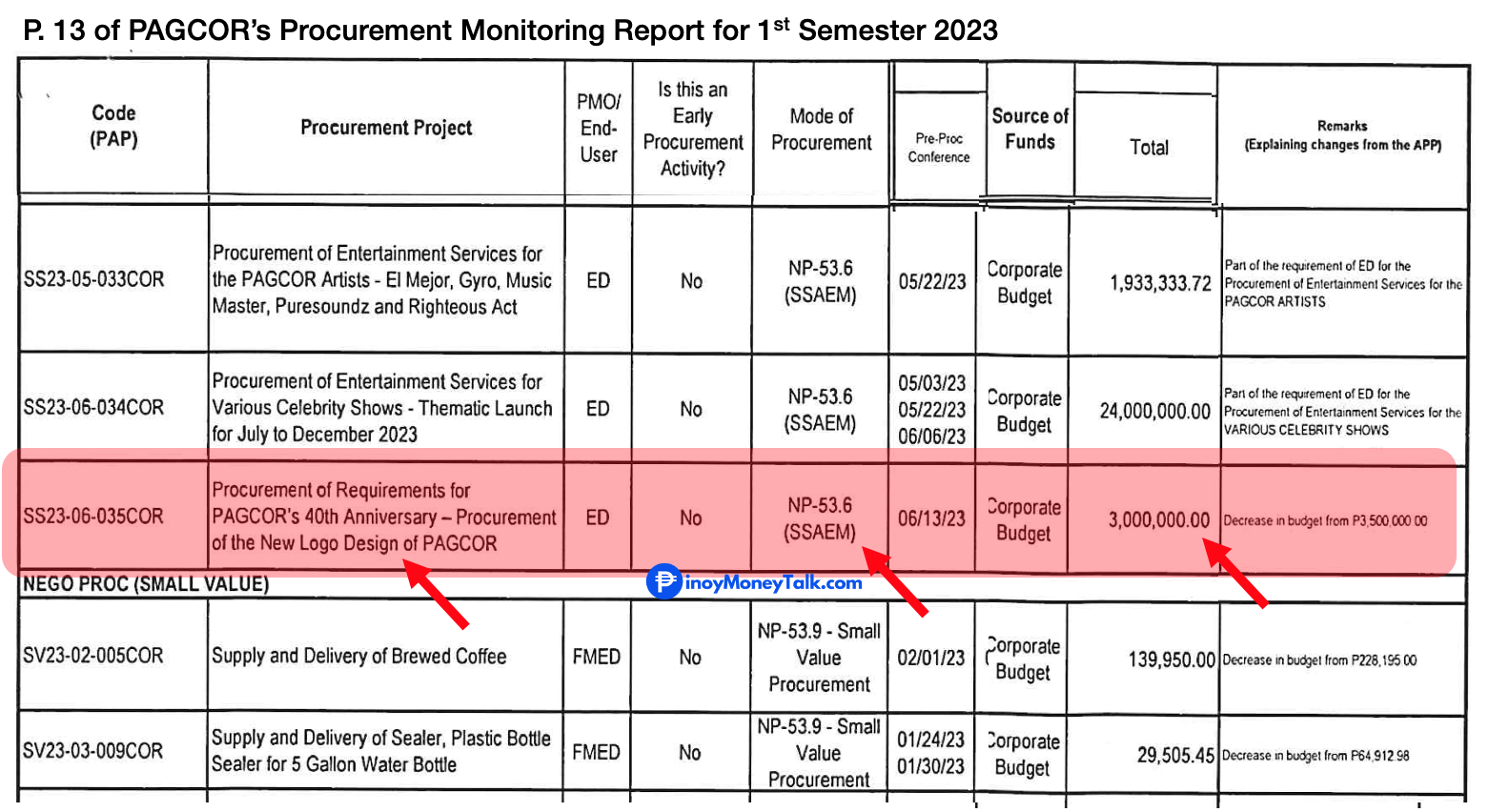 ---
On p. 82 of GPPB's Revised IRR of RA 9184, SSAEM is allowed to be used as an alternative mode of procurement where "Goods, Infrastructure Projects and Consulting Services can be contracted to a particular supplier, contractor or consultant and as determined by the HoPE, for any of the following:
a. Work of art; commissioned work or services of an artist for a specific artist skill (e.g., Singer, poet, writer, painter, sculptor, etc.);
b. Scientific, academic, scholarly work or research, or legal services;
c. Highly-specialized life-saving medical equipment, as certified by the Department of Health (DOH);
d. Scientific, technical, economic, business, trade or legal journal, magazine, paper, subscription, or other exclusive statistical publications and references; or
e. Media documentation, advertisement, or announcement through television, radio, newspaper, internet, and other communication media."
HoPE refers to the "Head of the Procuring Entity" and the GPPB's IRR requires SSAEM to be used "only in the highly exceptional cases … and subject to the prior approval of the HoPE upon recommendation of the Bids and Awards Committee (BAC)."
Why not Competitive Bidding?
It is debatable whether the logo design contract is an example of a "highly exceptional case." PAGCOR's decision to procure through SSAEM, and not via competitive bidding, may fall under item "a. Work of art; commissioned work or services of an artist for a specific artist skill" of Sec. 53.6, but questions remain as to why this procurement method was chosen if PAGCOR could have saved on costs by making the project undergo public bidding.
A Rappler research uncovered a document uploaded by PAGCOR to the GPPB website where PAGCOR recommended a SSAEM negotiated procurement method as Mr. Francisco Doplon, the contracted designer and proprietor of PrintPlus Graphic Services, is "an acclaimed graphic designer," having worked on design projects with UST, Metrobank, and AllDay Supermarkets.
Several netizens posted their version of PAGCOR's logo on social media, claiming PAGCOR would have definitely not spent P3 million had they only tapped other competent designers. The Philippine Star posted a collection of "playful, satirical versions of the much-derided redesign… alongside "fun" shots [that] are more serious stabs from other graphic designers."
P3-million Notice of Award given to PrintPlus 2 weeks after pre-proc conference
Page 86 of GPPB's IRR also mentions that manufacturers, suppliers, distributors, contractors, and/or consultants who will be contracted using SSAEM are "mandated to register with PhilGEPS and provide a PhilGEPS Registration Number" (Sec. 54.6).
The contracted designer, PrintPlus Graphic Services, owned by Mr. Francisco "Dopy" Doplon, received their PhilGEPS approval on June 14, 2023 (see photo below) — just one day after the pre-procurement conference with PAGCOR, conducted on June 13, 2023.
---
---
Also, exactly two weeks after said pre-proc conference, on June 27, 2023, the Notice of Award for the logo design project was awarded to Mr. Doplon, proprietor of PrintPlus Graphic Services, with a total contract price of P3,035,714.28 (see photo of "Notice of Award" below).
---

---
Other SSAEM projects of PAGCOR
PAGCOR's Procurement Monitoring Report also shows other projects, especially "entertainment services" projects, procured by PAGCOR via the SSAEM method. The report does not mention the specific events where these dancers, singers, and entertainers will perform or have performed.
---
PAGCOR's Procurement Project
Pre-Proc Conference Date
Approved Budget for the Contract (ABC)
1. Procurement of Entertainment Services for PAGCOR Artists – BEATS & PIECES, MELLOW TOUCH and YODZ for January to June 2023
Dec. 27, 2022
P921,176.64
2. Procurement of Entertainment Services for the Various Celebrity Shows – Big Show for May-June 2023
Mar. 13, 2023
P5,000,000
3. Procurement of Entertainment Services for PAGCOR Artists – Michale Lauren L. Benedicto aka Mykle for July to December 2023
May 18, 2023
P293,478.60
4. Procurement of Entertainment Services for PAGCOR Artists – SHEEN MARIE G. Fructuoso aka SHEEN for July to December 2023
Apr. 13, 2023
P260,869.80
5. Procurement of Entertainment Services for PAGCOR Artists – Marie Joyce B. Tanana AKA Joyce for July to December 2023
Apr. 24, 2023
P358,659.60
6. Procurement of Entertainment Services for the Various Celebrity Shows – Variety Show for July to December 2023
May 17, 2023
P24,000,000
7. Procurement of Entertainment Services for PAGCOR Artists – BEATS & PIECES and YODZ for July to December 2023
May 3, 2023
May 17, 2023
P762,353.04
8. Procurement of Entertainment Services for PAGCOR Artists – D&G Dancers, D&G Models and G Dolls (July to December 2023)
May 3, 2023
May 17, 2023
P1,744,444.72
9. Procurement of Entertainment Services for PAGCOR Artists – HADASA VON C. CAMPORASO aka DASH from July to December 2023
Apr. 18, 2023
P293,478.60
10. Procurement of Entertainment Services for PAGCOR Artists – El Mejor, Gyro, Music Master, Puresoundz and Righteous Act
May 22, 2023
P1,933,333.72
11. Procurement of Entertainment Services for Various Celebrity Shows – Thematic Launch for July to December 2023
May 3, 2023
May 22, 2023
June 6, 2023
P24,000,000
---