Here's something the Sharks never thought they'd talk about in Shark Tank: hair care for your hair down there. Yup, down there.
The founders of the brand Fur even got Shark Kevin O'Leary to say 'pubic' on national television, and in the end, the company ended up receiving offers from more than one Shark.
As self-care is becoming more popular and acknowledged as a valid need, it's no surprise that one's nether regions should also be pampered.
Read on to know more about Fur, the brand that made a business out of taking care of business down there.
What is Fur?
Fur markets itself as a self-care brand that aims to break barriers and taboos on body hair norms by pampering your nether regions.
The main product, Fur oil, is made of facial-grade oils and ingredients that are vegan, cruelty-free, and non-toxic. It is gentle enough for hair from the top of your head, all the way to your hair down there.
Fur Oil aims to help hair become softer and help prevent ingrown hair. It also helps to keep skin supple and moisturized.
The self-care brand has products that can cater to all types of consumers with different grooming and hairstyle preferences. Customers can choose from Fur oils and serums, stubble cream, salt scrubs, and more.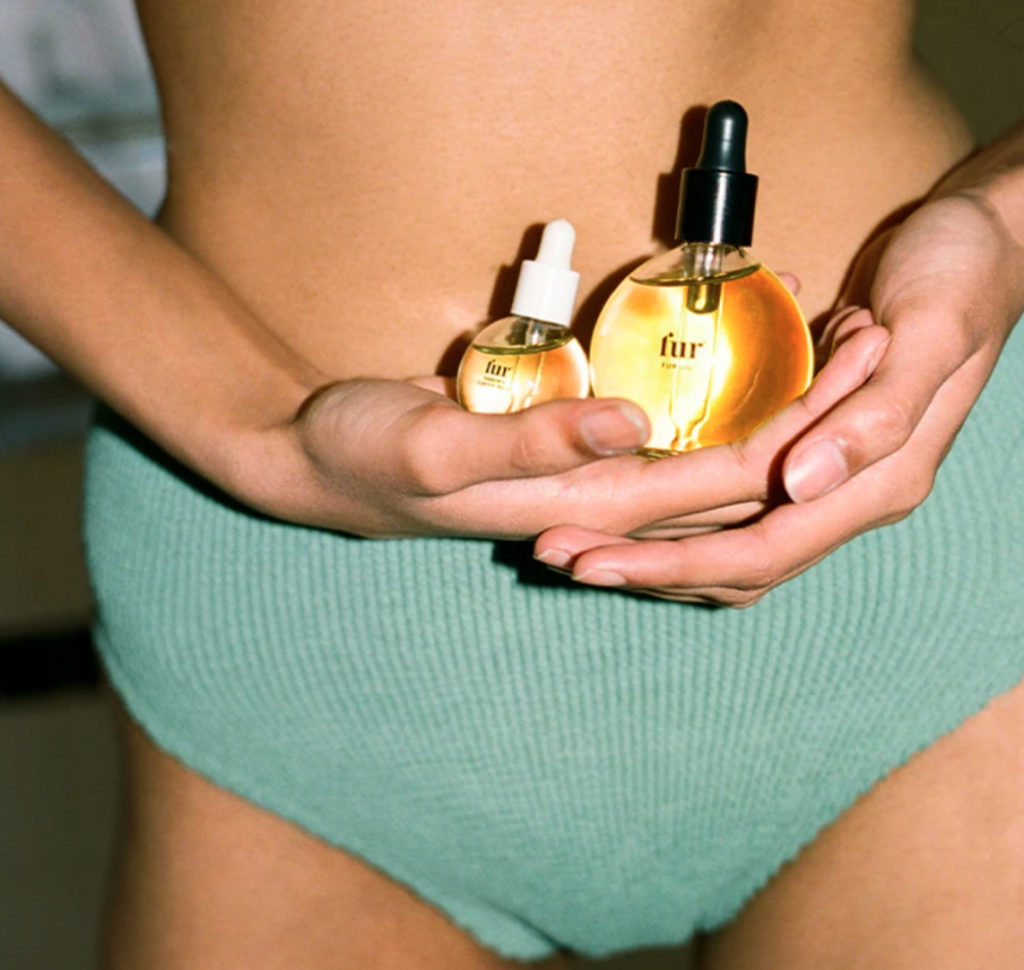 How did Fur start?
Bestfriends Laura Schubert and Lillian Tung were talking about their personal body hair care when they realized that there was a market out there for people like themselves who want to pamper every bit of their body.
Not new to the beauty business, Tung, was a former senior marketing manager at Maybelline. Meanwhile, Schubert was a former management consultant at Bain & Co.
Schubert and Tung started Fur in 2014, after finally finding a formulator to manufacture their main product, Fur Oil.
After multiple rejections, the company was able to find a retailer who appreciated and understood the brand's mission to promote caring for your pubic hair. Shen Beauty became the first retailer of Fur Oil.
In 2016, Fur received massive publicity after Hollywood Actress Emma Watson said in an interview that she uses Fur Oil. The product sold out a year's stock in three weeks.
Being featured and reviewed in a Buzzfeed video also helped boost sales of the product and increase brand awareness. 
Fur Oil featured on Shark Tank
Fur Oil's co-founders Schubert and Tung came to the Shark Tank asking for $500,000 in exchange for a 2.5% stake in their company.
They handed out samples to the Sharks as they explained their business that they both poured their $500,000 savings into.
The Sharks were impressed by the $5 million that the brand generated from sales in 2019.
Schubert and Tung revealed that their main product, Fur Oil, costs $5.34 to make and retails for $46 per bottle.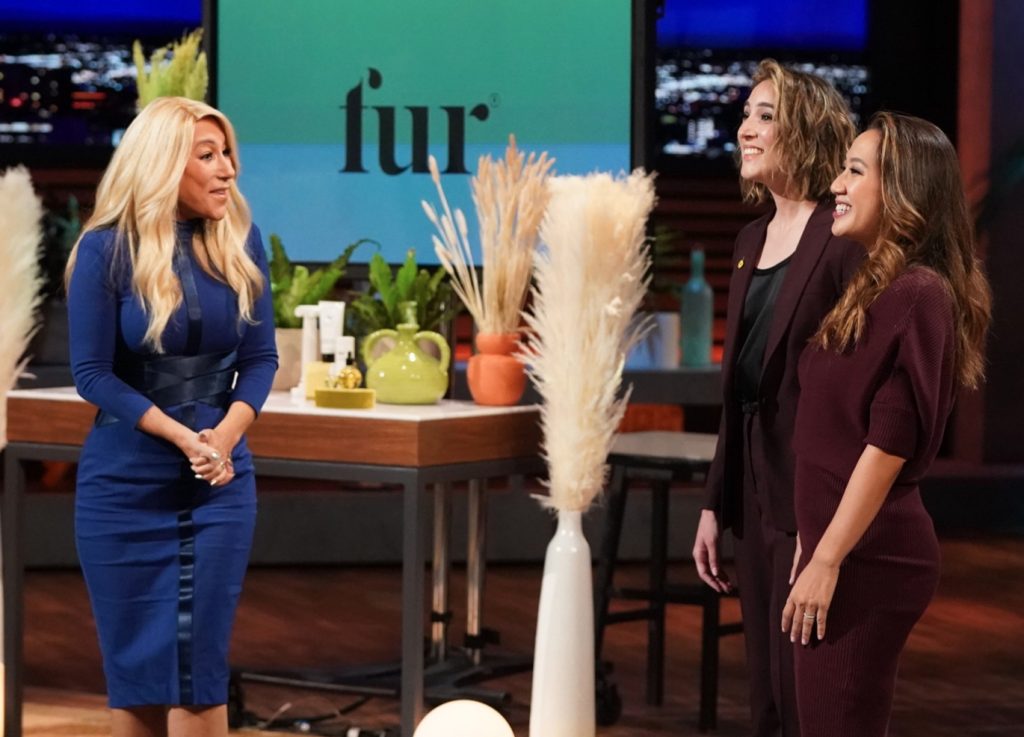 What were the Sharks' offers for Fur?
Shark Mark Cuban was the first to opt out. Seeing the potential of the growing personal care brand, Shark Daymond John made the first offer with $500,000 in exchange for a 15% stake in the company.
Shark Kevin O'Leary declared that he was willing to invest $500,000 for a 2.5% stake plus a one dollar per bottle royalty until he earns $1 million.
"The whole mission is about feeling good about yourself," said Greiner. She offered the duo $500,000 in exchange for a 12% stake in the company, plus donating $50,000 to a new charity that would help promote body positivity.
Guest Shark Maria Sharapova told the entrepreneurs that she likes the space, having invested in beauty brand Supergoop before.
However, she opted out after saying "I feel like I need so much more skin in the game just to feel passionate with what I'm involved with."
"There's a lot of work and 2.5% is just not enough," Sharapova explains her withdrawal.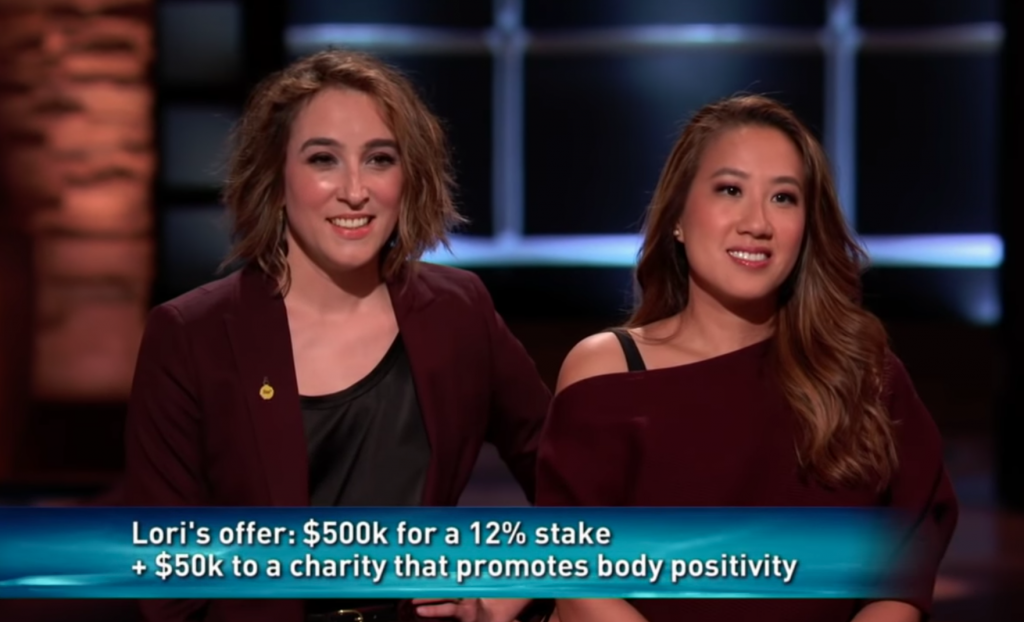 With three offers, Schubert asked the Sharks if any of them were willing to go for a 5% stake instead. All three Sharks with initial offers turned down the counteroffer, saying 5% was too low.
John made a counteroffer, saying he was willing to go down from 15% to 10% equity. However, with Schubert and Tung still not accepting his offer, he felt that he had to go with his gut feeling.
"I'm starting not to think that we would be good partners," said John before declaring that he was taking his deal off the table.
Greiner made her final offer, this time it's $500,000 for 8% equity plus $50,000 towards a charitable component.
Did Fur get a deal on Shark Tank?
After receiving offers from three Sharks, Schubert and Tung still seemed like they were not willing to give up more equity in their company.
Finally, after John backed out, leaving only O'Leary and Greiner as the Sharks to choose from, the co-founders decided to go with the deal from Greiner of $500,000 for 8% equity plus $50,000 to a body positivity charity, which they loved.
What happened to Fur after Shark Tank?
Fur experienced a surge in sales after the airing of the Shark Tank episode, typical of the "Shark Tank effect" experienced by most products featured on the show.
Unfortunately, though, Fur's deal with Lori Greiner did not push through.
Is Fur still in business today?
Despite the deal with Greiner not pushing through, Fur's products continue to be sold in over a thousand retailers across the U.S., including 600 Ulta Beauty locations.
Other retailers include Urban Outfitters, Free People, Goop and Neiman Marcus. Online, Fur products are available on Amazon and their official website. Fur has a moderate following on their Instagram where the brand posts most of their updates. 
The self-care brand has also released a brand-new product, an all-over Shave Cream that claims to prevent razor burn and ingrown hair while keeping the skin moisturized.
How much is Fur worth now?
When they pitched Fur in Shark Tank, the co-founders declared their company's valuation to be $20 million.
They justified the valuation based on price multiples of 4x to 6x revenues in the beauty industry. With $5 million total sales in 2019, Fur's founders believed their company's worth should be around $20 million.
However, by accepting Lori Greiner's offer of $500,000 for an 8% equity stake in Fur, the owners effectively lowered their valuation to just $6.25 million.
Lessons from Fur on Shark Tank
Fur co-founder Lillian Tung believes that Every 'no' is a 'not yet.'
She and co-founder Laura Schubert did not give up despite being turned down by formulators and retailers. They believed in their product and that there was a market for it. They did not let rejection deter them from starting their company.
When retailers wanted them to remove the word 'pubic' in their packaging for them to allow Fur to be sold in their stores, Tung and Schubert refused. They held fast to their brand's core message and belief of promoting pubic hair care and personal body hair grooming preferences.
The co-founders of Fur took the risk of losing a deal with the Sharks by standing firm on not giving more equity. They eventually compromised and accepted to give 8% equity to Greiner who was in sync with their mission to celebrate and promote body positivity.