MerryMart Consumer Corp. (MM) is a "one-stop shop" home essentials and grocery retailer established in 2018 owned by Injap Investments Inc., the holding company of the Sia family led by its major shareholder and Chairman, Edgar J. Sia II, also the owner of DoubleDragon Properties (DD).
Despite bearish market conditions due to the COVID-19 pandemic, the company pushed through with its planned Initial Public Offering (IPO) where it raised more than P1.6 billion. According to the IPO underwriter and sole book runner, PNB Capital and Investment Corp., the IPO offer of MerryMart (MM) was met by overwhelming demand as the offer was oversubscribed by 2.1 times.
On its first day of trading on June 15, 2020, investors flocked to MM and sent the stock price to its ceiling price of PHP 1.50 — a 50% price gain (in just one day) from the PHP 1.00 offer price during the company's IPO (see below MerryMart stock's price trend from Bloomberg during MM's first three weeks of trading in the PSE). As of July 7, 2020, MM's stock price is trading at PHP 3.13 per share — a 213% overall price gain from its PHP 1.00 IPO price.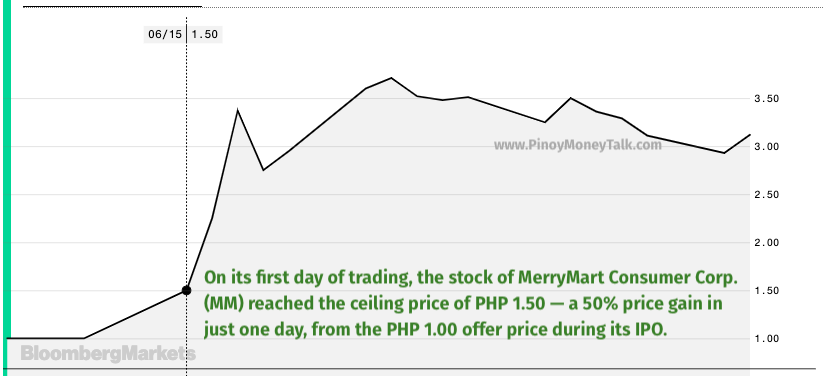 PSE Stock Analysis: MerryMart Consumer Corp. (MM)
What's new with MerryMart now? Is MM a good stock to buy in the PSE?
(Updated on July 8, 2020): MerryMart Consumer Corp.'s revenues surged 40% to PHP 794 million, which translates to a net profit margin (NPM) of 1%. The company expects to finish opening six (6) branches of its grocery stores by the 2nd Quarter of 2020 and open six (6) additional stores by the 3rd Quarter this year. MM expects to complete and operate a total of 100 branches in the Philippines by the end of 2021.
Assuming they put up 100 branches by next year, given 1.5% profit margin, MM would be able to reach PHP 12 billion in sales and around PHP 180 million in profits. Considering its recent stock price of PHP 3.50 per share, MM is trading at a high 2021 Price-Earnings Ratio (PER) of 147x.
The company announced it is targeting to operate 1,000 stores by 2030, contributing more than PHP 120 billion total system-wide sales. Again assuming a profit margin of 1.5%, this would translate to a PHP 1.8 billion net profit in 10 years — leading to a decent 13x PER at 2030 estimates — which is 10 years away from now.
MerryMart to replace SaveMore in CityMall?
The company plans to ramp up operations by relying on the growth trajectory of its sister company DoubleDragon Properties (DD) which operates CityMall in various provinces. CityMall's current anchor supermarket is SaveMore, run by the Sy family of the SM Group of Companies. According to rumors, MerryMart grocery stores will start replacing SaveMore as the default grocery in CityMalls once contracts expire.
When asked in a Philippine Star interview if SaveMore will indeed be phased out to give way to MerryMart, Injap Sia replied that MerryMart grocery stores "can come in anytime the supermarket space is available" in CityMalls.
But hitting the 1,000-store target in 10 years could prove to be quite a stretch and might even be far-fetched. Take for example MM's competitor and comparable stock, Puregold Price Club Inc. (PGOLD). PGOLD opened its very first branch in 1998 and, as of 2020, only operates 423 stores. PGOLD took more than 20 years to scale its operations to the current 423 branches, so MM's target of opening 1,000 stores within 10 years might be too optimistic given the fierce supermarket industry in the country.

MerryMart's IPO Details
| | |
| --- | --- |
| IPO Price per share | PHP 1.00 |
| No. of Shares Offered | 1.6 billion shares |
| Expected IPO Proceeds | PHP 1.6 Billion |
| Public Float (% Shares offered to the public) | 21% |
| Market Capitalization (post-IPO) | PHP 7.6 Billion |
| Underwriter | PNB Capital |
| Price Setting Date | May 22, 2020 |
| Offer Period | May 27-June 5, 2020 |
| PSE Listing Date | June 15, 2020 |
The company announced on May 22, 2020 that it has set the final IPO price at P1.00 per share. This was the ceiling price originally announced during the offer period.
The IPO shares were offered from May 27 to June 5, while the stock was officially listed and started trading in the Philippine Stock Exchange (PSE) on June 15, 2020.
Use of IPO Proceeds
| Use of IPO Proceeds | % | Amount |
| --- | --- | --- |
| CAPEX and initial working capital for store network expansion | 70% | P1,031 Million |
| Investments in distribution centers | 15% | P221 Million |
| General corporate purposes | 15% | P220 Million |
From the the estimated net proceeds of around PHP 1.5 Billion (after deducting underwriting fees), 70% will be utilized to fund capital expenditures (CAPEX) and initial working capital related to store expansion. MerryMart plans to open more than 1,200 stores by 2030 with projected system-wide total sales of PHP 120 Billion.
For this year 2020, MerryMart is looking to open 12 stores (excluding the three stores already opened during the 1st Quarter) in the latter part of the year. By the end of 2021, it aims to have already opened its 100th branch.
Of the 100 stores expected to start operating by 2021, approximately 25 stores are expected to be funded by the net proceeds of the IPO. The 25 stores are expected to include 10 MerryMart Groceries, one (1) MerryMart Market and fourteen (14) MerryMart Stores.
According to the company, expenses for store establishment to be funded by the IPO proceeds include building fit-out (equipment, electrical, mechanical, plumbing and cable works), expenses for furniture and fixtures (including purchases of display fixtures/gondolas/racks, shelves and cabinets for storing inventory), acquisition of existing stores, obtaining necessary permits and licenses, and professional advisory and labor fees.
Based on MM's IPO prospectus, the company does not plan on owning and acquiring land for its store network expansion. The land or location where the stores will be located are planned to be merely leased, supposedly in line with the company's "asset-light" business model which, according to the company, is the standard in the retail industry in the Philippines.
The balance of 30% will be used for investments in distribution centers and other CAPEX and general corporate purposes.
Approximately 15% of the cash proceeds from the IPO will be used to fund MM's investments in distribution centers. MerryMart plans to set up at least three (3) distribution centers within the next 12 months, placing one each in the three main regions of Luzon, Visayas, and Mindanao. Expenses for said distribution centers will include capital expenditures (i.e., building improvements, logistics and transportation equipment, computer systems hardware/software, equipment, furniture and fixtures, and acquisition of assets related to distribution), obtaining necessary permits and licenses, professional advisory and labor fees and initial inventory for distribution.
The remainder of the proceeds (remaining 15%) will be used for general corporate purposes.
MerryMart Corp.'s Company History
MerryMart Consumer Corp. (MM), formerly Injap Supermart Inc., was incorporated and registered with the Securities and Exchange Commission (SEC) on September 9, 2009. Its primary business mandate is to "engage in the business of buying, selling, manufacturing, distributing, marketing at wholesale and retail of consumer goods including liquor and agricultural, meat, and fresh products." After operating for several years using the name "Injap Supermart Inc.", in 2019, the SEC approved the company's request to change the name to "MerryMart Consumer Corp."
MerryMart is currently 100% owned by Injap Investments Inc., the same company that owned and operated Mang Inasal before it was sold fully to Jollibee Foods corp. (JFC). MM's Chairman and CEO is Edgar "Injap" Sia II, one of the major shareholders of DoubleDragon Properties Inc. (DD), another company traded in the PSE.
MerryMart Consumer Corp.'s wholly owned subsidiary is MerryMart Grocery Centers Inc. (MMGC) which operates MerryMart Grocery Centers Inc.

MM currently operates seven (7) outlets — two (2) stores in Metro Manila, three (3) stores in Luzon, and two (2) stores in Visayas. It consists of four (4) MerryMart Grocery, one (1) MerryMart store, and two (2) Injap Supermart (legacy stores) with total gross leasable area (GLA) of 9,300 sqm.
MerryMart has three different stores format, explained in detail below: MerryMart Grocery (full-sized format with 20,000 SKUs), MerryMart Store (medium & specialized format with 3,000 SKUs) and MerryMart Market (upcoming high-end format with 10,000 SKUs).
MerryMart Grocery
MerryMart Grocery is a full size supermarket offering a wide variety of food and non-food products catering to lower to middle-income consumers. Stores are stocked with more than 20,000 stock keeping units (SKU). The company plans to expand MerryMart Grocery by offering stores for franchising via conversion of existing traditional supermarkets.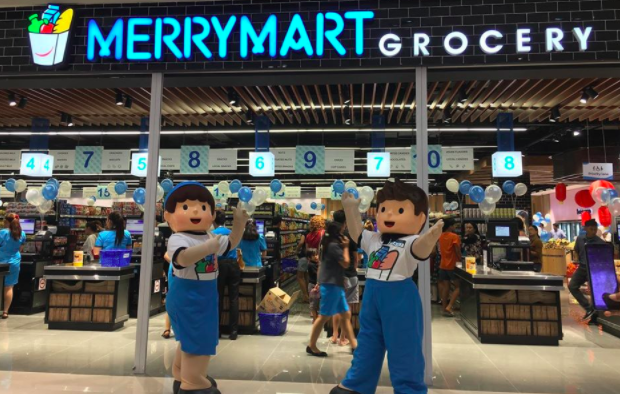 MerryMart Market
MerryMart Market is a medium-size grocery format offering a large selection (around 10,000 SKUs) of premium and imported grocery items and will feature a selection of fresh fruits and vegetables as well as fresh seafood products, according to the company. MerryMart Market will also offer personal care and pharmaceutical products. To differentiate from MerryMart Grocery, MerryMart Market will cater to the middle to high-income consumers in central business districts (CBD) and other urban cities.
MerryMart Store
MerryMart Store is a small format household essentials store with a three-in-one concept combining a mini-grocery, personal care shop, and pharmacy in one store. A typical MerryMart store is just around 150-300 sqm in size, carrying 3,000 SKUs of products.
The MerryMart Store expansion will be primarily through a franchise platform. The company plans to offer franchises of MerryMart store priced at PHP 12 Million to PHP 15 Million per store. This franchise fee will include the store fit-out, equipment, furniture and fixtures, initial store inventory, design fee, franchise fee and other costs.
MerryMart Store franchisees will be required to pay royalty fee of 2.00% of gross sales. An additional 0.50% administration fee and 0.50% advertising fee will also be charged to franchisees based on the store's gross sales.
MerryMart's Dividend Policy
MM's current dividend policy provides that up to 30% of the preceding fiscal year's net income after tax can be declared as dividends, subject to (i) the availability of unrestricted retained earnings, (ii) implementation of business plans, (iii) contractual obligations, and (iv) working capital requirements.
In its IPO prospectus, the company states that there is no guarantee that MM will pay any dividends in the future. The declaration and payment of dividends is subject to compliance annually or as often as the Board of Directors may deem appropriate, in cash or in kind and/or in additional shares from its surplus profits. The ability of MM to pay dividends will depend on its retained earnings level and financial condition.
See also: Property Dividends in the Philippine Stock Exchange (PSE)
Should you Buy MerryMart (MM) stock?

(Updated on May 17, 2020): MM's revenues in 2019 increased by 18.9% to PHP 2.5 Billion compared to the previous year, as MM opened its first store in Luzon at the DD Plaza in Pasay City. Since MM is still on expansion stage, pre-operating expenses are expected to be a drag to earnings as average gestation period of supermarkets is usually around 2-3 years.
MM's relationship with affiliate company DoubleDragon Properties (DD) helps pave the way for a possible sustained expansion as more MerryMart stores open in DD's CityMalls located in various provinces. This synergistic relationship does bode well for MM's asset-light business model.
The company's success is hinged on organic expansion by targeting to build new stores this year and next year, as well as acquisition of existing supermarkets in various locations and converting them into MerryMart-branded grocery chains.
MerryMart (MM) 2019 Income Statement
| (In Thousands) | 2017 | 2018 | 2019 |
| --- | --- | --- | --- |
| Net Revenues | 1,760,099 | 2,116,971 | 2,515,236 |
| Gross Profit | 69,689 | 93,708 | 144,564 |
| EBIT | 28,499 | 57,926 | 46,510 |
| Net Income | 19,998 | 40,598 | 28,009 |
MerryMart (MM) 2019 Balance Sheet
| (In Thousands) | 2017 | 2018 | 2019 |
| --- | --- | --- | --- |
| Total Assets | 229,670 | 333,738 | 914,634 |
| Total Liabilities | 190,034 | 253,504 | 806,390 |
| Total Equity | 39,636 | 80,264 | 108,243 |
Assuming MM can successfully execute the targeted additional 12 stores this year, revenues could increase to PHP 3.4 Billion this 2020, up 34% from the preceding year.
Increased scale and margin improvement could help the company achieve net income of PHP 40 Million this year, but still, this performance is equivalent to a whopping 188.0x Price-Earnings (P/E) ratio versus its P1.00 IPO price.
Its 2019 net income performance also translates to a 271.2x Price-Earnings (P/E) ratio versus the PHP 1.00 offer price — definitely a significant premium versus its comparable peer Metro Retail Stores Group Inc. (MRSGI) when the latter debuted in the market through its IPO in 2015 at just 21.8x P/E.
| | MerryMart | MRSGI |
| --- | --- | --- |
| Market Capitalization | PHP 7.6 Billion | PHP 6.1 Billion |
| 2019 Earnings per Share (EPS) | PHP 0.004 | PHP 0.23 |
| 2020 Forecasted EPS | PHP 0.005 | PHP 0.18 |
| 2019 Price-Earnings (P/E) Ratio | 271.2x | 9.3x |
| 2020 Forward P/E | 188.0x | 9.9x |
| No. of Stores in 2019 | 3 | 12 |
| 2019 Income Statement Highlights | | |
| Revenues | PHP 2.51 Billion | PHP 36.79 Billion |
| EBIT | PHP 46.5 Million | PHP 1.06 Billion |
| Net Income | PHP 28.0 Million | PHP 775.64 Million |
| Gross Margin | 5.7% | 22.8% |
| EBIT Margin | 1.9% | 2.9% |
| Net Profit Margin | 1.1% | 2.1% |
For a more comprehensive analysis and complete recommendation on the MerryMart IPO, head over to PinoyInvestor's Special Report: IPO Analysis of MerryMart Consumer Corp. (MM).
---
NOTE: This report is published in partnership with PinoyInvestor.com. PinoyInvestor is a Philippine-based stock reports subscription service that provides detailed analysis and recommendations on how to profitably trade the Philippine Stock Exchange (PSE). Sign up here to get your free PSE stock reports!
For additional analyses and trading recommendations on the Philippine stock market, check out these useful references from our partner PinoyInvestor:
Disclaimer: The report above is merely provided for information and should be construed solely as statements of opinion and not statements of fact. The information presented should not be seen as and does not constitute an offer or solicitation to buy any securities. Before making a decision to trade or to invest, you should perform due diligence and practice sound decision-making. Invest only in products and instruments that you understand.