In a rare moment in Shark Tank television history, four Sharks chased after the pitching entrepreneurs and two Sharks successfully sealed the deal in the hallway.
How did it happen? And which business was lucky enough to be "groveled" by the Sharks in this episode?
The business pitched was Knife Aid, a mail-order knife-sharpening service that promises to make dull knives sharper than it was brand new.
What is Knife Aid?
People use knives every day and, sooner or later, the knife becomes dull. Unfortunately, not everybody knows how to sharpen a knife or knows where to get it sharpened. That's the problem that Knife Aid wants to solve.
How does Knife Aid work?
Its appeal is the convenience of the whole process. Customers only need to go to their website to sign up. After confirmation, they will receive a protective envelope to put their knives in and the kit will be mailed back to Knife Aid. Knife Aid then banks on a team, skilled with traditional craftsmanship and using advanced sharpening technology, to sharpen the knives. After a few days, the company will mail the knives back, sharper than ever.
Knife Aid Founders Mikael Soderlindh and Marc Lickfett wanted to create a sustainable business that did not contribute to creating more waste. They wanted to help people be able to use their knives longer, instead of buying a new one and throwing out the dull one right away.
How did Knife Aid start the business?
The idea for Knife Aid began in a backyard barbeque in Sweden, where Soderlindh and Lickfett are neighbors. They got in touch with Master Knifesmith Magnus Petersson, who was then based in California.
Soderlindh and Lickfett moved to California with their families and established Knife Aid in Malibu. They hired Petersson to lead and train their team of expert knife sharpeners.
The Knife Aid founders have significant entrepreneurial experience between them. Before starting up Knife Aid, Lickfett helped create the UK-based art prints reseller and supplier, King & McGaw. Sodelindh co-founded the Swedish apparel company, Happy Socks. But according to them, they did not know the American market well.
The two entrepreneurs explained that although they have a strong knowledge of digital marketing, they learned from experience that for their Malibu-based business to succeed, they needed to be able to effectively reach out to the American market.
They needed a Shark to help them with packaging strategies in the American market and a network of connections that will help them further their business.
Knife Aid on Shark Tank
In this Season 11 Shark Tank episode, Sodelindh and Lickfett walked into the Shark Tank and pitched Knife Aid with an ask of $400,000 for a 15% equity in the company.
The Sharks got excited after the knife sharpening demo with Shark Kevin O'Leary, who was able to cut in half a pineapple using a knife that was sharpened by Knife Aid. Lori Greiner was also visibly impressed by the concept and was the first Shark to lay down an offer.
What were the Sharks' offers for Knife Aid?
Greiner started off saying she will give them $200,000 in cash, with a $200,000 line of credit, for 20% equity of the company. However, the two entrepreneurs seemed unfazed by her offer and continued to discuss their plans to advertise their knife-sharpening service in retail stores.
O'Leary took this chance to offer $400,000 for 20% equity. He added that he is Chef Wonderful. "Chef Wonderful is huge in cakes, chocolates, and meats. Google him, he's fantastic," O'Leary proudly claims.
Refusing to give up, Greiner matched O'Leary's offer and teamed up with guest Shark Rohan Oza. As the "Queen of Retail" and the "King of Branding", they offered to the entrepreneurs an unbeatable "strong tandem".
Realizing the double threat, O'Leary decided to team up with Shark Barbara Corcoran. Together they offered $500,000 for 20% equity. Still, the Knife Aid founders did not bite.
Soderlindh told the Sharks they wanted to partner with someone who is passionate and would give them more time despite having so many other businesses. The two couples tried to shout over each other about how each is more passionate.
Shark Mark Cuban, meanwhile, watched in amusement, saying he does not beg or grovel for a deal.
Lickfett and Soderlindh asked for a few minutes to confer privately in the hallway, saying they needed to discuss the offers before deciding which power pairing of Sharks to make a deal with.
And then the big surprise of the show happened. For the first time in Shark Tank history, four Sharks ran after the entrepreneurs in the hallway to get the deal.
To prove that she was not above doing whatever it takes, Greiner was first to run after the entrepreneurs in the hallway.
"You wanna know about passion right," Greiner tells the Knife Aid owners, "Well, I'm not sitting waiting."
O'Leary followed closely behind, with Corcoran and Oza trailing behind him. Over the ruckus, Oza increased their offer to match O'Leary's and Corcoran's offer.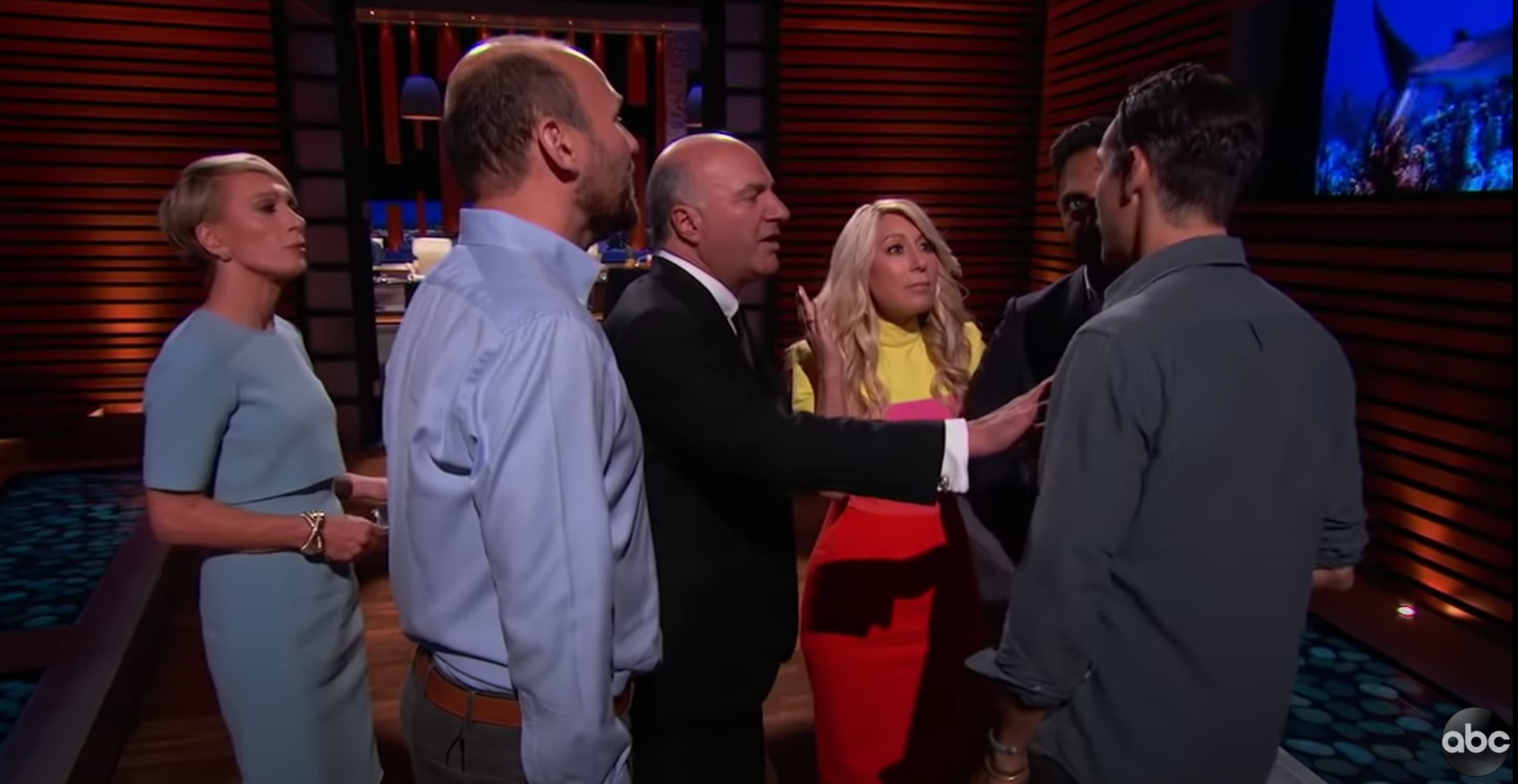 Did Knife Aid get a deal on Shark Tank?
After the unexpected hallway chase, Knife Aid founders Lickfett and Soderlindh shook hands with Sharks Greiner and Oza in the hallway.
Soderlndh and Lickfett revealed that they wanted to pair up with Greiner and Oza, but for $500,000 investment instead of their $400,000 offer. The two Sharks took their chance and immediately agreed with the counter offer.
Sitting firmly in his chair, Cuban shook his head saying "It's a new breed of Shark that grovels."
Witness the frenzied hallway negotiation in this Shark Tank episode video, courtesy of ABC.
What happened to Knife Aid after Shark Tank?
After that historical episode from season 11 of Shark Tank, Knife Aid went viral on social media. Everybody wanted to know what business had four Sharks running after them.
Is Knife Aid still in business today? Very much so. Knife Aid benefitted from the outburst of popularity since the appearance of Knife Aid founders on Shark Tank. The knife sharpening service has become busier than ever. Customers with dull knives can order their mail-in knife sharpening package through the Knife Aid's official website.
The Knife Aid service has also become available on Amazon for $69.00. This includes the mail-in service for five (5) knives which will be shipped back to customers sharper than before after 4-7 days of processing. Here's a link to their Amazon offer.
How much is Knife Aid worth now?
When they walked in the tank, the owners asked for $400,000 in exchange for 15% stake in the company. This valued the company at $2.7 million. With the deal from Greiner and Oza, at $500,000 investment for 20% equity, Knife Aid's valuation was pegged at $2.5 million.
The company had $120,000 total sales prior to appearing on Shark Tank, according to the owners. The company also disclosed that in just a month before taping the show, they had earned net profits of $37,000.
As of 2020, the company mentioned on their Amazon store page that they have already sharpened "over half a million knives". With a price tag of $69.00 for the sharpening service of 5 knives, it can be deduced that Knife Aid's total sales have already reached at least $6.9 million! That's definitely a huge leap from the $120,000 sales just before their Shark Tank appearance.
Lessons from Knife Aid on Shark Tank
Coming into Shark Tank, both Soderlindh and Lickfett were already successful entrepreneurs. The Sharks wondered why they even needed to go to the show. The two businessmen cited their past failures in business as their reason to go on Shark Tank. They learned from their mistakes and realized that they needed a Shark to help their business this time around.
They showed that hands-on experience sells. They nailed their product demonstration by letting the Sharks go up to their product setup to see the knives up close. They let them try out the knives and enjoy themselves while at it.
Lastly, they were confident enough to say what they were looking for in a Shark. They told the Sharks that they needed to know which Shark would give them more time and attention over the other businesses that they were involved in. This question showed their intelligence ad confidence as entrepreneurs. In this interesting episode, the roles were reversed. It was the Sharks who were hooked and groveled to close the Knife Aid deal.