The sports beverage industry is a billion-dollar industry ruled by the world's most popular sports drink, Gatorade. In an industry dominated by a giant, who better to challenge the incumbent than a brand started by a champion athlete?
The new challenger coming to the industry is Electra, a sports drink brand by former WNBA player, Fran Harris. Read on to find out what happened to the business after securing a deal with Barbara Corcoran on Shark Tank.
Electra (Shark Tank Highlights)
| | |
| --- | --- |
| What is Electra? | A functional hydration sports beverage |
| Proposed Deal by Owners | $350,000 for 20% equity |
| Owners' Valuation | $1.75 Million |
| Shark who Secured Deal | Barbara Corcoran |
| Shark's Offer | $100,000 cash plus $250,000 line of credit for 30% equity |
| Electra Net Worth | $1.17 Million |
What is Electra Sports Drink?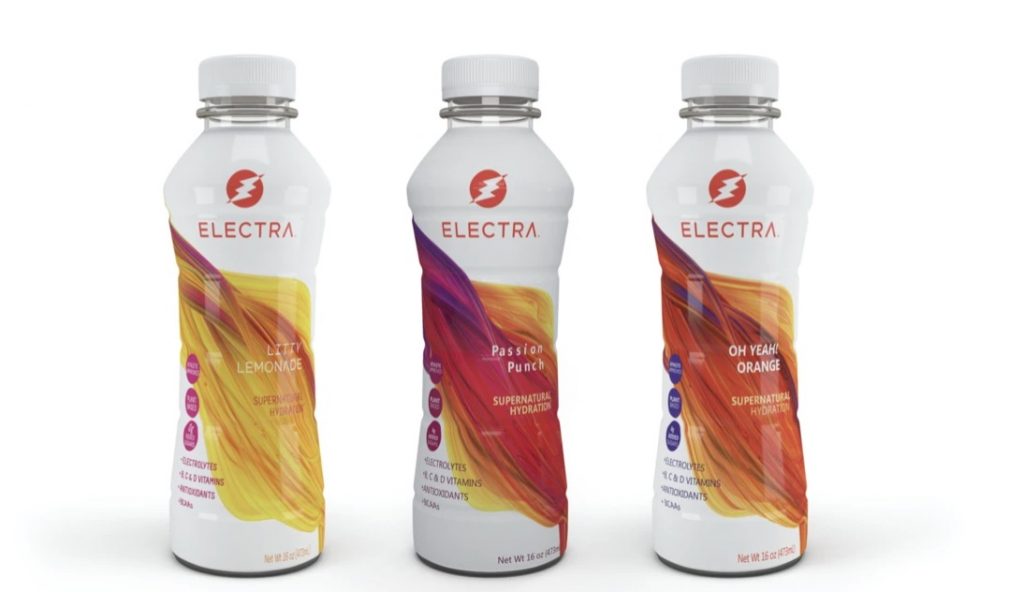 Electra is a hydration beverage offering more functionality than regular sports drinks but with lower sugar content and fewer calories. Each 16 oz bottle only contains 60 calories. The sports drink comes in three flavors–Litty Lemonade, Passion Punch, and Oh Yeah! Orange.
Packed with more than just electrolytes as in usual sports drinks, each variant has vitamins, amino acids, and antioxidants. The added components make for better prehydration and rehydration. It also supposedly helps in performance and recovery and rehydration. 
How did Electra start?
Former WNBA player, Fran Harris from Dallas, Texas is used to winning. She led the University of Texas to an NCAA championship in 1986 and went on to become part of the Houston Comets team that won its first WNBA Championship in 1997.
Like most athletes, Harris has spent all of her college and professional basketball career drinking sports drinks. She was tired of being frustrated by the nutritional label of the popular sports drinks she's been told to drink but left her feeling sluggish and did not help her recover at all. Upon reading the contents on the nutritional labels, she saw that the sports drinks were mostly sugar, artificial food color, and salt.
Fran Harris decided to create Electra to provide a healthier hydration alternative to the big brands of sports drink for "everyday doers, hustlers, and athletes" according to its website.
Electra featured on Shark Tank
Electra founder and CEO Fran Harris pitched to the panel of Sharks on Shark Tank's 12th season, asking for $350,000 in exchange for 20% in her company. The panel included Sharks Mark Cuban, Kevin O'Leary, Daymond John, Barbara Corcoran and Lori Greiner.
Harris introduced Electra as a "better-for-you functional beverage hydration company". The Sharks applauded her great pitch for her energy drink which she ended with an invitation to "end the tyranny of these sugary sports drinks."
Electra had only launched 10 days ago at the time of taping and has not sold anything yet. This surprised the Sharks and prompted Shark Kevin O'Leary to ask "What is the plan for you to get distribution in the bone-crushing business?"
Harris explained that she plans to sell directly to consumers online and in retail. "Shipping a 12-pound box?" O'Leary asked incredulously.
Cuban added that it will be expensive. Harris stood her ground and explained why she wants to do both. She believes there are consumers looking for hydration online, as well as in retail, and she intends to cater to both.
Shark Barbara Corcoran asked Harris for a breakdown of where she plans to use the $350,000 investment. Harris answered that around $30,000 will go to inventory, $25,000 will be for research and development, and the rest will go to logistics, sales, and marketing.
What were the Sharks' offers for Electra? 
Barbara Corcoran was the lone Shark who gave an offer for Electra. Corcoran offered $100,000 cash and a $250,000 line of credit for 30% equity
Shark Mark Cuban commended the taste and formulation of Electra.
"The amount of potassium for the amount of calories is really good." However, Mark Cuban's existing deal with another sports drink brand restricts him from investing in competitors.
Shark Lori Greiner told Harris how much she loved her, her straightforwardness, and her confidence. However, Greiner said, sports drinks are not her cup of tea and decided that she was out.
"There is no data on sell-through here," said Mr. Wonderful who was not convinced.
"Confidence is not enough." Shark Daymond John agreed and was also out.
This left Shark Barbara Corcoran, who talked about her previous partnership with a beverage company where she lost her investment in a month. She then laid out her offer of investing $100,000 cash upfront plus a $250,000 line of credit in exchange for a 40% stake in the company.
Harris then chose this time to reveal that she is in talks with an NFL Hall of Famer and an NBA Hall of Famer. Both willing were willing to bring in their influence to move their product and invest in the company. With this information, Harris made a counteroffer for 25% equity for the same cash and line of credit deal.
"I'll give you 30% if you bring in both big fish with us. If not, all bets are off," countered Corcoran.
Did Electra get a deal on Shark Tank?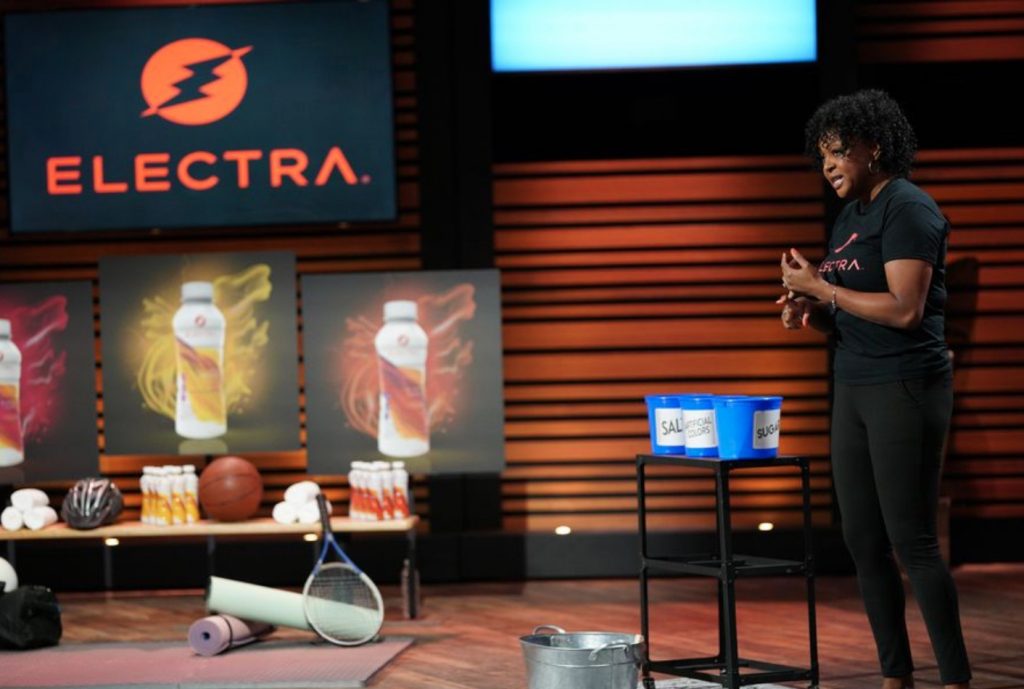 Yes, Electra's Fran Harris chose to partner with Barbara Corcoran. Corcoran offered to invest $100,000 in cash and a $250,000 line of credit for 30% equity.
After Harris revealed that she was in the talks with two Hall of Famers as potential investors, Corcoran agreed to lower equity. Fran Harris enthusiastically accepted the offer and danced her way out of the Tank.
"With Barbara on board, I know I'll keep winning," said Harris.
What happened to Electra after Shark Tank?
Electra updated their formulation after listening to feedback from consumers. On the show, Harris stated that Electra uses Munk fruit as a natural sweetener. According to the company website, they have since switched to NCZ Sweet, which is a natural, zero-calorie sweetener made from fermented sugarcane.
Fran Harris also now offers a Shark Tank Audition masterclass course for entrepreneurs who want to get the chance to pitch their business on the show.
Is Electra still in business today?
Yes, Electra is still in business today. Electra sports drinks are available on the company website. The hydration company currently has a special 15% Shark Tank discount with the code SHARK on its website.
The brand, however, is not so much active on its social media site Facebook, Twitter, and Instagram. However, Fran Harris has been updating her backers on WeFunder. She announced in December 2020 that Electra Powders are almost complete and will be offered in five flavors and are due for release in the spring of 2021. 
How much is Electra worth now?
Electra Beverages is valued at $1.17 Million with Barbara Corcoran's investment of $350,000 in combined cash and line of credit for 30% equity. This value is significantly lower than Fran Harrris' valuation of $1.75 Million during her pitch to the Sharks.
Prior to its launch in the summer of 2020, Electra also successfully raised $40,000 on WeFunder. In its pitch, the company stated that its 5-year target is $80-$100 million in sales. The company also had a campaign on Indiegogo but interestingly, it only raised 72% of its $10,000 funding goal.
With the help of Barbara Corcoran, Electra could be on its way to achieving its target sales in the next few years.
Lessons from Electra on Shark Tank
Fran Harris had years of experience as an athlete, which taught her discipline, getting used to winning, and welcoming competition. After retiring from basketball, Harris became a sales executive in consumer packaged goods for Proctor and Gamble. This was a good training ground for her in the world of business, distribution, and retail.
However, she knew that she needed to gain more knowledge in running a beverage company. According to the company info on WeFunder, Harris went into a deep dive of learning everything she can about the industry and running a beverage business. She invested in herself by attending BevNet, a premier beverage conference. 
As seen in the Shark Tank episode, Harris was exuding confidence and optimism about her brand and her capability to succeed in the harsh world of sports beverages. She also showed the Sharks that she knew her business front and back. It always pays to know every significant detail in your business. Harris also showed she has the wisdom to hire her dream team. Because as she learned from her years as a professional athlete, it's the great teams that win.