Educational toys are becoming more and more advanced. One example is Codi, a social robot considered to be the "toy of the future in a cute package". 
Read on how the makers of Codi, the social robot, turned their luck around during their pitch to the Sharks and find out what they're doing after securing a deal on the Shark Tank TV show.
Codi (Shark Tank Highlights)
| | |
| --- | --- |
| What is Codi? | A social robot designed to tell stories and interact with kids |
| Proposed Deal by Owners | $500,000 for 10% equity |
| Owners' Valuation | $5 Million |
| Shark who Secured Deal | Robert Herjavec |
| Shark's Offer | $500,000 for 25% equity |
| Codi Net Worth | $2 Million |
What is Codi?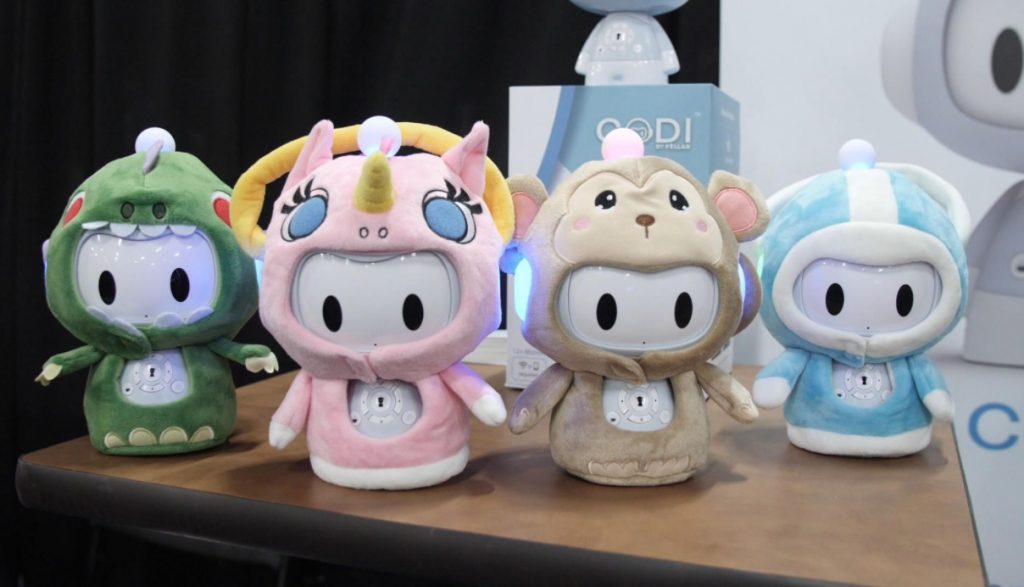 Codi is a multi-functional social robot developed by Pillar Learning. Codi can tell stories, play music, and help build good routines. It aims to support social and emotional learning for young children.
Targeted for children 12 months to seven years old, Codi comes with 130 built-in stories. It can be customized to provide age-appropriate stories to tell, and even stories that can help children work through emotions or chores.
Codi is a smart toy robot with antennae and ears that light up and change colors, making it suitable to function as a night light as well. Codi can be programmed to play soothing music to help toddlers sleep and music that can help children develop their motor skills.
Designed with child usage in mind, Codi is made with durable, safe, and easy-to-clean materials. All of the content and functions of Codi can be customized and supervised by parents through the Codi app. 
How did Codi start?
Co-founders Dayu Yang, William Mock, and Chris Oslebo created Codi as the flagship product of their company, Pillar Learning.
Yang, Mock, and Oslebo started Pillar Learning in 2017 with their combined talents. They aimed to provide developmental opportunities for young children through educational research and innovative technology.
Codi was inspired by characters from Yang's childhood. He had grown up watching Mr. Rogers, Sesame Street, and Rainbow Reading. 
Dayu Yang, who is the CEO and Head of Software, used to work for a social and mobile company before he obtained his MBA from Wharton. 
William Mock, head of content and education, went to highschool with Yang. He went on to study international curriculum design and education consulting, then finished his master's in education at Stanford. Before starting Pillar Learning, he worked as a kindergarten teacher to go back to the roots of education for children.
Chris Oslebo, Pillar Learning's head of product development, met Yang at Stanford. He worked as a project manager in a toy company where he developed toys from concept to launch prior to teaming up with Yang.
Codi featured on Shark Tank
The creators of Codi appeared on Shark Tank's season 12 seeking $500,000 in exchange for 10% in their company. The panel of Sharks included Mark Cuban, Barbara Corcoran, Kevin O'Leary, Lori Greiner, and Robert Herjavec.
Head of product development, Chris Oslebo shared that Codi addresses the problem of children getting too much screen time. Codi encourages play, fosters good habits, and tells stories for children 1-7 years old–all controlled, monitored and customized by parents.
How much does it cost to produce a Codi Robot? Each robot costs $25.76 to make while the retail price is $99.99.
According to Yang, they started selling in November of 2020 and delivered their first orders in December 2020 for Christmas season. The lifetime sales for Codi is $260,000 or approximately 2,500 units, according to the company.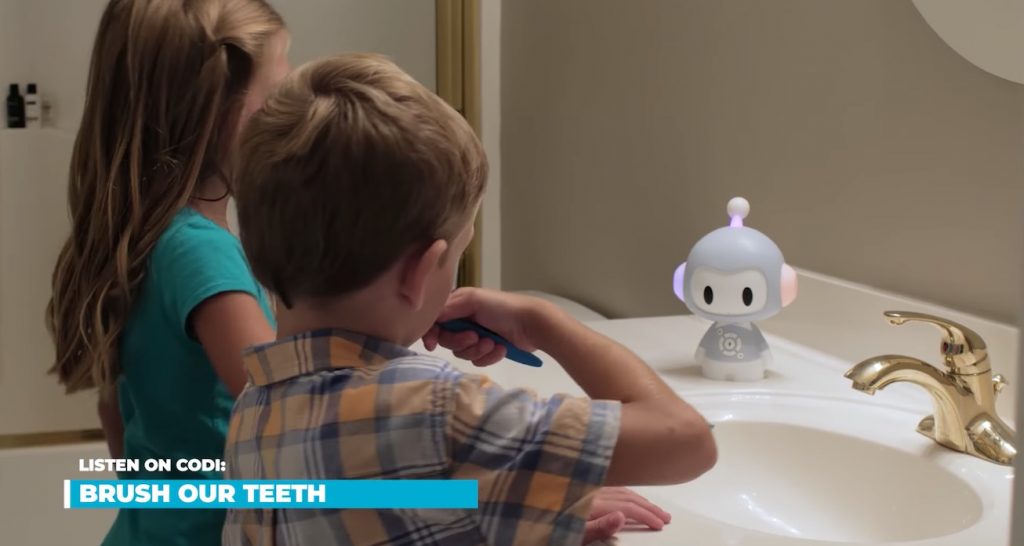 The company has a 10% margin, which already includes customer acquisition costs, added Yang.
Despite the good numbers, it did not get the Sharks excited due to the intense competition in the toy industry.
"Very, very competitive" O'Leary. "If you could get a child to play with this for 12 months, I'd be amazed, 'cause you don't have that data yet."
"Brutally competitive," agreed Mark Cuban.
"I guess what I'm struggling with is, is the audio component of the content enough to continually stimulate the kid? Because visually, nothing changes" Herjavec, told the creators of Codi.
Yang had a ready reply to Herjavec's worries, citing studies that a social robot or smart toy device is more engaging sometimes than animation in a TV.
Cuban reminded the trio that big companies such as Amazon are already working on something similar.
"Form factor is really only your true differentiation, other companies are gonna come up with 'cute.' How are you going to compete with that?" Cuban asked.
Mock replied that what sets them apart are their technology and the human touch to Codi. "Every interaction and content is directly acted by a voice actor," Mock replied.
What were the Sharks' offers for Codi?
The Sharks thought Codi was cute, but nobody was jumping out of their seats to fight for a deal. Eventually, all the Sharks opted out. But in an unexpected twist, Robert Herjavec changed his mind and offered a deal of $500,000 for 25% equity.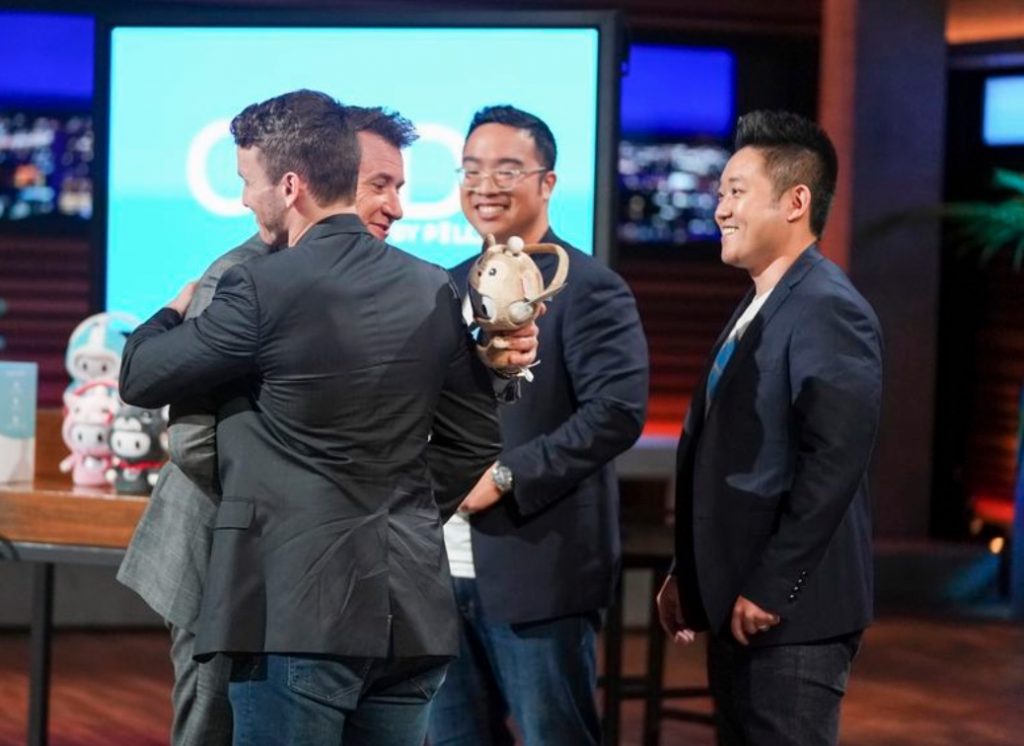 Shark Lori Greiner was the first one to exit, citing the fierce competition and high costs.
"I think you've done an amazing job from a product management perspective," complimented Herjavec, but it was not enough to lure him in at first.
"I just worry that the kids are gonna get bored of the actual delivery platform. I worry about the interactivity with all the stimulus that kids have today with the iPad, I'm out."
Shark Barbara Corcoran told the creators of Codi that they have "the right combination of brainpower here to pull out a product like this and make this work" but that she did not think the social robot would be profitable, and therefore opted out.
"I love your execution but not convinced on scale," said Cuban, and opted out as well.
"Both Google and Amazon have a product coming out in this category. I think it's a slaughter fest," O'Leary predicted, and he also chose to not make an offer.
Chris Oslebo chose this time to tell the Sharks that their projected revenue for the following year is $16 million or 240,000 units.
"Why do you project that?" Greiner asked curiously.
"It's an extremely ambitious goal but we're an ambitious company," explained Oslebo. They plan to do a direct-import program, getting P.O.s directly from retailers. This was made possible by their good relations with their manufacturer, which also turns out to be their biggest investor.
Yang continued to tell the Sharks that having a Shark as a partner could help them accelerate their retail discussions. All of this additional information excited Herjavec, who had initially already opted out.
"I don't really believe in the form factor, but man, you guys are great. I mean, it's like the dream team of a toy product," Herjavec told the three co-founders.
Just as O'Leary was telling the entrepreneurs that it was over for them, Herjavec yells "Hang on! I'm back in!"
"I don't believe in the form factor, but I believe in you guys. I think you'll figure it out," said Herjavec as the other Sharks looked over in surprise.
Did Codi get a deal on Shark Tank?
Yes, Codi successfully secured a deal with Shark Robert Herjavec even though Herjavec initially opted out. Robert Herjavec made an offer of $500,000 in exchange for 25% stake in Codi.
Codi co-creator Dayu Yang asked to lower the equity to 15%, stating he and his co-founders want to be fair to other investors and also intend to keep skin in the game.
Herjavec firmly declines Yang's counteroffer. He explains that he has done well in similar investments and that his offer was what he felt comfortable with given the risk.
Yang attempted to haggle down to 20% equity, but Herjavec still declined. The three partners smiled at each other and decided to accept Herjavec's offer.
What happened to Codi after Shark Tank?
After their appearance on the TV show, the company experienced the "Shark Tank effect" and several Codi Robots were sold immediately. This is likely one of the reasons why the company increased the price of a Codi Robot from $99.99 to $124.99 after the episode.
For a limited time, each Codi comes with a free blue snowsuit outfit. Other outfits for Codi can also be bought on the website for $12.99 each.
Codi is also available on Amazon where it has a 4 out of 5 star rating from more than 200 buyer reviews.
How much is Codi worth now?
With the investment of Shark Robert Herjavec, the company behind Codi Robots is valued at $2 Million. This is considerably lower than the $5 Million original net worth of the company given by the co-founders during their Shark Tank pitch.
Lessons from Codi on Shark Tank
As entrepreneurs, it is important to know your strengths and work with it. Dayu Yang, Chris Oslebo, and William Mock all had different strengths, which they used to their advantage to form Pillar Learning. They were, essentially, what Herjavec called the "dream team of toy product."
The Shark Tank pitch of team Codi was starting to look like they were going to walk away without a deal. What changed their fate was how they had a good answer for every problem thrown at them, which impressed Robert Herjavec. It always helps to keep your composure and be likable for your potential investors. Remember that people invest on people they like.