Entrepreneur Elly Gheno, like a lot of women, loved great underwear that makes her feel more confident. What she didn't like was hunting for the perfect pair that didn't break the bank.
Read on to find out how her underwear subscription business is doing after appearing on the TV show Shark Tank and securing an investment deal with millionaire jeweler Kendra Scott.
BootayBag (Shark Tank Highlights)
| | |
| --- | --- |
| What is BootayBag? | A monthly subscription for women's underwear that allows customers to customize their underwear. |
| Proposed Deal by Owners | $500,000 in exchange for 5% equity |
| Owners' Valuation | $10 Million |
| Shark who Secured Deal | Kendra Scott |
| Shark's Offer | $500,000 for 10% equity |
| BootayBag Net Worth | $5 Million |
What is BootayBag?
BootayBag is an affordable monthly subscription for underwear. Starting at $10 per month for a single pair, BootayBag customers can choose to receive one, two, or four pairs of either Always Thong, Never Thong, or Mix it up designs. The designs are limited every month and subscription members have access to exclusive designs.
Subscription members can earn points with every purchase or when they refer a friend to BootayBag. The points can then be used to redeem rewards on the website. As part of its corporate social responsibility (CSR) efforts, BootayBag donates to a charitable organization every month.
How did BootayBag start?
BootayBag is the brainchild of Elly Gheno. The idea started in 2016 when she realized that she had accumulated more cosmetic products than she could ever use because of her monthly subscription to a cosmetic box. She realized that she did not need more cosmetics, but instead needed underwear. 
She must not be the only woman out there who needed beautiful but affordable underwear, she thought. She could not find any subscription box for undergarments at all.
She used a $300 small business loan and immediately got to work. Her website was live and receiving orders within two days.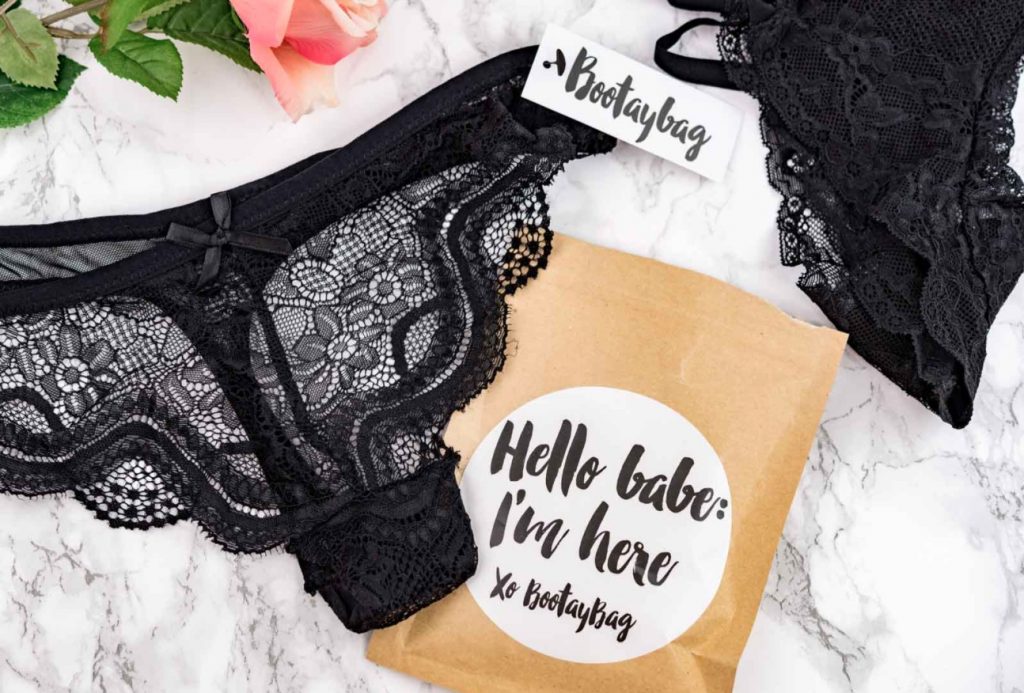 In the beginning, Gheno used to buy underwear from clearance bins in stores or in bulk online. She then packed them herself and included a personalized note in each box. The brand has since evolved into designer underwear, exclusive to BootayBag for better quality.
BootayBag featured on Shark Tank
BootayBag founder and CEO Elly Gheno came to Shark Tank asking for a $500,000 investment in exchange for a 5% stake in her company. 
Gheno shared that both of her parents owned businesses. However, she dropped out of college when she realized she did not want to be the successor to her mom's salon. Instead, she decided to start her own.
When asked how much money she has raised for the business, Gheno revealed that she did not raise funding. 
"You've raised zero dollars? How did you pay for the inventory?" asked Skeptical Kevin O'Leary.
Gheno revealed that she took a $300 small business loan, then made her first website. Without a lot of money for capital, she had to get creative in fulfilling her first orders. She found underwear at clearance in the stores, used recycled boxes for packaging, and then added personalized notes per order.
For marketing, Gheno utilized Instagram and Facebook to reach out to customers. She also used photos from customers who posted and tagged the brand. It was free marketing utilized and executed well, which led to more sales. At the same time, this reinforced that the brand identity of BootayBag as a brand that celebrated women of all sizes.
Once demand picked up, she had to source the underwear from a middleman because she did not have any contacts with manufacturers.
At the time of filming the Shark Tank episode, BootayBag had year-to-date sales of $3 million. Even more impressive is the lifetime sales for BootayBag which had been about $15 million.
"Wow! You're amazing. That's amazing," said guest Shark and entrepreneur Kendra Scott.
"Best story I ever heard so far," said an equally impressed Shark Mark Cuban.
Gheno revealed that her challenge is that she is only earning 5% net of sales due to manufacturing problems. She was hoping a partnership with a Shark can help her solve her manufacturer woes.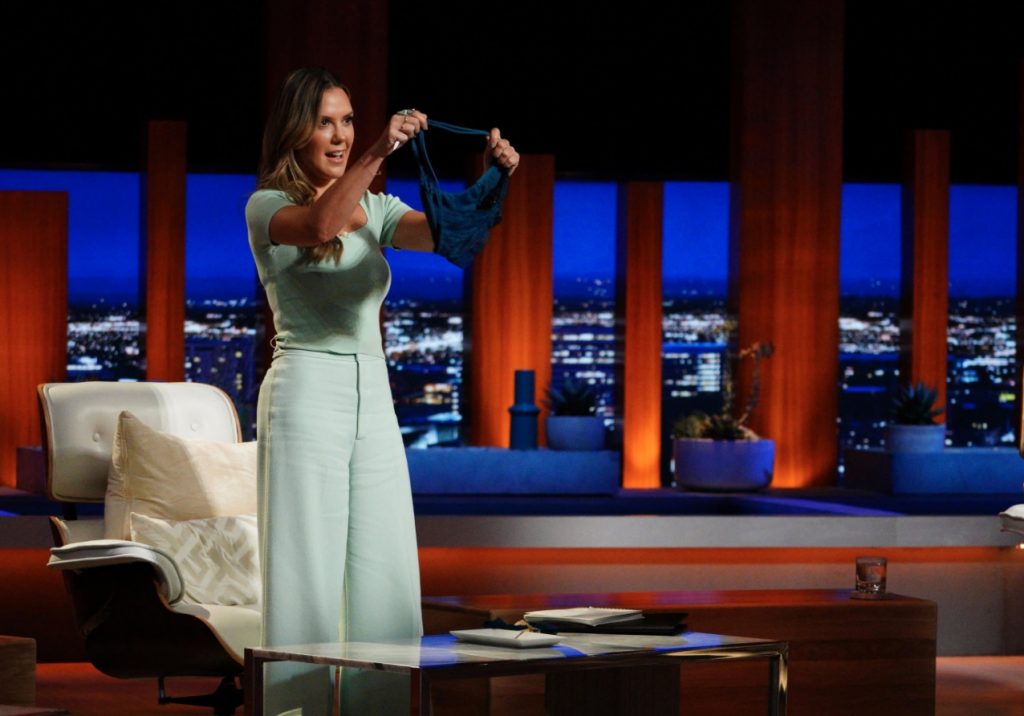 What were the Sharks' offers for BootayBag?
BootayBag received three offers from the Sharks. Sharks Mark Cuban and Lori Greiner opted out, saying Gheno already received great offers from Scott, Corcoran, and O'Leary.
Guest Shark Kendra Scott, CEO of Kendra Scott Jewelry, who shared that she started her own business with only $500. Scott made the first offer of $500,000 for 10% equity adding that she understood subscription, having done it in her jewelry brand. 
"I am one of 20 women in the United States to be a founder of a billion-dollar brand," said Scott. "I want you to become a unicorn, too, and I think I can help you get there."
Shark Barbara Corcoran chimed in saying she can solve Gheno's two main problems. She cited one of her investments, Grace & Lace, as proof of her capability as a partner in an undergarment company.
Corcoran offered to invest $500,000 for 20%. Upon hearing this, Scott asked if Corcoran wanted to team up.
Together, Scott and Corcoran offered Gheno $500,000 for 20% equity, while O'Leary offered $500,000 for 15% equity.
Gheno made a counter-offer to Scott and Corcoran, asking if they were willing to go up to $700,000 for 20% equity.
"Absolutely not," Corcoran said sternly. Scott also declined.
"You're not worth $10 million today," disagreed O'Leary.
Sensing Gheno's discomfort with the valuation of their offers, Scott decided to drop her team-up with Corcoran. She went back to her original offer of $500,000 for 10% equity.
Watch a YouTube video of the Bootay negotiation, courtesy of ABC.
Did BootayBag get a deal on Shark Tank?
BootayBag founder Elly Gheno was able to get a deal on Shark Tank with guest Shark, Kendra Scott who made an offer of $500,000 for 10%.
After dropping Shark Barbara Corcoran like a hot potato, Kendra Scott decided to go back to her original solo offer for BootayBag.
"Done! Let's not think about it anymore!" Gheno quickly replied.
What happened to BootayBag after Shark Tank?
In an Instagram post Gheno shared that thanks to the Shark Tank deal, subscribers can expect expanded sizing, more new products, and member-exclusive add-ons. Because of the streamlined production, the company can also provide faster delivery times.
Is BootayBag still in business today?
BootayBag is doing well in 2021. According to their website, the brand continues to donate to charity with every purchase. BootayBag also donates to The Undies Project, a non-profit organization that provides underwear to people in need.
The brand continues to celebrate body positivity on their Instagram with their 207,000 followers. They also regularly feature regular people from the Bootay community on their account. BootayBag also has a community on Facebook.
How much is BootayBag worth now?
After closing the deal with entrepreneur Kendra Scott, BootayBag locked in a valuation of $5 million. This is 1/3 the total lifetime sales of BootayBag which was $15 million.
The $5 million valuation is also lower than the initially declared valuation from founder and CEO Elly Gheno of $10 million, when she asked for $500,000 in exchange for 5% equity in BootayBag.
Lessons from BootayBag on Shark Tank
Kendra Scott started her namesake jewelry business with just $500, which became a billion-dollar business. Elly Gheno started Bootay Bag with just $300. They are proof that one does not need to have a big capital to start. The crucial thing to do is to start and work with what you have.
Taking action, getting creative, and having a dash of stubbornness helped Elly Gheno in starting her business. Without a business degree, partners, or any guidance, she had to figure out everything on her own. She also said in an interview that she never lets herself become comfortable to keep growing as a business owner.
Gheno made the right choice in choosing Kendra Scott as her Shark partner. With similar startup stories, Gheno and Scott understood each other. It's a plus that Scott had also done the subscription model in her jewelry business. Now with Kendra Scott as the perfect partner who can guide her in business, we can expect a bigger BootayBag in the future.