In the competitive world of sports, there's nothing more satisfying than letting people know of your victories – even if it's just a victory in a fantasy football league. TrophySmack is a business featured on Shark Tank that can provide crazy, extreme, and unique trophies for victories in fantasy sports or just about anything!
Read on to find out what happened to the business and how much the company is worth after securing a deal with investor Mark Cuban.
TrophySmack (Shark Tank Highlights)
| | |
| --- | --- |
| What is TrophySmack? | A company that creates customizable trophies, belts, and rings, etc. for every customer's unique needs. |
| Proposed Deal by Owners | $600,000 for 8% equity |
| Owners' Valuation | $7.5 Million |
| Shark who Secured Deal | Mark Cuban |
| Shark's Offer | $600,000 for 17% equity |
| TrophySmack Net Worth | $3.5 Million |
What is TrophySmack?
TopyhSmack is a trophy company that creates customizable trophy designs, with over a thousand combinations to choose from. Initially started to cater to fantasy sports fans, TrophySmack has diversified to custom awards and even corporate awards.
For those who are tired of passing the same trophy year after year, TrophySmack introduced Swap Tops. It allows customers to swap out and customize their trophy tops for every champion.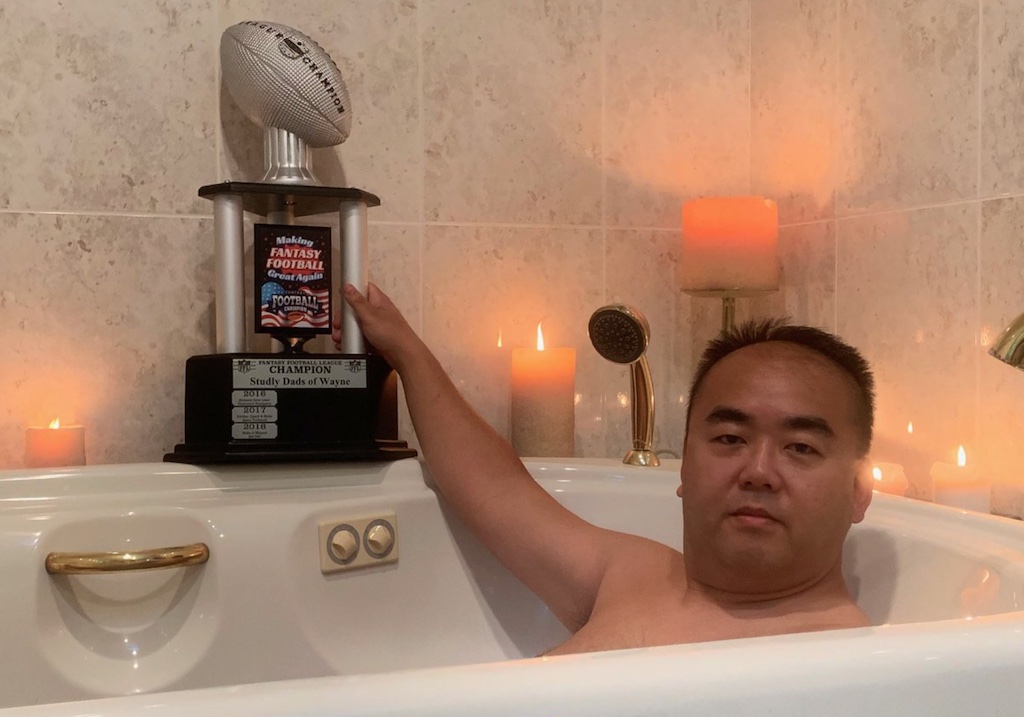 How did TrophySmack start?
TrophySmack was started in January 2018 by founders Matt Walsh and Dax Holt.
Walsh, an avid fan and player of fantasy football league, had just swept the floor with his opponents. Wanting to celebrate his victory in a very exaggerated way, Walsh went looking for a trophy house that can make his winning trophy.
His search only disappointed him as he only found trophies that still looked like the ones he's been seeing since childhood – old and not crazily grand enough.
He then decided that he just had to start making his own. He called upon the help of his ever supportive friend and business partner, Dax Holt to start TrophySmack. 
TrophySmack on Shark Tank
TrophySmack founders Matt Walsh and Dax Holt walked into the Shark Tank as if they're taking their victory walk, each brandishing an outrageous championship belt on one shoulder like a boxing champ.
"My name is Matt Walsh, and I'm addicted to winning," began Walsh.
"And I'm Dax Holt, and I fully support his addiction," continued Holt. The duo came to the show asking for $600,000 in exchange for 8% stake in their custom trophy company.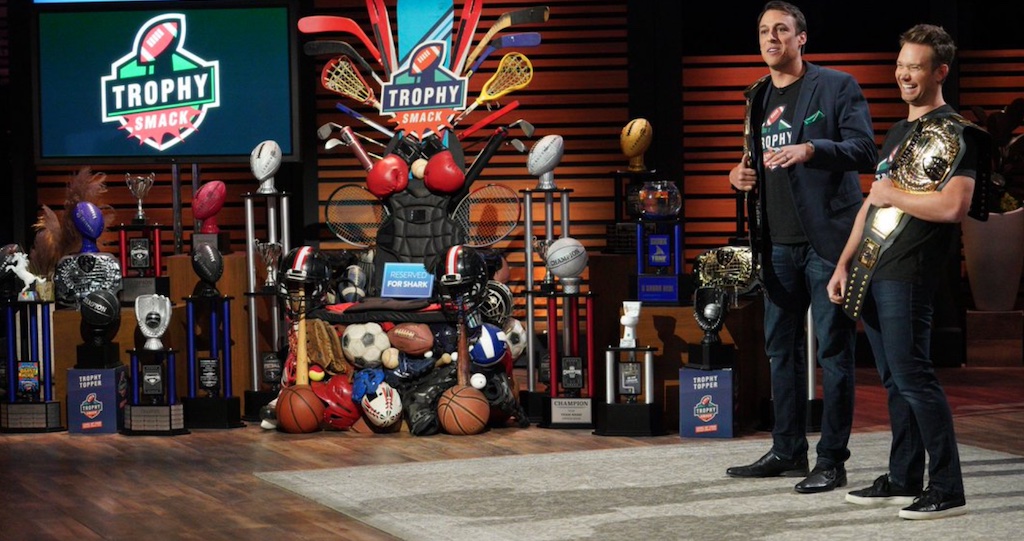 Walsh and Holt told the Sharks that they created TrophySmack to provide the most unique trophies, blinged out rings, and over-the-top belts for every fantasy sport and award.
Shark Barbara Corcoran asked about what makes them unique and why existing trophy houses could not do what they did. Walsh explained that they are the only company that gave customers the ability to change colors and designs on the fly.
When asked about their backgrounds, Walsh shared to the panel that he worked in supply chain and logistics in order to be a successful entrepreneur.
He was told that this would allow him to "learn how businesses operate and how they function and execute." He went on to become a top salesperson in his first job within two years.
On the other hand, Dax Holt came from a completely different background as a producer for television and entertainment news.
Talking about their capital for TrophySmack, Walsh told the Sharks that they had invested a total of $250,000, but their initial investment was only $60,000. Their inventory sold out within three weeks.
Each of their trophies retails at $150 to $160 each, with a profit margin of 80%, which elicited a collective "Wow!" from the Sharks.
"There's a reason why no one in the trophy and awards space has really taken a national approach on e-commerce. The traditional way of assembling trophies was a nightmare. The assembly process in our first year was a nightmare. Assembly was more expensive than cost goods," explained Walsh. At TrophyShark, they were able to reduce assembly time by 90%, he revealed.
"You're a logistics guy. Everybody else in this space can't do what you do because anyone else would take years to get up to speed to what you are," analyzed O'Leary, understanding the advantage of TrophySmack over the other trophy houses.
What were the Sharks' offers for TrophySmack?
After sharing the impressive key performance indicators of TrophySmack, only three out of five Sharks were interested to invest.
Despite being impressed by the revenues, Shark Daymond John opted out after sharing an anecdote about why he did not watch Sunday sports or play fantasy sports.
Shark Kevin O'Leary offered to make an investment of $600k for 25% equity, adding that he can help the company break into the corporate market.
When asked what they intended to do with the investment and what they were looking for in a partner, Walsh explained to the Sharks that they were "looking for a strategic partner."
"We don't want to just double our income. We want 10x," continued Walsh. He said they were hoping the partner could help them by opening doors to arenas and the stores in arenas.
"Are you here just for Cuban?" asked Daymond John. "I think so," Corcoran agreed, which Walsh denied.
"What is Mark doing?" wondered Greiner as all the Sharks turned to Cuban.
Cuban, who had been quietly listening, told the duo that he liked how they are hustlers.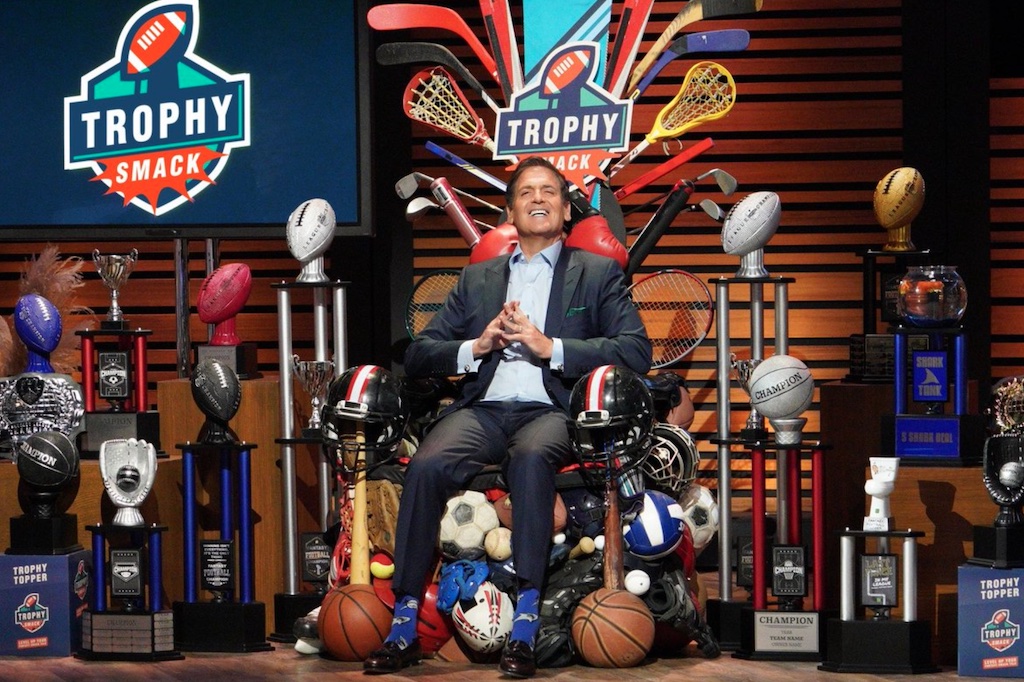 Did TrophySmack get a deal on Shark Tank?
Yes, TrophySmack founders sealed a deal with Mark Cuban, who had put a shot clock-like time limit on the TrophySmack founders for a quick decision.
"Eight percent isn't enough," said the billionaire Shark. "I'll offer you the $600,000 but I want 17%. It's either a yes or a no," he quickly added.
Lori Greiner interjected saying she's going to give an offer.
"There you go. Then I'm out," quipped Cuban before the TrophySmack co-founders could even process what was happening.
"I'll tell you my offer," began Lori Greiner.
"Let's take the deal," Walsh said to Cuban.
"Done!" confirmed Cuban with a triumphant smile.
"Aw. That was like taking candy from a baby," said John, referring to Greiner.
"You know what? It's good to be the king," said Cuban, sitting in the TrophySmack championship throne on set.
Here's a YouTube video of the lightning-fast negotiations with Cuban, courtesy of ABC.
What happened to TrophySmack after Shark Tank?
After appearing on the show, TrophySmack's growth continued despite the pandemic.
On their first year of business, in 2018, TrophSmack's revenue was $850,000 with net income of $200,000..
The following year, in 2019, the gross profit of TrophySmack was $1.9 million, with a gross profit $775,000 and net profit of $500,000.
For 2020, despite the pandemic, their revenues so far at the time of taping the Shark Tank episode was $650,000.
Apart from the winners' trophies, rings and belts, TrophySmack also sells draft boards and even loser prizes. They have since added golf and hockey to the list of sports that they cater to.
Is TrophySmack still in business today?
TrophySmack is still in business and is currently one of the fastest growing companies in fantasy sports awards.
The company is active on their Facebook page, Instagram and Twitter where they post updates, contest announcements and even share customer photos with their winning or losing memorabilia. 
TrophySmack trophies, rings and belts are available online through the company website and on Amazon. Always innovating and staying on top of their game, TrophySmack releases unique new topper designs every year. They also hold contests regularly with sought-after prizes such as the Playstation 5. 
How much is TrophySmack worth now?
With the investment from Mark Cuban, the current net worth of TrophySmack is at $3.5 million.
This value is significantly lower than the declared valuation of $7.5 million from the owners when they appeared on the show.
Lessons from TrophySmack on Shark Tank
The main lesson from the TrophySmack episode of Shark Tank comes from billionaire Shark, Mark Cuban.
"Whatever you're doing, be the best at it. Because once you're the best at something, every door opens up, and then you learn where you can be a great entrepreneur," Cuban said.
This was after TrophySmack co-founder Matt Walsh told the Sharks how he quickly became one of the best salespersons in the logistics company he was working for prior to becoming an entrepreneur. He had learned how businesses operated while working for a supply chain and logistics company.
Cuban, whose humble beginnings inspire millions of entrepreneurs around the world, started out in sales before becoming an entrepreneur. It's no surprise that Walsh and Holt quickly accepted Cuban's offer.
As Walsh said on the show, he likes winning, which Cuban certainly knows how to do well as well.