Parents everywhere can all relate that their toilet time is one of the rare times they can have peace and privacy away from the kids. Which is why it's not unusual to take a long time sitting on the toilet, eventually losing track of time.
This is exactly why Adam Stephey created the Toilet Timer. Read on how a gag gift brought in a six-digit deal with billionaire Mark Cuban and find out how the business is doing after its appearance on Shark Tank.
Toilet Timer (Shark Tank Highlights)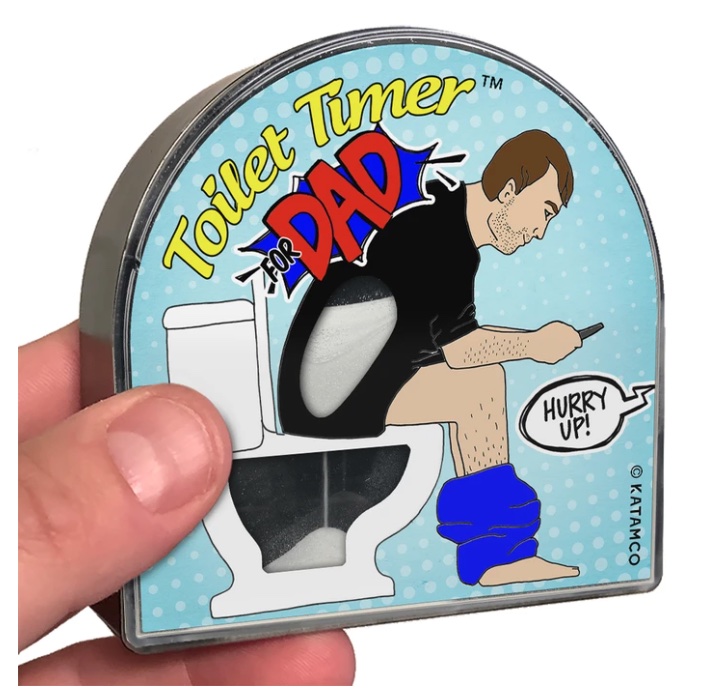 | | |
| --- | --- |
| What is Toilet Timer? | A 5-minute sand timer telling people it's time to get out of the toilet! |
| Proposed Deal by Owners | $200,000 for 10% equity |
| Owners' Valuation | $2 Million |
| Sharks who Secured Deal | Mark Cuban |
| Shark's Offer | $200,000 for 25% |
| Toilet Timer's Net Worth | $800,000 |
What is the Toilet Timer?
The Toilet Timer is a handy little sand timer intended to be a gag gift for people who take too long sitting on the toilet. Thanks to the Toilet Timer, no more 40-minute poo breaks!
With a 5-minute sand timer, the Toilet Timer shows that when the sand runs out, it's time to get out of the toilet. To restart the time, one simply has to rotate the timer a full 360 degrees.
How did the Toilet Timer start?
The idea for the Toilet Timer came to Adam Stephey when he realized he has taking too long on the toilet, always distracted by his phone long after he was done doing his business. If it wasn't his phone, it was a book or a puzzle. Whatever it was, he was sitting on the toilet for too long and wondering where the time went.
Stephey knew his habit wasn't unique. He thought about all the people who spend too much time distracted when in the toilet. He knew people needed a reminder for how long they're supposed to be doing their "business".
Adam Stephey and his wife, Katie, founded Katamco, LLC with their first product, the Toilet Timer.
While Kate was a marketing guru, Adam had been creating and tinkering with things since he was a kid. He taught himself how to use a 3D printer and used it to make the first version of the Toilet Timer.
The Stepheys put their product up on Kickstarter for funding, and it was a success. From their target of $20,000 they were able to raise $23,000 in Kickstarter from thousands of backers around the world.
Although primarily a gag gift, the 5-minute limit is based on the doctor-recommended time for taking care of business. According to a gastroenterologist, Dr. Bradley Rieders, MD, doing number two should not take longer than five minutes. Anything longer is not good for one's health and risk hemorrhoidal bleeding.
Toilet Timer on Shark Tank
Katie Stephey walked into the Shark Tank alone, apologizing because her husband was a poo-crastinator who wastes time in the bathroom. Her husband Adam appeared, joking, "That would explain why I can't feel my legs."
The husband and wife duo from Normal, Illinois came in asking for $200,000 in exchange for 10% equity in their company, Katamco and their most successful product line, the Toilet Timer.
"Oh hell, no," was Shark Mark Cuban's initial reaction.
"You can't be serious," said Shark Barbara Corcoran in disbelief.
"Let me say for all men in America, that that is the only time we get privacy," objected an amused Mark Cuban to the 5-minute poo time limit.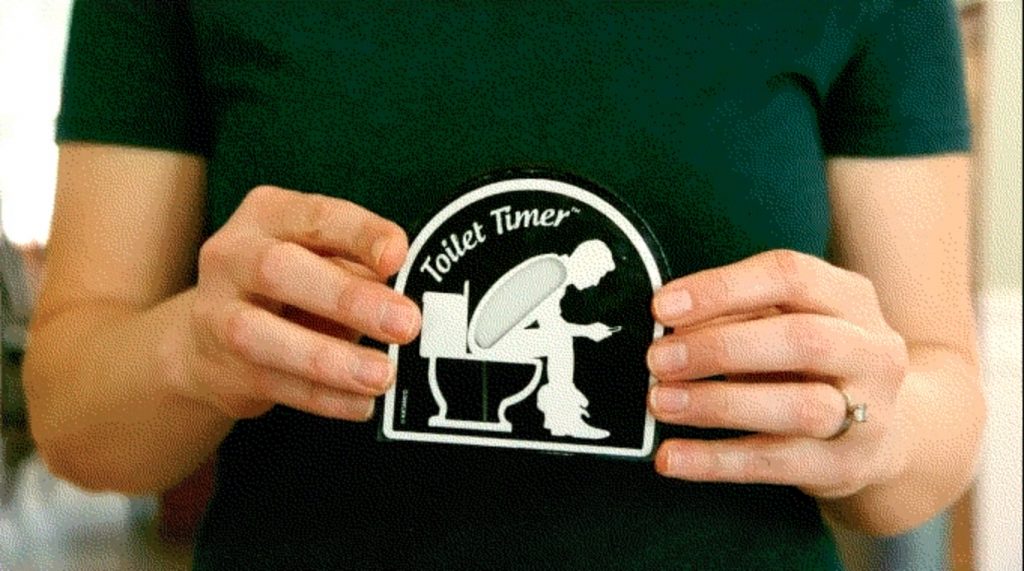 Adam proceeded to talk numbers after Shark Kevin O'Leary stated that he was skeptical about the Stephey's valuation. The landed cost of each Toilet Timer is under $3 while the retail price is $14.99.
"I used to poopoo these kind of tchotchke ideas until I got into Potato Parcels. Now I'm not laughing anymore because I get a big check every month," shared Mr. Wonderful, talking about his investment in the company that sells potatoes with handwritten notes on them.
Adam went on to explain that in the past two Christmas seasons, they did not have to spend on advertising their product. This was thanks to Amazon's algorithm that picked up how much consumers liked the product, and promoted it for them. 
Mr. Stephey added that he also wanted to invest in the production line in China to up their production capacity. This was met by confusion from the Sharks. 
"The factory should improve their systems free and ramp up to accomodate you. Don't go down that rabbit hole. Do not give any factory any money. Just give them purchase orders and tell them that they should figure out how to ramp up the speed of making the product," added Shark Lori Greiner.
The Stepheys agreed and thanked the Sharks for their good business advice.
What were the Sharks' offers for Toilet Timer?
Only Mark Cuban made an offer to Toilet Timer. Cuban offered to give $200,000 in exchange for 25% equity of Toilet Timer, saying "There will always be Father's day and there will always be a need for gags. I like it."
Despite the impressive sales, the other Sharks were not sold on the product. Shark Lori Greiner was the first to back out, saying she didn't think she could contribute anything that could help blow up their business.
Mr. Wonderful told them they were asking for too much, and opted out as well. 
Shark Barbara Corcoran backed out, telling them they have a gimmick, not a business, and that the sales will burn out.
Shark Daymond John commended them for their impressive achievement of taking a $300 capital to a business on track for $1 million in sales. However, he said the Toilet Timer was not resonating with him because they were taking away the only time that men have. For that reason, John was out.
Did Toilet Timer get a deal on Shark Tank?
With only one offer from the Sharks, Katie and Adam Stephey immediately accepted Mark Cuban's offer of $200,000 for a 25% stake in their company, Katamco, LLC.
"We didn't want to look a gift horse in the mouth. Mark was our only offer. There were some things that we could've countered with, but at that point it didn't make sense. We're okay with 25%. We think that we can do great business with this product," ended Adam Stephey. 
What happened to Toilet Timer after Shark Tank?
The good news for the Stepheys and Cuban is that all Toilet Timer products on Amazon are currently sold out. It seems all their stocks were flushed out by the the Christmas season that just ended. 
This again is another example of the "Shark Tank effect" wherein products featured on the Shark Tank show experience a surge in product sales after their appearance on the show.
Is Toilet Timer still in business today?
Although there is only little activity on Katamco's Facebook and Instagram, Katamco is still in business today.
The Toilet Timer is available in three designs on their website and on Amazon. Katamco also sells smartphone wall docks for the bathroom and "Get Off the Pot" greeting cards. Creator Adam Stephey even wrote a poetry book called "When Dad Goes Poo: Bathroom Book" also available in a set with the Toilet Timer Dad and the greeting card.
How much is Toilet Timer worth now?
Katie and Adam Stephey declared a $2 million valuation for their company Katamco when they appeared on the 12th season of Shark Tank.
They also shared that for Christmas season alone in 2019, they earned $294,000 in sales. The Toilet Timer creator revealed that even without closing a deal with any Sharks, the company is on track to make $1 million dollars total sales by the end of 2020.
At the time of taping the show in August of 2020, they had already made $318,000 and that a quarter of that amount was from Father's Day alone.
Mark Cuban's investment of $200,000 for 25% stake in the company placed the company's worth at $800,000.
Lessons from Toilet Timer on Shark Tank
Adam Stephey shared that he's had the idea for the Toilet Timer for a while before he took action and made the prototype. His advice to other creators, inventors and entrepreneurs: don't wait, just do it. 
No matter how simple or ridiculous your idea seems,  bring them to life and show the world. You never know if it will be a hit or not until you try. Adam Stephey stopped being a poo-crastinator, became a hit, and now the Toilet Timer is in thousands of homes, reminding poo-crastinators to get off the pot.