When it comes to food carts and food stalls, potato snacks are undoubtedly a delicious treat. From french fries to hash browns, there will never be a shortage of potato-based grubs for hungry Filipino foodies. Even with the emergence of new and innovative snacks out there, our beloved spud remains an all-time favorite.
More than just your run-of-the-mill potato snack, Potato Giant lives up to its name by putting a unique spin on our conventional street grub.
Do you want to be a part of the brand's huge success? Keep reading to know more about Potato Giant's franchising details.
Highlights of Potato Giant Franchise
| | |
| --- | --- |
| Overview of Potato Giant | A food cart / food kiosk offering potpots and other potato-based snacks |
| Potato Giant franchise fee | Starts at Php 299,000 |
| Franchise fee inclusions | Food cart, Potpots machine, chest freezer, signage, training for store crew |
| Advantage of franchising Potato Giant | The first two weeks of operations come with Potato Giant's supervision |
| Disadvantage of franchising Potato Giant | It will take months or even years to recover the total franchise investment |
---
Looking for other popular and profitable food cart franchises in the Philippines? Check out PinoyMoneyTalk's list of 100 Best Franchises in the Philippines under Php 1 Million
---
Potato Giant's History
Potato Giant's success started with the idea of owner John Jeric Cantillon, an alumnus of De La Salle University-Manila, to offer another potato-based snack.
After graduating with a degree in Accountancy, John served as a part-time instructor in his alma mater. In 2007, equipped with accounting skills and a desire to make money during his free time, he set up his first food kiosk along Fidel Reyes Street, Manila. Located just outside DLSU, students from the university became his first patrons. Some of them even went on to become his first franchisees!
In 2009, just two years after putting up his very first kiosk, John transferred to Agno Food Court and set up three additional food carts in the area. With the business demanding more of his attention, John decided to leave teaching and become a full-time businessman.
In 2013, he continued expanding the food cart business by opening kiosks inside schools such as Ateneo de Manila University and Philippine Women's University. He also had the business registered into a corporation named Storm Carts Enterprise Inc.
Since then, additional Potato Giant stores, including company-owned and franchise-owned kiosks, were opened around the University Belt where it is sure to be patronized by students.
Expansion and Franchising Success
When asked why the business proves to be successful, John says it's all about the variety of their product offerings. After all, aside from their flagship product "potpots", Potato Giant also has other snacks like twister fries and mozzarella balls.
The company also takes pride in its state-of-the-art machine which makes cutting potatoes easier. "This makes labor cheaper especially for owners since you don't need to hire another staff to do the job," John said in an interview with Entrepreneur magazine.
Currently, Potato Giant has over 90 stalls in the Philippines. Here are some of their locations:
SM North EDSA
SM Tarlac
Robinsons Place Dasmarinas
Robinsons Place Antique
Circuit Makati
One Torre de Santo Tomas
De La Salle University
Ateneo De Manila University
Philippine Women's University
Potpots and Potato Giant's Other Products
Thicker than chips but thinner than Mojos offered by Shakeys, the bite-sized and convenient potpots proved popular to potato lovers in the Philippines.
Customers can choose to flavor it with the usual Barbeque, Sour Cream or Cheese powder, but more adventurous foodies might want to try their unique Chili Barbeque and White Cheddar. For an even more exciting spin, potpots can also be served with cheesy bacon sauce.
For those who are missing that good ol' classic french fries, worry not! Potato Giant offers them in the same powder flavorings and cheesy bacon sauce options.
From only selling potpots, the menu has since been upgraded to keep customers thrilled. Other mouth-watering grub from Potato Giant include:
Hash brown
Twister fries
Buffalo bites
Potato balls
Chicken nuggets
Interested to see how their bestselling potpots are made? Watch this YouTube video:
Potato Giant Franchise Details
Storm Carts Corporation, the parent company managing the master franchise of Potato Giant, is currently accepting franchise applications. The franchise fee and franchise inclusions will depend on the type of food cart you will avail. Take note that Potato Giant recommends opening franchises in locations with high foot traffic such as malls, schools, and university canteens.
For a Potato Giant Master Cart, the franchise fee is Php 299,000, inclusive of a heavy- duty cart which requires 3-4 sqm. of space. For the Master Cart franchise fee, the inclusions are:
Chest Freezer, cooking equipment, and kitchenware
Potpots machine
Lighted LED Signage
Kitchen rangehood
Complete set of uniform for two (2) staff members
Site ocular and approval
Free store staff training (staff allowance not included)
Free store opening collaterals (balloons, tarpaulin, coupons)

A Potato Giant Mall Kiosk, meanwhile, entails a franchise fee of Php 349,000, also inclusive of a heavy duty cart which requires 4-6 sqm. of space. Upon approval of the franchise application, the following benefits are provided to franchisees availing of the Mall Kiosk:
Chest Freezer, cooking equipment, and kitchenware
Potpots machine
Lighted LED Signage
Kitchen rangehood
Complete set of uniform for three (3) staff members
Site ocular and approval
Free store staff training (staff allowance not included)
Free store opening collaterals (balloons, tarpaulin, coupons)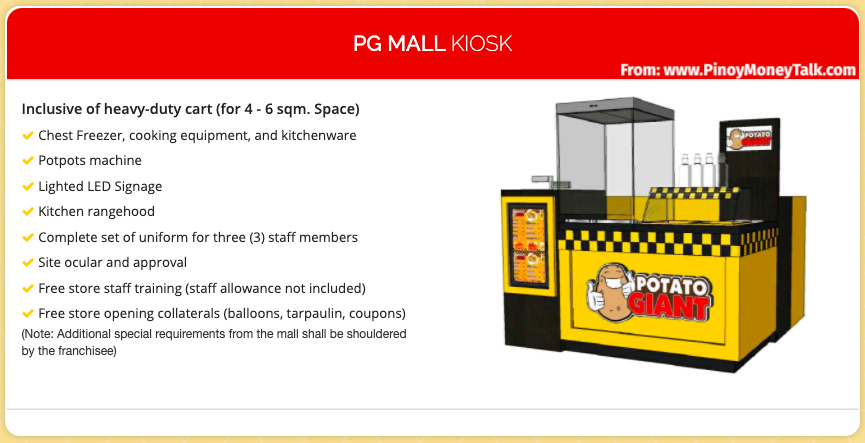 Take note that any additional requirements from the mall will be shouldered by the franchisee. Also setting up the franchise will take around forty-five (45) days, which includes staff training and the construction of the cart.
Also included in the franchise fee is training that will be provided by Potato Giant on topics such as inventory management, financial performance analysis, handling of staff and manpower, and proper food handling.
Franchise Application Steps
Interested to become a Potato Giant franchisee?
Start by sending a formal letter via email to franchise@potatogiantph.com. Make sure to include the exact address of your target location and other pertinent details.
Wait to receive the Franchise Application Form. Fill it out and send the completed form to Potato Giant's Business Development group (franchise@potatogiantph.com). You will then receive a Franchise Offer Sheet if your application is approved. If you have questions regarding the Franchise Offer, email them or set an appointment to discuss the necessary details of your franchise.
Upon signing of the Franchise Offer Sheet, franchisees are required to pay a 50% downpayment of the franchise fee amount. This is required to reserve your proposed location.
After paying the 50% downpayment, you will receive an Acknowledgement Receipt for the payment and also a copy of the Letter of Intent to Lease, Authorization to transact in behalf of Potato Giant, and Potato Giant's Company Profile.
The franchisee shall then have ninety (90) working days to ensure that the proposed location is secure. This involves negotiating the rental fee and opening date and even signing the rental contract with the owner of the location. Of course, if you own the venue, then this does not pose much of a problem.
if the franchisee needs more time to secure the location, they should submit a letter of request to Potato Giant containing the proof of processing to justify the extension. The company warns that if this is not done or the reserved location is still not secured after the 90-day grace period, the proposed location will be forfeited, but the reservation fee will be refunded to the franchisee.
Potato Giant will need to do an ocular inspection before they approve the location. This must be scheduled with the company at least three (3) days in advance. For locations in the provinces, the franchisee will be responsible to pay the transportation costs and lodging costs, if any, of ocular inspectors from the company.
Once the location is approved, Potato Giant will then require the franchisee to settle the remainder of the franchise fee. The contract signing shall be scheduled after.
At this point, franchisees can still decide not to proceed with the franchise. If they will not continue with opening the target location, the downpayment will be refunded, less a P5,000 processing fee.
If the franchisee decides to continue, cart construction shall begin. Refund of the downpayment is no longer allowed once cart construction has commenced.
While the cart is being prepared, franchise training and staff training will be scheduled and will run for fifteen (15) days. Initial inventory and the cart shall then be delivered prior to the target opening day.
Pros of franchising Potato Giant
State-of-the-art potato slicing machine allows franchisees to hire less staff.
The first two weeks of operations come with Potato Giant's supervision.
The business model has been proven and tested in malls and universities with high foot traffic.
Cons of franchising Potato Giant
The food stall industry is becoming increasingly competitive, with new ideas and concepts sprouting every time.
It will take months, perhaps even years, to recover the franchise investment and total cash outlay.
If your Potato Giant franchise will not be set up near a mall or a school, sales volume may be lower as the brand's success in other locations has yet to be seen.
Franchise Contact Details
If you have inquiries regarding Potato Giant's franchise opportunity, contact them at:

Office Address: 7748 St. Paul St., San Antonio Village, Makati City, Philippines
Mobile /Cellphone Number: 0917-307-0427 | 0917-545-5322
Email Address: Franchise@potatogiantph.com
Website: www.potatogiantph.com
Interested in other food cart franchises? Check out PinoyMoneyTalk's list of 100 Best Franchises in the Philippines under P1 Million

Information and Image Sources: Potato Giant website (potatogiantph.com) and Facebook page, Entrepreneur Philippines