Now may be a good time to get a housing loan. Why?
Because interest rates are presently at relatively low levels, and if you're able to lock in a low interest rate, you could save on huge interest expense the moment rates start to rise.
Imagine getting a housing loan for only 3% interest this year, fixed for 30 years. No bank can offer that right now in the Philippines, but PAG-IBIG does! You'll definitely save a lot assuming home loan interest rates start to rise.
If rates go up to say, 10%, next year, that's a nominal 7% interest which you'll be able to save and won't have to pay anymore every year. For a P1 million housing loan, that savings translates to around P4,500 amortization per month!
In the Philippines, an easy and convenient housing loan option for Filipinos is, of course, the PAGIBIG loan administered by the Home Development Mutual Fund, more popularly known as PAGIBIG Fund.
Interested to get a housing loan? Check out our other article which talks about PAG-IBIG Housing Loan Requirements and Processing Time.
For the year 2020, here are the housing loan interest rates offered by PAGIBIG Fund. Good news, this year they're offering one of the lowest interest rates in the market — as low as 4.985% for a loan that will be repriced after 1 year.
According to PAGIBIG Fund, this promo rate will last only until the end of December 2020 so consider this if you're planning to get a housing loan soon!
PAGIBIG Housing Loan Rates in 2020
| Fixed Pricing Period | Interest Rate per Year |
| --- | --- |
| 1 Year | 4.985% |
| 3 Years | 5.375% |
| 5 Years | 6.375% |
| 10 Years | 7.270% |
| 15 Years | 8.035% |
| 20 Years | 8.585% |
| 25 Years | 8.800% |
| 30 Years | 9.050% |
As you can see, the rates are relatively cheaper and competitive compared to those offered by Philippine banks. While most local banks offer housing loan interest rates from 6%-8% for 1-year repricing, PAGIBIG indeed stands out with their ultra-low 4.985% interest rate per year, but with 1-year repricing.
First, how to use the interest rate table above? First, choose your desired fixed payment period in the first column. This represents the number of years the interest rate (mentioned in the second column) will be fixed and unchanged.
Of course, the interest rates shown above are quoted "per annum" which means these are the interest rates "per year" during the fixed pricing period.
Fixed Pricing Period in PAGIBIG Housing Loan
What is "fixed pricing period" in PAGIBIG's housing loan?
The "fixed pricing period" is how long you want to lock-in the interest rate of your loan. This means the interest rate will not change or won't be "repriced" within the duration of the lock-in period.
For example, if you want a 3-year fixed pricing period, your PAGIBIG housing loan will have an interest rate of 5.375% fixed for 3 years, as shown in the table above. Even if PAGIBIG's interest rates will change next year or two years from now, your home loan rate is locked in and fixed for 3 years — saving you some money if and when interest rates rise.
Now, after the "fixed pricing period" your loan will be "repriced," which means a new interest rate may be charged on your loan. Again, for example, if you chose a 3-year fixed repricing period, on the fourth (4th) year, your PAGIBIG housing loan will have a new interest rate.
Depending on market conditions at the time of repricing, it's possible that the new interest rate could be higher. It could stay the same, but rarely will it go below the original interest rate. We thus suggest that you choose a longer fixed pricing period to minimize the possibility of loan default (that is, you cannot pay the monthly amortization anymore) just because your loan was charged a higher repriced monthly amortization.
3% Housing Loan Interest Rate
Good news to all minimum wage and low-income workers! PAGIBIG Fund has reduced the housing loan interest rate, specifically for this segment of borrowers.
PAGIBIG has lowered the annual interest rate of its Affordable Housing Loan Program (AHP) from 4.5% to a very low 3%, but again, this only applies to minimum wage and low-income earners.
The loan may be used for any of these purposes:
Purchase of fully developed residential lot or adjoining residential lots not exceeding one thousand square meters (1,000 sq. m.);
Purchase of a residential house and lot, townhouse or condominium unit, which may be: (1) old or brand new; (2) a property mortgaged with the Fund; or (3) adjoining houses and lots / townhouses / row houses / condominium units. Note that the subdivision project where said residential units are located must have complied with all the required facilities pursuant to BP No. 220.
Construction or completion of a residential unit on a residential lot owned by the borrower or a relative of the borrower;
Home improvement on the house owned by the borrower or a relative of the borrower, or on a property currently secured under a Contract-to-Sell (CTS), or Deed of Conditional Sale (DCS) between Pag-IBIG Fund and the buyer; or
Refinancing of an existing housing loan; provided, that the borrower must be regularly paying without any payment made beyond thirty (30) days past due for the last six (6) months from date of application.
The maximum loanable amount is P750,000 and the maximum repayment period is thirty (30) years.
PAGIBIG's Affordable Housing Loan Program
Depending on the borrower's monthly salary, the allowable loan amount and applicable interest rate under the Affordable Housing Loan Program are as follows:
| | | |
| --- | --- | --- |
| Gross Monthly Income of Borrower (NCR) | Maximum P15,000 | Maximum P17,500 |
| Gross Monthly Income of Borrower (Other Regions) | Maximum P12,000 | Maximum P14,000 |
| Loanable Amount | Up to the Socialized Housing Loan Ceiling | Maximum P750,000 |
| Interest Rate | 3% | 6.5% |
How to read this table? If you're from NCR (Cluster 1) and earning a maximum salary of P15,000 per month, you can borrow up to the socialized housing loan ceiling and the loan amount shall be charged interest rate of 3% for the first five (5) years of the loan.
The same rule and interest rate applies to those borrowers from other regions (Cluster 2) with gross monthly salary of P12,000 maximum.
Meanwhile, borrowers who are earning a maximum of P17,500 in NCR (Cluster 1) and up to maximum P14,000 if from the other regions (Cluster 2) may borrow up to a maximum loan amount of P750,000. This shall then be charged an interest rate of 6.5% for the first 10 years of the loan.
The 5- and 10-year periods mentioned are the same as the "fixed pricing period" explained in the preceding section. At the end of the 5-year or 10-year fixing pricing period, the interest rate shall be repriced by PAGIBIG.
For borrowers that chose a 3-year or 5-year fixing period, the interest rate, as per PAGIBIG's policy, is to reprice based on the prevailing interest rate or increase the rate by two percent (2%), whichever is lower.
Apart from the salary requirement, the member may borrow from PAGIBIG under the AHP as long as he or she has met these other conditions:
At least 24 monthly savings. Lump sum payment of the required 24 months savings is allowed;
Not more than 65 years old, and not more than 70 years old maturity of the date of loan application;
Has the legal capacity to acquired and encumber real property;
Passed satisfactory background/credit and employment/business checks of Pag-IBIG Fund
Has no outstanding Pag-IBIG Fund Short-Term Loan (STL) in arrears at the time of loan application;
Has no Pag-IBIG Fund Housing Loan that was foreclosed, cancelled, bought back due to default, or subjected to dacion en pago. If with existing Pag-IBIG Fund Housing Loan account, either as principal borrower or co-borrower, it must be updated.
Interested to get a Pag-IBIG loan? Read our comprehensive guide on How to apply for a PAG-IBIG housing loan!
Here's an infographic showing a step-by-step guide on the PAG-IBI housing loan application.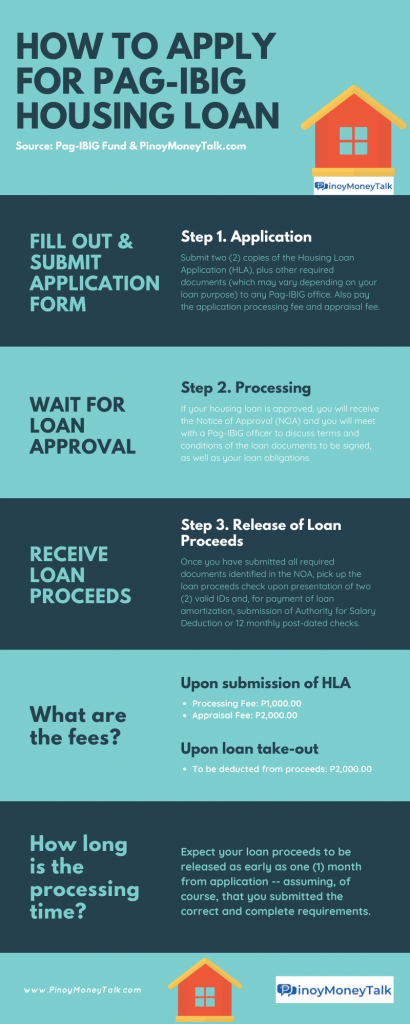 Other awesome articles that you might find useful!