In recent years, more people have been becoming more open to the concept of vegetarianism and the plant-based diet. This is why plant-based meat alternatives are becoming more and more prevalent.
So when a plant-based jerky was introduced by Pan's Mushroom Jerky, the market was more than ready to embrace the mushroom that looks and feels like actual beef jerky.
What happened to Pan's Mushroom Jerky after securing a deal with Mark Cuban on Shark Tank? Read on to find out.
Pan's Mushroom Jerky (Shark Tank Highlights)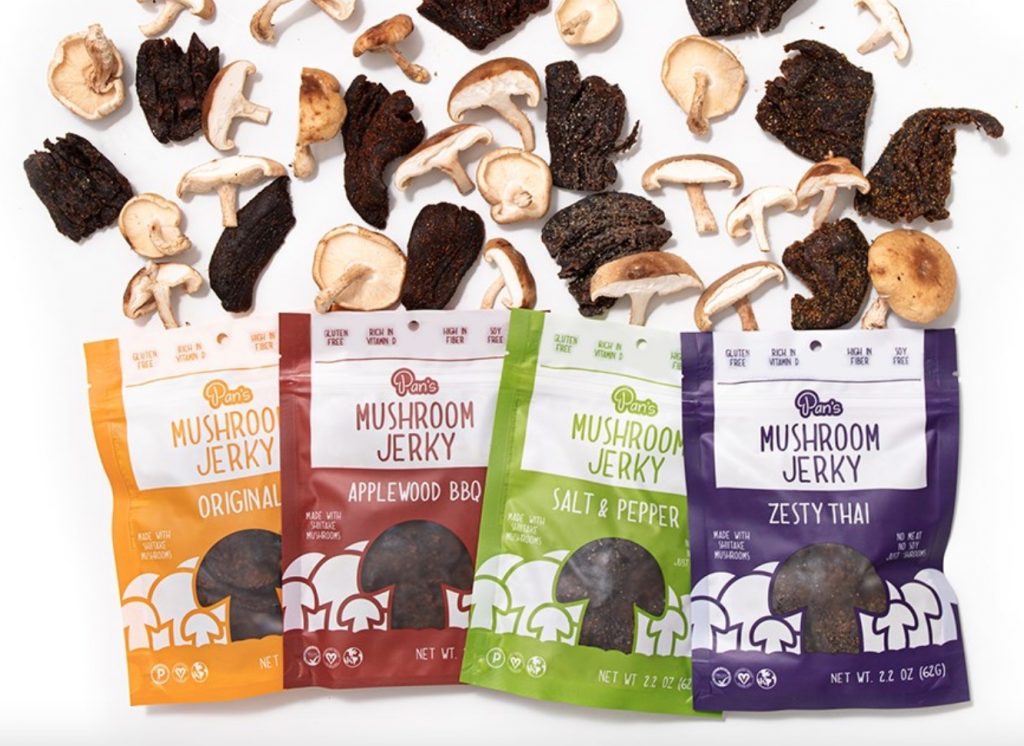 | | |
| --- | --- |
| What is Pan's Mushroom Jerky? | A plant-based meat jerky alternative made from shiitake mushrooms |
| Proposed Deal by Owners | $300,000 for 10% equity |
| Owners' Valuation | $3 Million |
| Shark who Secured Deal | Mark Cuban |
| Shark's Offer | $300,000 for 18% |
| Pan's Mushroom Jerky Net Worth | $1.6 Million |
What is Pan's Mushroom Jerky?
Pan's Mushroom Jerky is a plant-based meat jerky alternative. Made from shiitake mushrooms, Pan's Mushroom Jerky is kosher, gluten-free, soy-free, and keto-friendly. As such, it is considered a healthy alternative to the traditional jerky.
It comes in four flavors: Original, Zesty Thai, Applewood BQ, and Salt & Pepper. It is also supposedly better for the planet since the production of mushrooms has a lower carbon footprint compared to raising cows and processing beef.
How did Pan's Mushroom Jerky start?
Michael Pan was introduced to the healthy snack when he visited Malaysia to learn more about his paternal roots. His vegetarian Buddhist cousin let him try the dish, which he first thought was meat because of its texture. As it turns out, it's made of shiitake mushrooms.
Knowing that there would be a potential market for it, Pan decided to develop the flavors when he came back home to Oregon. In 2018, he launched Pan's Mushroom Jerky under his company, Panco Foods.
Pan's Mushroom Jerky on Shark Tank
Michael Pan, the creator of Pan's Mushroom Jerky, came to the Shark Tank asking for $300,000 in exchange for 10% equity in his company.
The Sharks were happily munching on the 'jerky' and were amazed when they were told that it's made of shiitake mushrooms, not meat.
"I love it even more!" exclaimed Shark Lori Greiner. Guest Shark Blake Mycoskie agreed, raising his empty plate to show that he's cleared all his samples.
Pan told the Sharks that the mushroom jerky snacks retails for $7.99 to $8.99 and costs only $1.67 to make.
Retail sales have the bulk of sales by 60%. Online sales, on the other hand, is 40% Pan replied to Mark Cuban. They are available in two regions of Whole Foods, which includes 700 branches of whole foods.
Shark Mark Cuban asked how much money Pan has invested in the business. Pan responded that he raised $100,000 himself from his own money and from loans.
He is also a beneficiary of the COVID disaster loan and PPP (Paycheck Protection Program) and Pan became emotional when he talked about how his company has been affected by the pandemic.
Shark Kevin O'Leary asked Pan if they were making money yet.
"We are," responded Pan. "Our margins are at 77% across all channels at the moment." He also added that if their sales are on track, his company has a 10% profit margin.
Here's a YouTube video of the Shark Tank negotiations, courtesy of ABC.
What were the Sharks' offers for Pan's Mushroom Jerky?
Three Sharks Mark Cuban, Lori Greiner, and guest Shark Blake Mycoskie all made an offer and even tried to shout over each other just to get Pan to take their offer.
Lori Greiner and Blake Mycoskie initially discussed in the back to team up for an offer, while some were not as sold.
"I like this stuff," admitted Shark Daymond John. "But for me to double my money and something extra is a long road, so I'm out."
"I want you to know, I adore this," began Greiner. She went on to share that she and Mycoskie had been discussing making an offer together.
"Starbucks is going to love this, and we both have great relationships with Starbucks," Mycoskie supplemented.
He shared that Pan reminded him of himself before he decided to take a partner, and laid down his special partnership offer with Lori.
"Lori and I will do $300k, but we need to see 30% — 15% for me, 15% for Lori," says Mycoskie.
"I'm going to do what Mark Cuban does all the time. I'm going to say 'You have to tell us now!'" Lori declared with a big smile.
But as if on cue, Shark Mark Cuban interjected "I've done this before. I'm going to add this to my portfolio. I'll give you $300k for 20% if you say yes now."
"You can't do that!" exclaimed Lori.
To prove that he's the better choice, Cuban told Pan "I'm vegetarian. I live this!"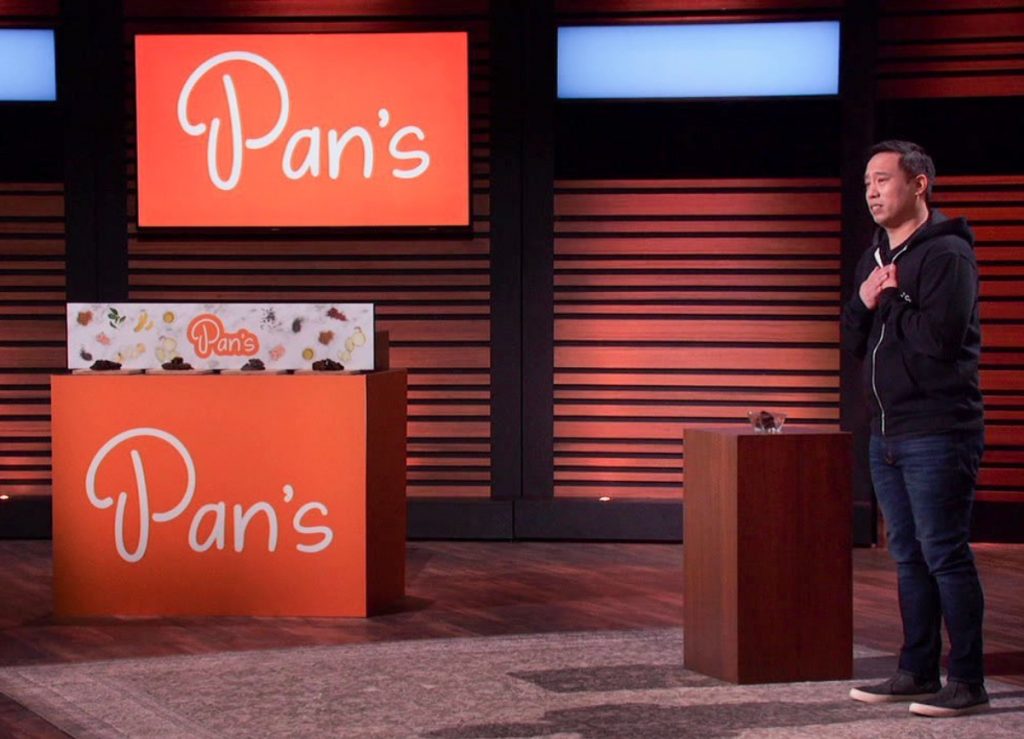 O'Leary, acting as a mediator, tried to help out the confused Michael Pan over the shouting match of the battling Sharks. He asked if Pan understood both offers and reiterated them.
Pan asked Cuban if he was willing to lower his equity to 15% because 20% is too much for him to give up.
Before Pan could process Cuban's counteroffer of 18% equity, Greiner butted in, "No! I'll do it for 15%!"
Did Pan's Mushroom Jerky get a deal on Shark Tank?
Yes, he eventually chose to partner with Mark Cuban and accepted his offer of $300,000 for 18% equity in Pan's Mushroom Jerky. Cuban beat out Greiner and Mycoskie who initially teamed up but was ditched by Greiner.
In the middle of Cuban, Greiner, and Mycoskie fighting over who has a better offer, Michael Pan had a very important decision to make.
In an effort to beat Cuban for the deal, Lori even decided to ditch her team-up with Mycoskie and proposed her own offer.
But in the end, Michael Pan decided to go with Mark Cuban and his portfolio of plant-based businesses. 
"No!" exclaimed a very disappointed Lori Greiner. "Look at me. You can change your mind," she told Pan.
"What just happened? I thought we had a deal!" said a very confused and disappointed Blake Mycoskie to Greiner.
"Let's go!" shouted Cuban in triumph after doing air high-fives with Pan, the new normal for safe high-fives.
What happened to Pan's Mushroom Jerky after Shark Tank?
As expected, Pan's Mushroom experienced the "Shark Tank effect" and received an overwhelming response after their Shark Tank episode aired in November 2020.
Their products were sold out immediately and as of January 2021, the mushroom jerky is listed on Amazon as "currently unavailable".
According to their website, they are still catching up on fulfilling the demand that came with the Shark Tank publicity. They even hired more employees to help meet production demand.
Is Pan's Mushroom Jerky still in business today?
Pan's Mushroom Jerky is very much in business today. Although products are currently sold out, the product can be ordered online through their website and on Amazon.
The vegan jerky substitute is also available in Whole Foods in Oregon, Washington, Southern California, Arizona, Nevada, and Hawaii.
The brand's Instagram has an active interaction with its 12,000 followers.  The mushroom jerky brand's Facebook has less activity but is up to date with the latest activities of the brand. 
Here's a YouTube video of Pan showing their busy production of the mushroom jerky.
How much is Pan's Mushroom Jerky worth now?
With Mark Cuban's investment of $300,000 for 18% equity, Pan's Mushroom Jerky has been valued at $1.6 million.
This is slightly lower compared to when Michael Pan appeared on Shark Tank and declared his company's valuation at $3 million.
With the surge in sales from the Shark Tank publicity, it is likely that their sales have surpassed their target and further increased the company's net worth. 
In 2018, its first year of business, sales was $300,000 which jumped to $755,000 by 2019. 
At the time of taping the show in 2020, Pan's Mushroom Jerky has achieved total sales of $620,000 and its owner Pan projects that they are on track to earn $1.5 million by the end of 2020.
According to him, monthly sales have been $95,000 to $100,000 per month.
Lessons from Pan's Mushroom Jerky on Shark Tank
Life will always have unexpected twists. For Michael Pan, he took life's unexpected twists, dug deep, and did not let it break him down. When the pandemic hit his business hard, he took every loan he could get to keep his company and the people afloat.
When the chance to pitch on Shark Tank came, he grabbed it and made the quick decision of choosing which Shark would be the best partner for his business. He knew Mark Cuban has had experience and success in building and growing companies similar to Pan's Mushroom Jerky. Together with Cuban, Michael Pan is set to make a big bite out of the plant-based meat market.