Breakfast, as we're all taught, is the most important meal of the day. But who even has time for breakfast on busy mornings? These days, people are usually rushing through or skipping breakfast altogether.
Enter Go Oats, a unique new take on oatmeal that packs a nutritious, filling breakfast in easy-to-eat oatmeal balls. True to their slogan, Go Oats is "oatmeal in a ball" — no bowl or spoon needed!
Read on to find out which Shark invested in Go Oats and how the business is now doing after securing the investment.
GoOats (Shark Tank Highlights)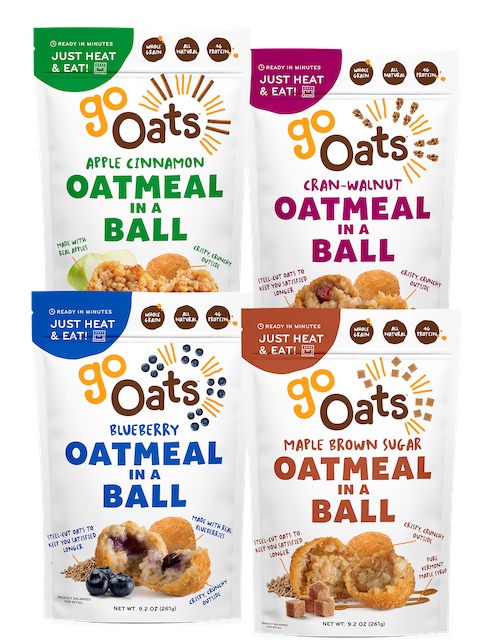 | | |
| --- | --- |
| What is GoOats? | Healthy, nutritious oatmeal snack in the form of oatmeal bites |
| Proposed Deal by Owners | $150,000 for 10% equity |
| Owners' Valuation | $1.5 Million |
| Shark who Secured Deal | Barbara Corcoran |
| Shark's Offer | $150,000 for 20% |
| Go Oats Net Worth | $750,000 |
What is GoOats?
GoOats oatmeal bites are a convenient way of eating healthy, nutritious oatmeal. It comes in a pack of 3 balls in an oven-safe box, or a pack with 9 balls.
A box of 3 balls is a filling breakfast and only has 107 calories. The healthy oatmeal balls come in four flavors – cinnamon, maple brown sugar, blueberry, and cran-walnut. 
The oat balls have a crispy outer shell with creamy oatmeal inside. They only use natural flavors and are made without artificial preservatives. They are said to be good sources of protein, fiber, antioxidants, and calcium.
To prepare, all it takes is a quick reheat in the oven, air fryer, or microwave, and they're ready to be enjoyed. 
How did GoOats start?
Chef Nahum Jeannot created the GoOats oatmeal bites. He first made the handy breakfast food in 2015 while working at the Hyatt Regency.
He wanted to create a fun finger breakfast food that people can have for breakfast or a snack. He said he drew inspiration from his mother and his grandmother's delicious oatmeal bowls that he and his siblings grew up with. 
"I remember coming down to a bowl of oatmeal in the mornings, made from scratch with real ingredients," Jeannot shared. "GoOats are my version of their oatmeal, a childhood favorite without the bowl."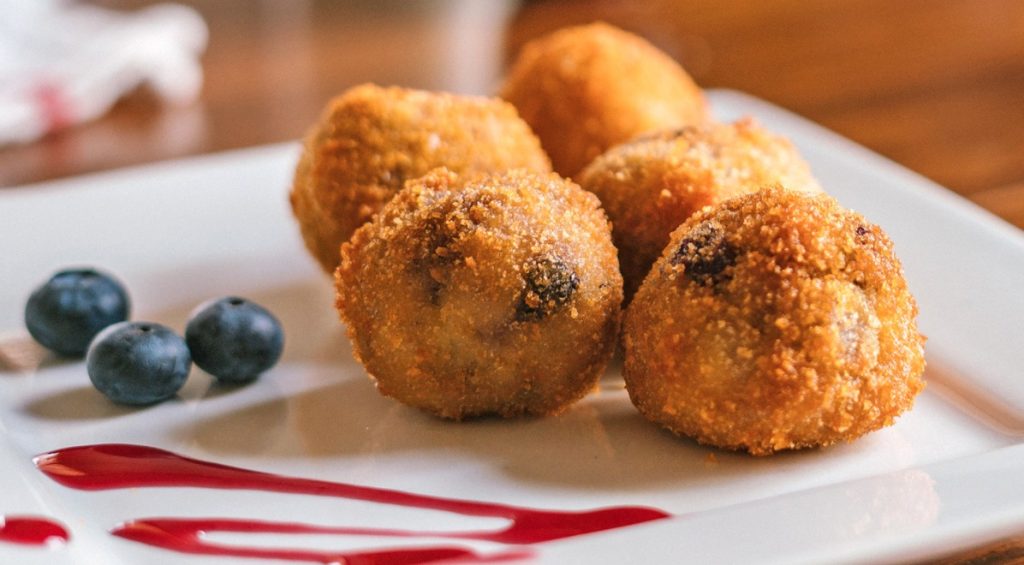 The oatmeal balls were a big hit at the Hyatt Regency breakfast buffet. This encouraged Jeannot to launch GoOats Oatmeal Bites. He leased a commercial kitchen to perfect the tasty breakfast balls while still working full-time as a chef.
The GoOats founder was referred to SCORE (Service Corps of Retired Executives), an organization that provides free mentoring to small businesses and startups. In 2020, Jeannot won SCORE's Perfect Product Pitch for GoOats.
Looking to expand his production, and gain a business partner, Jeannot knew that he could achieve both through Shark Tank.
GoOats featured on Shark Tank
The GoOats founder approached the Sharks asking for $150,000 in exchange for 10% equity.
Jeannot disclosed that in March 2020, he was laid off as chef due to the COVID-19 pandemic when hotels closed. He looked at it as a blessing because it allowed him to focus on GoOats. He is now the company's full-time "Chief Oatmeal Officer", he said.
Although the Sharks approved of his positivity and his tasty product, they did not feel the same about the less than impressive sales numbers and low margins when it came to pricing GoOats. 
GoOats revenue for its first year back in 2017 was $13,000, and it was between $54,000 to $57,000 for 2019, shared Jeannot. This was while having GoOats distributed in Whole Foods.
"You're not charging enough," said Shark Mark Cuban when Jeannot revealed that each pack of GoOats costs $1.35 to make, which he sells to retailers for $2.66 and they are sold at $4.99.
"Everything above your cost has to have $1 added to it 'cause you're not making enough margins to scale this business," added Shark Kevin O'Leary.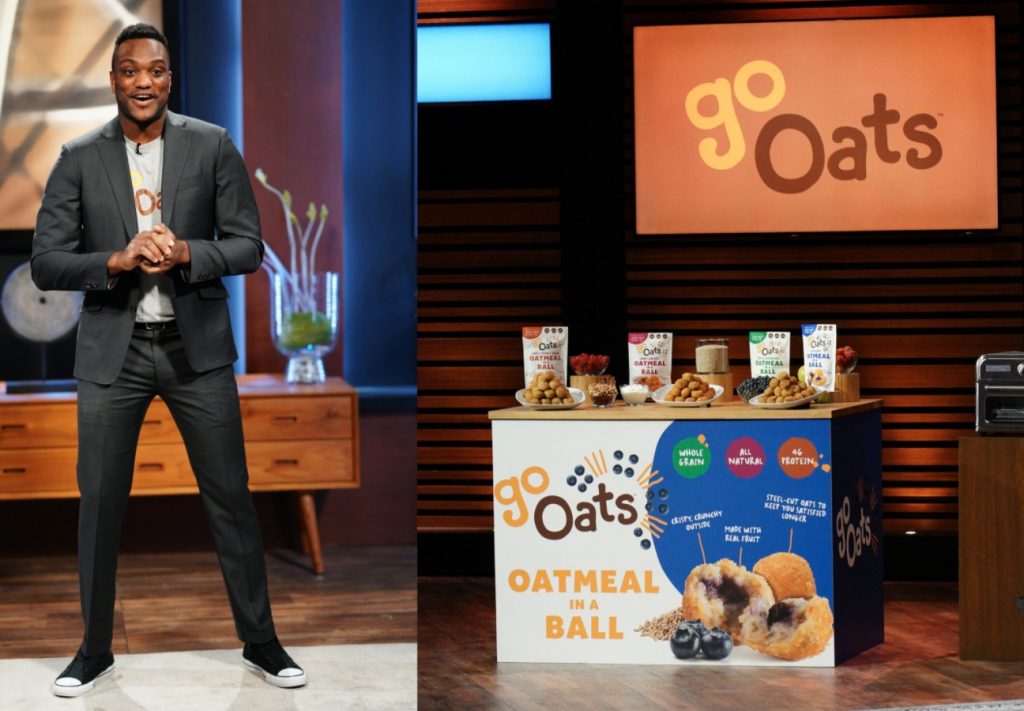 What were the Sharks' offers for GoOats?
The Sharks liked the product but they were not too keen on investing. Only Shark Barbara Corcoran was not deterred by the risk of not being able to recoup the investment.
"I would like to make you an offer," said Corcoran. "I will give you $150,000 as you asked, but I would have to have 25%."
She added that she will be able to help him get his products in big box stores, a process that she knows like the back of her hand.
Jeannot thanked her for her offer but asked if he could listen to other offers. Corcoran replied that she did not care to be shopped around, but she would let him give a counter offer if he wished.
"I was hoping that if we're going that high in equity, I was hoping you can bring a friend," explained the GoOats founder.
Corcoran explained that by bringing in another Shark, it would immediately form a committee. Instead, he should hyper focus on one, she advised.
Jeannot made a counter offer of 15% equity in exchange for the $150,000 investment. Corcoran shot it down, saying it's just too low.
"What do you say we compromise at 20%?" she countered.
Jeannot looked troubled, weighing the offer while fidgeting with his ring. It was the only offer on the table.
Here's a YouTube video of the GoOats negotiation on Shark Tank, courtesy of ABC.
Did GoOats get a deal on Shark Tank?
Chef Nahum Jeannot accepted Barbara Corcoran's offer of $150,000 in exchange for a 20% stake in his company GoOats.
He gave up double the equity that he was initially willing to give, but decided it was a good deal to accept Corcoran's offer, paired with her expertise in getting products into bigger retailers.
What happened to GoOats after Shark Tank?
GoOats experienced the Shark Tank boom after the airing of the show in October 2020. All the flavors were sold out on Amazon, and more orders from their website had to be waitlisted.
Days after the Shark Tank episode aired, Jeannot posted a note on GoOats' Instagram and Facebook page saying they are sold out but they are committed to "getting your GoOats to you as quickly as possible."
Currently, GoOats is slowly fulfilling the backorders and is well into the flurry of production to cater to the boost in demand.
Is GoOats still in business today?
GoOats is very much still in business today. Due to the influx of orders and a glitch on their website, GoOats has been experiencing delays. Jeannot posted on Instagram that customers can reach out to them for any problems with their orders.
GoOats Oatmeal in a Ball is available online on Amazon–where it is currently sold out–and their website.
In stores, it is now available in over 60 Whole Foods in seven states in the mid Atlantic, and in 20+ Heinen's branches. 
In January 2021, GoOats is also set to launch in Gelson's Markets in California.
How much is GoOats worth now?
There has not been any update on the current net worth of GoOats. But following Jeannot's valuation on the Shark Tank episode, GoOats is worth $750,000 after the investment of Corcoran.
Lessons from GoOats on Shark Tank
Like a lot of people, GoOats founder chef Nahum Jeannot's job was affected by the global pandemic. However, he took a setback–getting laid off from his full-time work as a chef–and turned it into something positive.
It's true that when one door closes, another one opens. He took the opportunity to focus his energy and efforts on growing his business full-time. 
From juggling both being an all-around hands-own Chief Oatmeal Officer for GoOats and working full time in his strenuous job as a chef for a prestigious hotel, Nahum Jeannot was unexpectedly left with only one ball to handle.
Now he's certainly having a ball developing more tasty creations with GoOats.