A single bad pitch on the Shark Tank TV show does not necessarily doom a business for life. At least that is one of the major lessons learned with the success story of baby goods company EZPZ which appeared on the show in Season 7.
In that highly rated episode, mompreneur Lindsey Laurain pitched the EZPZ to the Sharks. EZPZ is a line of silicone food mat and plate set that suctions to tables or surfaces so that kids won't be able to throw around their plates.
How the EZPZ business started
The idea for EZPZ happened during one of the Laurain family mealtimes in Parker, Colorado. In 2014, Linday's husband Brad was frustrated with their three kids' messy eating habits and the daily annoying incidents of throwing of plates, spoons, and forks during mealtimes.
They tried finding a product that caters to this need, but did not find any useful product sold on baby stores that solves this problem. The necessity to improve the family mealtime experience led Lindsey to invent the first prototype of EZPZ in her kitchen.
Lindsey created her own product, then called "Less Mess Happy Mat," a silicone food placemat sporting a smiley face that is stackable and has good adhesive property that clings on surfaces.
Because of its impressive suction ability, kids can no longer throw the food mat around. Lindsey wowed the Sharks by demonstrating a "Before and After" video of her kids using the Less Mess Happy Mat during the Shark Tank episode.
EZPZ success on Kickstarter
Initially, Lindsey put out a Kickstarter fund for $35,000. This was her way of testing if the market would like the product.
Weeks later, EZPZ was a success and Lindsey was able to receive more than double the $35,000 target amount on Kickstarter. Business slowly but surely scaled up and, soon, she was in talks with international distributors and baby fairs.
As the business grew, she found herself needing extra capital to beef up the logistics and distribution of EZPZ food mats. This became her primary reason for applying in Shark Tank.
Did EZPZ get a deal on Shark Tank?
Interestingly, no. She actually got offers from two Sharks, but surprisingly turned both of them down.
Lindsey pitched for $1 million in exchange for 5% ownership in her company. She justified the lofty valuation by explaining that, during the year, she had already sold about 85,000 units of EZPZ, recording $1.2 million sales and $140,000 in profit.
During the episode, she said her target sales in the following year was $10 million. Lindsey did not succeed in getting a lot of glowing feedback from the Sharks because of the valuation. Barbara Corcoran, upon hearing EZPZ's expected sales for next year, called her "wildly optimistic." Barbara said Lindsey did not present enough data to convince the Sharks that the $10 million revenue goal was achievable.
"What disturbs me is that you're giving us a price today on what the company will be worth four or five years out," Barbara told the EZPZ founder.
But Lindsey explained to the Sharks that she's already made $140,000 in profits and got the valuation by projecting out the next five (5) years of the company. According to her, several international distributors, including those from Germany and Australia, are contacting her to distribute EZPZ in those countries.
"But you haven't even shipped the first order to Australia," argued Robert Herjavec, another Shark on the show. "I love the optimism, but you don't have any data."
"When you ask for $20 million, you'd better have solid data, not a story," Robert quipped as he announced his decision to stay out of the deal.

What were the Sharks' deals for EZPZ?
Kevin, meanwhile, believes the risk is "all on me as an investor" which is why his offer to Lindsey was $1 million for 5% stake in her company, but contingent on EZPZ's patents getting cleared and Lindsey meeting her $10 million sales goal in 2016. If she failed to do so, O'Leary's stake in the company would increase to 20%.
Barabara also offered to give Lindsey what she asked for — $1 million for 5% of the company — but the $1 million amount would be paid out over the next four years.
Two Sharks Barbara Corcoran and Kevin O'Leary offered Lindsey deals but — to the amazement of all the Sharks — Lindsey refused and declined the two offers. She walked away and left the power group incredulous at the rejection of the deals.
What happened to EZPZ after Shark Tank?
The rejection of the Sharks' offers caused a social media fallout after the episode was aired. Some netizens described the episode as "cringe-worthy" and a few Redditors even proposed to make memes out of her facial expressions seen during the episode, with some describing her as a "crazy bitch" and high "on drugs".
Some online commenters in another Reddit discussion called her pitch disastrous and messy, and even went as far as calling her a Shark Tank Gold Digger.
"Gold digger" is an expression used for Shark Tank guests who were only after the free publicity for their products and uses over-inflation in the value of their business without any actual intention of accepting a deal from the Sharks.
But for EZ PZ, the impact of that Shark Tank episode on business results was overwhelmingly positive. Immediately after the episode, sales of EZ PZ products hit $1.5 million.
Some more achievements after the Shark Tank episode: the baby store chain Buy Buy Baby eventually decided to carry EZ PZ silicone food mats in all of their stores and several European distributors also contacted the company for distribution rights in the EU.
As of this year 2020, the EZ PZ mat continues to sell thousands of units on Amazon (its original selling platform) and it's also now being sold in Target, Nordstrom, Bed, Bath and Beyond, and Crate and Kids.
---

---
What's the Net Worth of EZPZ now?
When Lindsey pitched in the Shark Tank, the valuation or net worth she had for the company was $20 million. She mentioned in the episode that she projected to achieve revenues of $10 million in the succeeding year, so a $20 million valuation is just two (2) years' worth of the company's target sales.
Guess what, EZPZ did end up achieving that goal of $10 million sales by the year 2017! It may not have been done in 2016 as she had planned, but this was close to her forecast of future sales when she pitched to the Sharks. Lindsey Laurain's net worth may still be undisclosed right now, but she is no doubt a millionaire with her EZPZ business becoming an international success.
As of 2020, EZ PZ is clearly a global, multi-million dollar business thanks to the uniqueness of its developmental approach to kids' feeding experiences. News on the company's exact amount of revenue and profits remain private but the company has certainly gone a long way since the Shark Tank fallout.
Is EZPZ still in business today?
Yes, the company is very much alive at present.
In fact, its product line has achieved cultic-following status from parents all over the world. Parents of toddlers appear to love the immense relief they got from using the products. Due to its success, counterfeit versions of the product have also come up and it's one of the biggest threats that the business is battling today.
As an update, the company was awarded with Smartest Toddler Tableware by The Cribsie Awards both in 2019 and in 2020 and was also a finalist in The JPMA Show: Built for Baby Innovation Award in 2019.
What are EZPZ's new products?
At present, the EZPZ team offers more product variants. They started with the mat but ended up with a full feeding set for kids including cups and spoons.
They currently have a licensing partnership with Sesame Street in producing Elmo and Cookie Monster variants of the original Happy Mat, as well as a Peppa Pig design. (You can buy the Sesame Street and Peppa Pig designs on Amazon here.)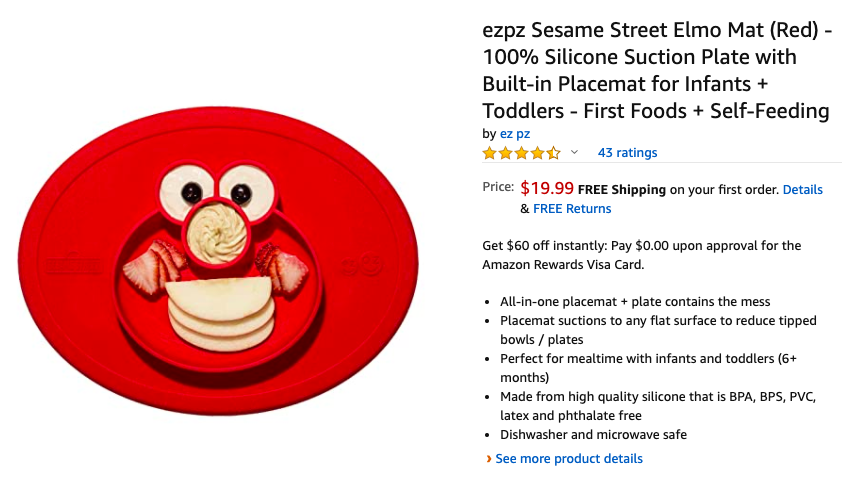 They also now offer bowls and baby aprons for a tidier toddler eating experience. Aside from their flagship products for babies and toddlers, EZPZ has also recently branched out in the pet space by introducing their Ono line of products for pets. They also created similar spill-proof bowls for the furry members of the family.
Lessons from EZPZ on Shark Tank
Despite intense grilling from the Sharks and social media fallout from netizens, circumstances still ultimately turned in Lindsey's favor after her Shark Tank appearance. Apart from the relentless hustle to work on her business, the website traffic and massive publicity from the Shark Tank episode must have helped her a great deal in achieving her goals for EZPZ.
But a lot of hard work also came in the picture. Not giving up was also an ingredient, since the Shark Tank fallout could have easily derailed or disheartened her.
Lindsey's knowledge of the product market from her direct experience, continuous employment of experts in various aspects of her business, excellent social media management skills, and optimism in troubleshooting problems like counterfeit goods and brand protection led her to successfully steer this business towards the million-dollar business it is now today.