If at first you don't succeed, try and try again. Cliche as it may sound, but this is what drove Jae Kim, the CEO and founder of Chi'Lantro, to keep auditioning for Shark Tank.
Resilience and tenacity are two things that are essential to entrepreneurs. Kim knows this by heart, which is why he did not give up and even took him three attempts to get into the Shark Tank to pitch his food truck and restaurant business.
Did Chi'Lantro get a deal? Yes, with real estate millionaire Barbara Corcoran. Read on to find out the growth of Chi'Lantro from its beginnings as a food truck to several dine-in restaurant locations after appearing in Season 8 of Shark Tank.
What is Chi'Lantro?
Chi'Lantro is a food truck/restaurant business that serves a fusion of Korean barbecue (BBQ) and Mexican food in Austin, Texas.
The unique name aptly comes from the combination of kimchi and cilantro. Their most popular items on the menu are their signature kimchi fries, Korean fried chicken wings, and Mexican-inspired rice bowls with an Asian twist.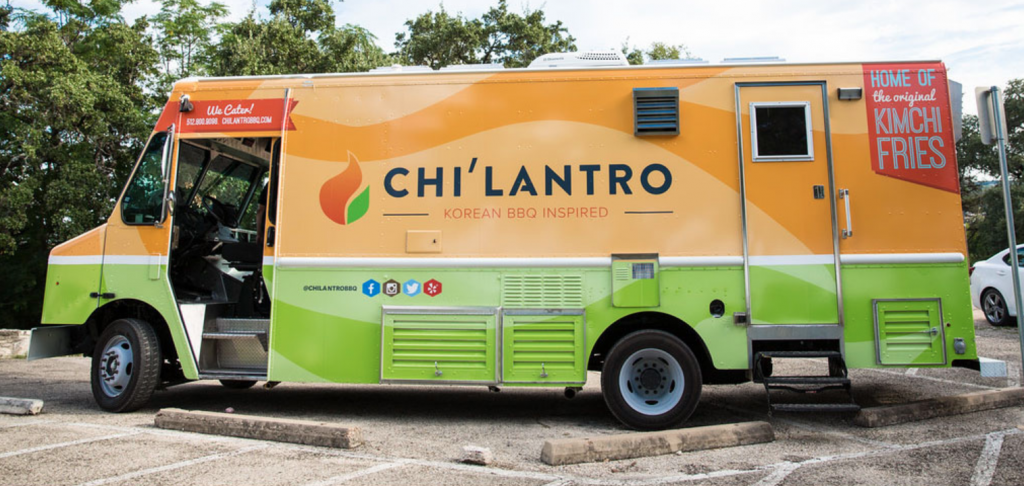 How did the Chi'Lantro business start?
After failing in his initial coffee business, Jae Kim wanted to start a restaurant but he did not have enough money to start one. He has always had a passion for Korean food, having grown up in Korea until his mother moved him and his sister to the United States. 
Inspired by his hard-working mother, Kim did not give up despite the lack of capital to fund his restaurant dream. Using his own savings of $30,000 and maxing out all his credit cards to survive, he started his food truck business. He drove his first Chi'Lantro food truck in 2012. 
The first time Kim applied to Shark Tank, he only had one food truck. The second time, he still did not make the cut even when he already had five food trucks. Third time's the charm as he finally got into the Tank to face the Sharks.
By the time Kim appeared on the show, he already had a fleet of Chi'Lantro food trucks and three restaurants in the United States.
Chi'lantro on Shark Tank
In his pitch for Chilantro, Jae Kim entered the room and greeted the Sharks with a triumphant "Yes!" He then told the Sharks about how long it took for him to finally be standing in front of them.
He invited guest Shark Chris Sacca to make a Korean BBQ bowl with him, then proceeded to serve the rest of the Sharks with Korean BBQ bowl and kimchi fries.
The CEO and founder of Chilantro explained that he is asking for $600,000 in exchange for 15% equity in his company.
When asked about where he was from, he shared that he grew up in Korea before moving to the United States with his mom and sister. He talked about how he had to work hard to do his part and help his mother support their family.
Kim started his first business, a coffee shop, when he was 21. He shared that he felt like it wasn't going anywhere because he was constantly working in the shop to pay the bills while paying for college.
"I did not have a vision for it," he answered when Shark Lori Greiner asked why he thinks his first business failed.
This time around, he said he envisioned a Chi'Lantro empire. He revealed that his goal was to open 15 restaurants and earn revenues of $50 million per year. 
When asked by Mr. Wonderful, Shark Kevin O'Leary, how much the company has earned, Kim revealed that Chi'Lantro's revenue just in the previous year was $4.7 million.
Around $300,000 to $400,000 came from the food trucks, while each restaurant earned $1.5 million per branch. The company was on track to earn $6 million the following year.
"You have actually lived the American Dream in every essence of it," said O'Leary, clearly impressed.
What were the Sharks' offers for Chi'lantro?
Chris Sacca told Kim that the Chi'Lantro's dishes he tried was delicious, but pointed out that Kim did not say how he was helping change the restaurant market.
"If it's not a hell yes, it's a no," Sacca said, and so he was out.
O'Leary told Kim that he had invested in restaurants previously but it did not do well. He said he also did not like that a lot of things ties up restaurants, such as the lease, and he was out as well.
Cuban commended Kim, saying he was a shining example for every entrepreneur. "I'm just not a restaurant guy," Cuban admitted. "That's just not the fit for me right now," he said and was also out.
Greiner told Kim that she loves Korean BBQ and that Chi'Lantro's was one of the best ones she's had, but she was also out.
With four Sharks out, Barbara Corcoran was the only remaining Shark. She told Kim that she has invested in a food truck business before, Tom and Chee, which she helped grow its revenue from $1.5 million to $51 million.
She finally gave Kim her offer: $600,000 in exchange for 30% equity in Chilantro, adding that she is savvy in the restaurant business.
Did Chi'lantro get a deal on Shark Tank?
Yes, Chi'Lantro founder Jae Kim was able to close a deal with Shark Barbara Corcoran when he appeared in season 8 of Shark Tank.
After hearing Corcoran's offer, Kim asked if she would be willing to bring down her equity ask to 20% from 30%. Corcoran paused for a moment and said
"You've got yourself a deal," Corcoran beamed. "It's a fair deal. You're a straight shooter, I'm crazy about you."
Filled with joy and gratitude, Kim hugged Corcoran and lifted her up off the ground.
What happened to Chi'lantro after Shark Tank?
After closing the deal with Barbara Corcoran, Chi'Lantro opened a new branch in Texas in 2017. Chris Sacca has since publicly declared in a Twitter post that he regrets not investing in the Korean-Mexican fusion food business. 
Is Chi'lantro still in business today? Yes, Chi'Lantro is thriving in 2020.
They now have a total of 8 dine-in locations, although two are currently temporarily closed due to the COVID-19 pandemic, according to their website.

In light of the pandemic, Chi'Lantro partnered with the Texas Restaurant Association and Partnerships for Children to present The Texas Comfort Food Care Package Program, which helps feed families in need in Austin.
A Chi'Lantro Family pack, which costs $60, is enough to feed 6 people. The pack will be donated to families affected by the rising unemployment rate brought about by the Coronavirus pandemic.
On social media, Chi'Lantro is active and well-loved on both Facebook and Instagram.
How much is Chi'lantro worth now?
It was reported that Chi'Lantro has earned over $9 million since the Shark Tank episode aired!
This is surely a significant growth — considering that their sale on the very first day of business was just $7 and the past year's revenue, at the time of the Shark Tank Episode, was $4.7 million.
Chilantro's $9 million revenue is certainly way above the valuation of $3 million made by Corcoran when she invested $600,000 in the company in exchange for a 20% stake.
Lessons from Chi'lantro on Shark Tank
Lack of capital is the common reason for not starting a business. Mark Cuban said he receives thousands of emails that are proof of this. He commended Jae Kim for being able to run a business, pay his own way through college and still somehow end up with savings of $30,000.
It was Kim's savings that he used to start his food truck business. He cut costs and worked hard to save. Cuban called Kim a shining example for every entrepreneur watching the show.
Kim also told the Sharks of his vision for his brand and his company. This is a plus for the Sharks who are looking for entrepreneurs who have a clear goal for their company and have the potential to expand the business.
Focusing on his vision and being inspired by his family kept Kim going through all the challenging times of being an entrepreneur. His continued determination, steadfastness, and adaptability are leading him even closer to his dream empire.