What awesome gadget do you want to have this Christmas? A new iPhone 5S? An iPad with Retina Display or iPad Mini? How about a Samsung Galaxy S4?
What if we told you you can own not just one, not just two — but ALL these exciting gadgets and more?
Yes, it's possible, and you can do so by joining the Ultimate PinoyInvestor Year-End Gadget Giveaway!
Ultimate PinoyInvestor Year-End Gadget Giveaway
Running from October 16 until December 15, 2013, the "Ultimate PinoyInvestor Year-End Gadget Giveaway" awards gadgets and prizes to ALL members of PinoyInvestor.com, a FREE newsletter subscription service that gives you credible stocks and investment information from five (5) of the Philippines' top stock brokerage companies!
Take note, this is NOT a raffle! We will NOT be randomly choosing winners — instead ALL members of PinoyInvestor have a chance to win ALL prizes! What are these prizes? Continue reading!
The Awesome Prizes
Once the required number of Referral Points is reached, members can instantly convert these points to any of these awesome prizes for FREE:
iPhone 5S
Samsung Galaxy S4
iPad with Retina display
iPad Mini
Ayala / SM / Sodexho / SSI Purple Card gift certificates
4-Month Premium Access subscription to PinoyInvestor!
Let us reiterate: there is NO LIMIT to the number of iPhones, iPads, Samsung Galaxy S4s and Gift Certificates that you can take home!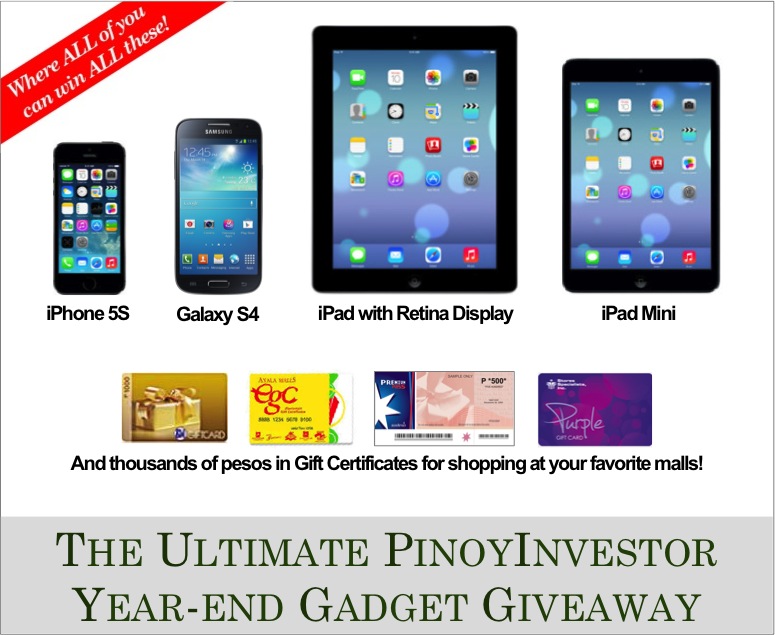 How to Join
First, make sure you have your PinoyInvestor affiliate link. You can find it in the Members Area, under the Affiliate Info>Get affiliate banners and links tab.
(If you haven't signed up yet, register at PinoyInvestor for FREE so you can immediately get your own affiliate link!)
Next, promote your affiliate link via email, Facebook, Twitter, everywhere! If you need help referring Premium Access subscribers, check out our referral handbook, "Best Practices for Referring Premium Access subscribers" which you can find in the "Main Page" of the PinoyInvestor Members Area.
Whenever a new Premium Access member signs up on PinoyInvestor using your link, you get to earn Referral Points which you can exchange for gadgets and other giveaways! The Referral Points depend on the Premium Access subscription of your referred member:
4-Month Discounted Premium Access subscription – four (4) Referral Points
Monthly Premium Access subscription – one (1) Referral Point
For example, if you were able to refer five (5) new members who each availed of the 4-Month Discounted Premium Access subscription, you get to earn 4 Referral Points x 5 members = 20 Referral Points!
You are now eligible to use these 20 Referral Points to avail of a PHP 2,500 SM Gift Certificate! That's already an instant prize for you — NO RAFFLE, NO RANDOM WINNER!
Once you've reached the required number of Referral Points, you can exchange them for the gadgets or gift certificates below:
Prizes and Referral Points Matrix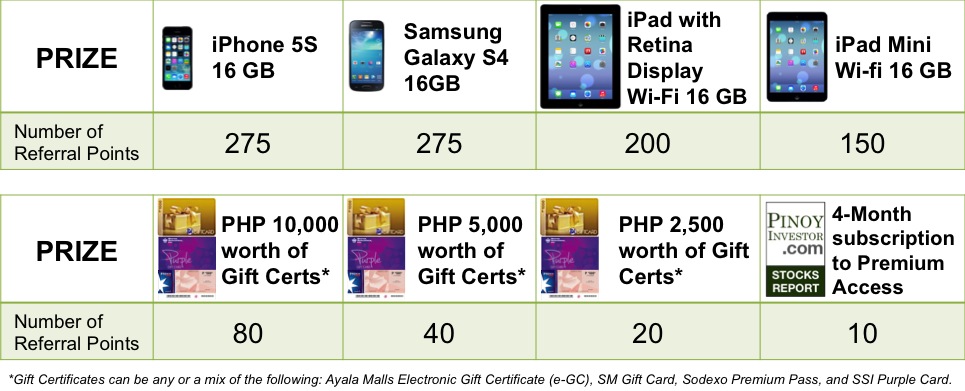 Start promoting your affiliate link now and help create more intelligent PinoyInvestors — while you enjoy your gadgets and gift certificates! As you can see, the more new Premium Access members you refer, the more Referral Points you earn!
For the complete contest mechanics, head over to the Ultimate PinoyInvestor Year-End Gadget Giveaway article.
If you haven't signed up yet on PinoyInvestor, register for FREE to get the following credible and useful information from our 5 expert partner stock brokers:
4 Free stock picks
select company analysis
special stock reports and brokers' notes
technical trading advice
It's FREE every week so sign up now!