Q&A blooper: Ms. South Carolina Teen USA 2007
Pop quiz, hotshot.
Why do you think more than 20% of Americans find it difficult to locate their country on a world map?
It's a relatively easy question to answer, but if you don't have much time to think and if you're in front of thousands of people competing in a beauty pageant such as Miss Teen USA, you probably would fumble.
That's exactly what happened to Lauren Caitlin Upton, reigning "Miss South Carolina Teen USA," when she was asked the question during last week's Miss Teen USA 2007 pageant.
The question: Recent polls have shown a fifth of Americans can't locate the US on a world map. Why do you think this is?
Her now-oh-so-popular reply:
Transcript of Ms. South Carolina's answer:
I personally believe that U.S. Americans are unable to do so because, uh, some people out there in our nation don't have maps and uh, I believe that our, uh, education like such as uh, South Africa, and uh, the Iraq, everywhere like such as. And I believe that they should, uh, our education over here! In the U.S. should help the U.S., or, should help South Africa, it should help the Iraq and the Asian countries so we will be able to build up our future, for our children.
US Americans? Like such as? South Africa and the Iraq? Huh?
She was, however, given a chance to redeem herself the next day on The Today Show and her should-have-been answer to the question:
Well personally, my friends and I, we know exactly where the United States is on our map. I don't know anyone else who doesn't. And if the statistics are correct, I believe that there should be more emphasis on geography in our education so people will learn to read maps better.
Much better. Just a little too late.
Now, what if Ms. South Carolina finds herself in an emergency and needs to call 911, can she still maintain grace under pressure? A YouTube user has this funny clip as an answer: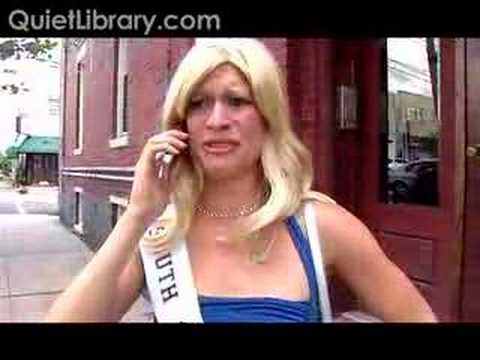 Topic keywords for this post:
<!–- google_ad_section_end –-> <!–- google_ad_section_start –->